Have aphids taking over your garden/yard and wondering how to naturally take care of them? Check out these tips on how to get rid of aphids naturally and start taking back your plants.
How To Get Rid Of Aphids Naturally
Aphids may start out small but can quickly grow into a major problem in your garden. They can destroy your entire yard in no time if they aren't taken care of quickly.
There are harsh chemicals you can use, but there are also many natural ways to combat the little bugs to get your plants back in tip-top shape.
I am going to go over several different ways to get rid of aphids naturally your and get your beautiful plants back.
Physically Remove Them:
This isn't the easiest way method, but it is possible. You can put on a pair of gardening gloves and get to work taking them off little by little.
Use can use a brush or cloth to remove the little bugs or if they are only on one branch, simply prune off the affected area.
As you brush them off, drop them into a bucket with a little warm soapy water so they do not crawl back on the plant.
If you have a larger garden with a heavy infestation of aphids, this option may not work for you as it can very time-consuming.
High-Pressure Water:
This takes less effort than trying to physically remove them by hand. If your plants are not too fragile you can use the water pressure from your hose to remove the aphids.
They will need to be a very sturdy plant in order to withhold this method. If you need to get rid of aphids on small fragile plants, I would try one of the other methods I have listed such as maybe the neem oil.
Soap And Water:
Mix a few drops of dish soap in a small pale of room temperature water. Use a sponge or spray bottle to spray the affected area.
This does not harm the plant but may kill beneficial bugs as well. Be mindful of what else is living on or near your plants if you use this method.
If treating a large area with this method, using a garden sprayer will help to speed up the process.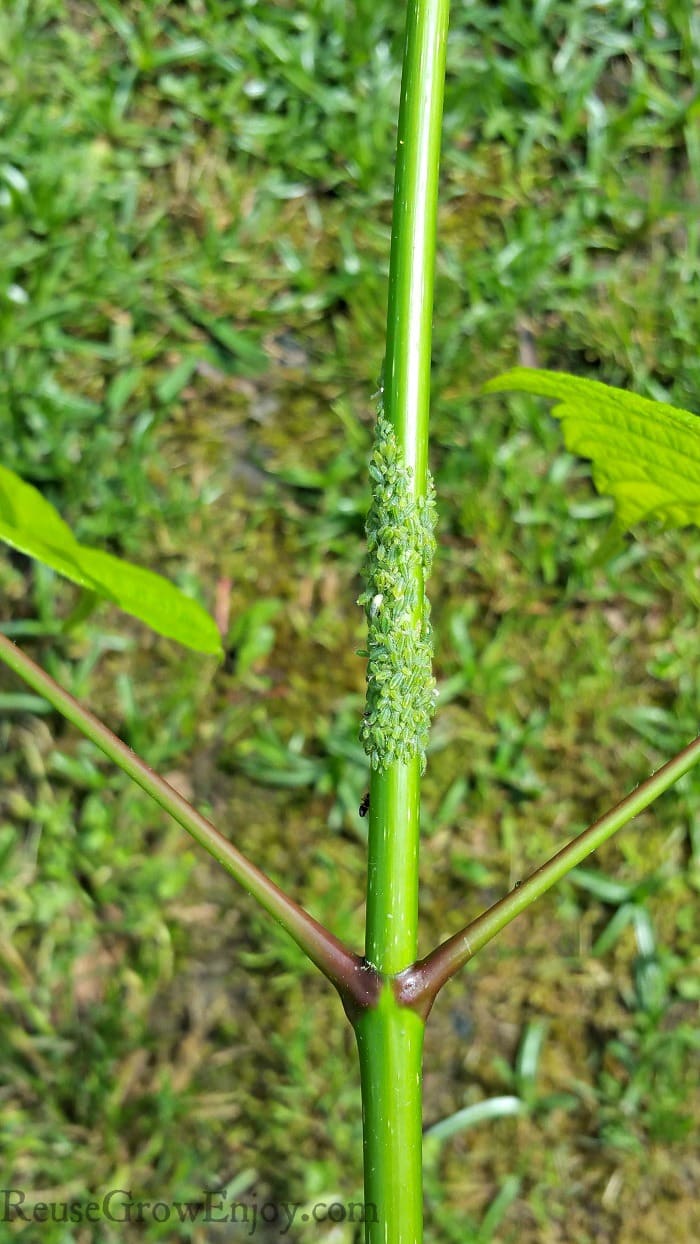 Essential Oils:
Essential oils are such handy things to have around the house. Not only do they have many health benefits and household uses, but they can also be used in the garden as well.
Mix equal parts of clove, thyme, rosemary, and peppermint essential oils. Place these in a small spray bottle filled with water. Spray this on the plant to kill the aphids as well as their eggs.
Natural Repellants:
Aphids don't like the organic compounds that give onions and garlic their aroma. If you grow these in your garden they should help to keep the aphids at bay.
You can also make your own spray with some fresh garlic that has been smashed and a few cups of water. Allow it to sit in a worm area for at least 8 hours. Then shake the bottle to mix and spray your plants.
Neem Oil:
Neem oil can work wonders for a wide variety of issues of bugs, fungus, and mites. Plus it is natural and safe to use for organic gardening. This is the one I use on my plants.
You can either buy it pre-mixed and ready to spray, but I do find it is cheaper to get the concentrate. If you do get the concentrate as I do, follow the directions on the bottle as to the ratio to mix the neem oil with water.
Then spray your plants making sure to soak all of the stem and leaves. Be sure to also get the undersides of the leaves. Treat it weekly until you have the issue under control. Then you can switch to bi-weekly applications.
One thing to note when treating your plants with any of the sprays is the weather. While you want to get the aphids off the plant as soon as possible, it will not do much good to treat/spray if it will be raining that same day.
So try and treat when there will be a few days of sun if you can.
Encourage Birds & Other Helpful Insects:
Sometimes the best way to fight mother nature is by using mother nature. There are birds and other insects that feed on aphids. So when you encourage them to your garden, they can help take care of the pest problem for you.
You just have to be careful when using this option. First, it should only be used if not treating the plants with anything as a lot of things can kill the beneficial bugs as well as the aphids.
You also may end up with a whole other set of issues such as those bugs feeding on another type of plant in the garden or the birds eating your fruits and veggies. You just have to way the pros and cons to see if this is the best control method for you.
Dust With Diatomaceous Earth:
Diatomaceous earth is used in a lot of foods as an anti-caking agent. It has tons of other uses as well and I go in-depth about Diatomaceous earth uses if you want to take a look.
While they do sell bags of it for the garden, I would stick to just the food safe grade when using it. I just like to be extra safe.
On a dry day, you can lightly dust the plants with the infestation with Diatomaceous earth. Be sure to hit the areas that are covered in aphids. You will also want to dust the other plants that are right in the area.
Organic Insecticidal Soap:
If the above options don't work there are Organic Insecticidal Soaps that you can use too.
Not only do these help control aphids, but it also helps with other things like mites too. You just follow the directions on the bottle and spray it on your plants.
Be sure to spray on a sunny day so the soap has some time to work before being washed off by rain.
If you are looking for more gardening tips, here are a few to check out.