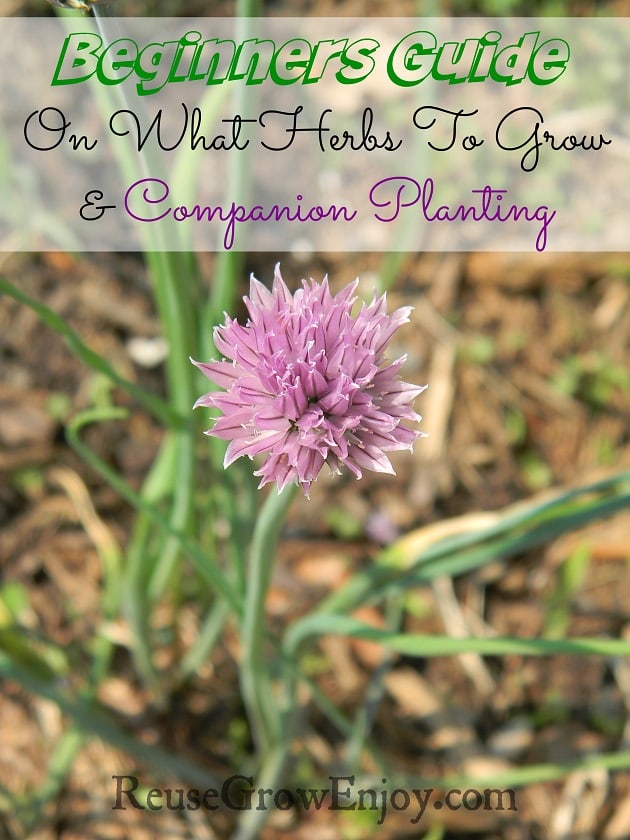 Beginners Guide On What Herbs To Grow
And Companion Planting
If you're new to growing herbs or in a hurry to taste the fruits of your labor the best way to start off is by purchasing a plant or better yet get one from a friend. You can plant from seeds, but will take longer for your return.
In this beginners guide on what herbs to grow, you will find 6 herbs that are easy to grow and they are perennials as well, meaning they will come back each year. Plus we have included companion planting for each herb. That will help you to know what other plants do well alongside them.
Chives
:
Are members of the lily family, not only are they delicious; they have beautiful purple flowers! For fast growth, plant in full sun, and in rich well-drained soil.
Companion Planting: Carrots
Mint
:
All mint is easy to grow, maybe a little too easy. Mint grows quickly and is very invasive, so plant it where you want it to be.
Mint comes in many different types from the well-known peppermint and spearmint to the less known chocolate and apple mints.
Plant mint in a cool, moist spot they like partial shade but will grow in full sun.
Companion Planting: Cabbage and tomatoes.
Oregano
:
Oregano loves loamy soil and full sun. While oregano starts out as a ground hugger, it can quickly grow to be 2 ft. tall.
There are several types of oregano but personal I prefer Greek variety.
Companion Planting: Gets along well with all vegetables.
Rosemary
:
Rosemary loves well-drained soil and full sun. It grows slowly and first but normally takes off in it's the second year and can grow to be 3 ft. tall. In warmer climates, it makes a beautiful evergreen hedge.
Prune back the dead woody parts from the plants in the early spring.
Companion Planting: beans, cabbage, carrots, and sage
Sage
:
Like rosemary, sage loves well-drained soil and full sun. Sage, however, does not tolerate summer heat and humidity well and may die off in hotter climates. In early spring prune plants back cutting away the oldest growth to promote new growth.
Companion Planting: Rosemary, cabbage, and carrots; but keep it away from cucumbers.
Thyme
:
While there are many types of thyme, English thyme is most often used for cooking, my personal favorite, however, is lemon. Thyme is a low-growing herb and makes a beautiful grown cover.
Companion Planting: Cabbage.
Did you find this Beginners Guide On What Herbs To Grow And Companion Planting helpful? If so you may also want to check out our post on Plants That You Can Plant One Time And Eat From Forever.