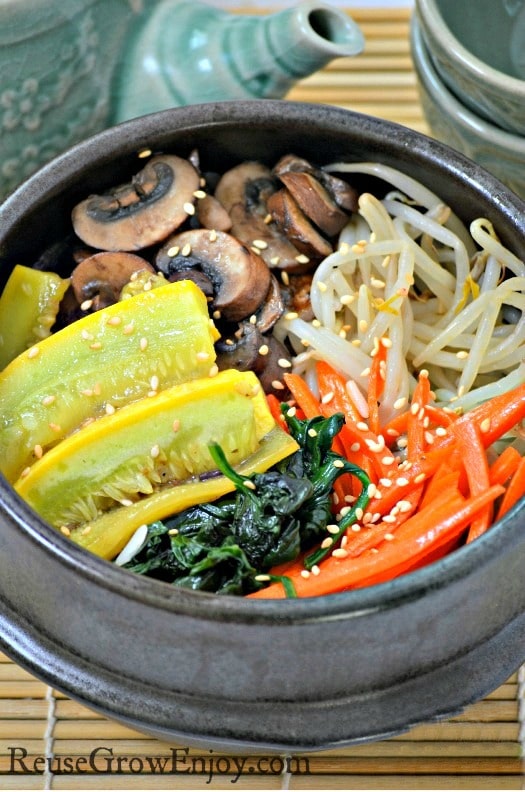 Bibimbap Recipe
There is nothing like having a meal with fresh produce! If you have a garden and are looking for new ideas to use all your fresh goodies, then you might want to give this mouth watering Bibimbap recipe a try!
I have the list of ingredients that was used to make the Bibimbap recipe you see in the picture. However, this is a recipe that is very easy to change to your liking. Simply use the veggies that you like most or have the most of from your garden.
You really can not go wrong when it comes to using fresh produce. If you do not have fresh produce available, it can be made with frozen. The taste is not as good, but not bad.
This Bibimbap recipe is also a vegetarian dish. Plus I am sure if you get gluten free soy sauce, it can be gluten free as well! Really is just one of those recipes that are all around good for just about everyone!
If you are not worried about it being a vegetarian dish and want to add some protein, boiled eggs are a great way to do that.
If you liked this recipe, here are a few others to check out.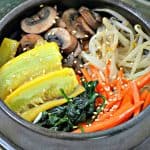 Bibimbap Recipe, Vegetarian Too! Also Very Easy To Turn Gluten Free
Ingredients
2

carrots

2

cups

of bean sprouts

1

bunch Spinach

2

cups

of mushrooms

2

yellow squash

or zucchini

Soy sauce

Sesame oil

2

cloves

garlic

minced

Olive oil

Salt

Sesame seeds

optional
Instructions
Cook each vegetable separately, over low heat, with a Tbsp of olive oil and a little of the garlic, until it's cooked.

Make sure you save enough garlic for each vegetable you cook.

Once you've cooked them all, drizzle about 2 Tbsp of sesame oil over the vegetables and season to your liking.

In a deep bowl add your white rice, then arrange your vegetables over the rice.

Add 1 Tbsp of soy sauce over your dish and serve.

You may also top it off with a sunny side up egg, for protein if you want.

Note that you can really adjust this recipe and select any vegetables you wish.