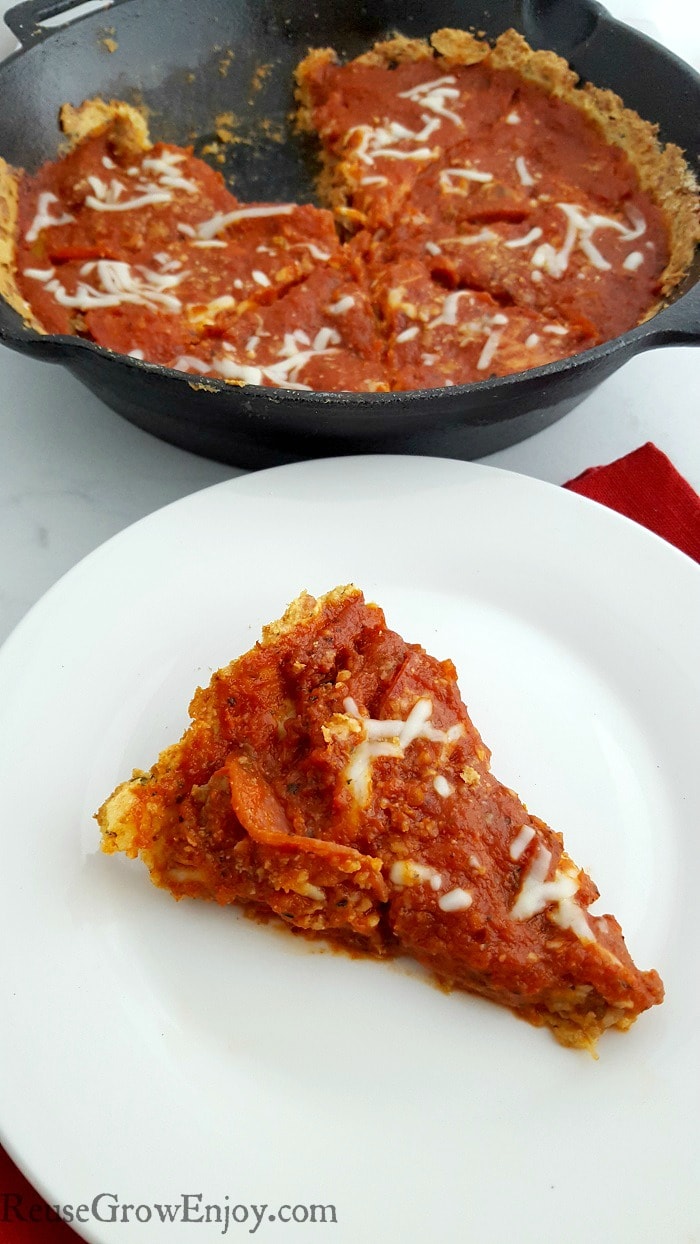 Deep Dish Skillet Keto Pizza
Are you watching carbs? Maybe doing a Keto diet? One of the things that are the hardest to give up when on a low carb diet is pizza. If that sounds like you too, then you will want to check out this Deep Dish Skillet Keto Pizza recipe!
It is pretty easy to make and satisfies all those pizza cravings. If you did want to use some vegetables on yours you could just be sure to stick to the lower carb ones.
To make this pizza you will need a skillet that is oven safe. A 10 inch cast iron skillet works really well and cooks it evenly.
However, if you do not have a skillet to cook this in, you can make it as a normal pizza and not deep dish. You will just need a pizza pan or pizza stone.
If you are someone that has to have a thicker crust, double the crust recipe. You may have to add a few additional minutes to the crust baking time.
If you like this recipe, here are a few others to check out.

Deep Dish Skillet Keto Pizza
This is an easy yet tasty Deep Dish Skillet Keto Pizza recipe! This is great for anyone watching carbs.
Ingredients
1/4

cup

mozzarella cheese

1/2

cup

almond flour

1

egg

1/2

tbsp

dried basil

1/2

tbsp

oregano

1

tbsp

extra-virgin olive oil

12

slices pepperoni

1/3

lb

Italian sausage, cooked/crumbled

1

cup

pizza sauce

1/2

cup

shredded cheese

2

tbsp

grated parmesan cheese
Instructions
Preheat oven to 350 degrees F.

Place ¼ cup mozzarella in a bowl and microwave for 30 seconds. Add almond flour and egg to melted cheese, stir to combine. Add dried basil and oregano and stir to incorporate.

Place dough in bottom of a skillet and use a piece of parchment or wax paper (a must as the dough is quite sticky) on top of the dough, allowing you to easily press the dough evenly throughout the bottom of the skillet and up the sides. It may seem like there's not enough dough, but keep working it up the sides. It expands when it bakes even though it will seem almost paper thin before placing it in the oven.

Cook the dough for 17 minutes in the oven – you can leave the parchment paper attached if it's stuck, it'll come off easily once crust bakes through. It should be a nice golden color after the 17 minutes.

Once the crust is finished baking, layer the meat in the bottom. Sprinkle the cheese on top of the meats, followed by a thick layer of pizza sauce – evenly distributed over the entire pizza. Feel free to sprinkle on a little extra cheese if desired.

Place pizza back in the oven for an additional 15 minutes.

Notes: If a thicker crust is desired, double the crust recipe – this may add a few additional minutes to the crust baking time. If no cast iron skillet is available – you can make this as a traditional flat pizza using a pizza stone or pizza baking sheet.