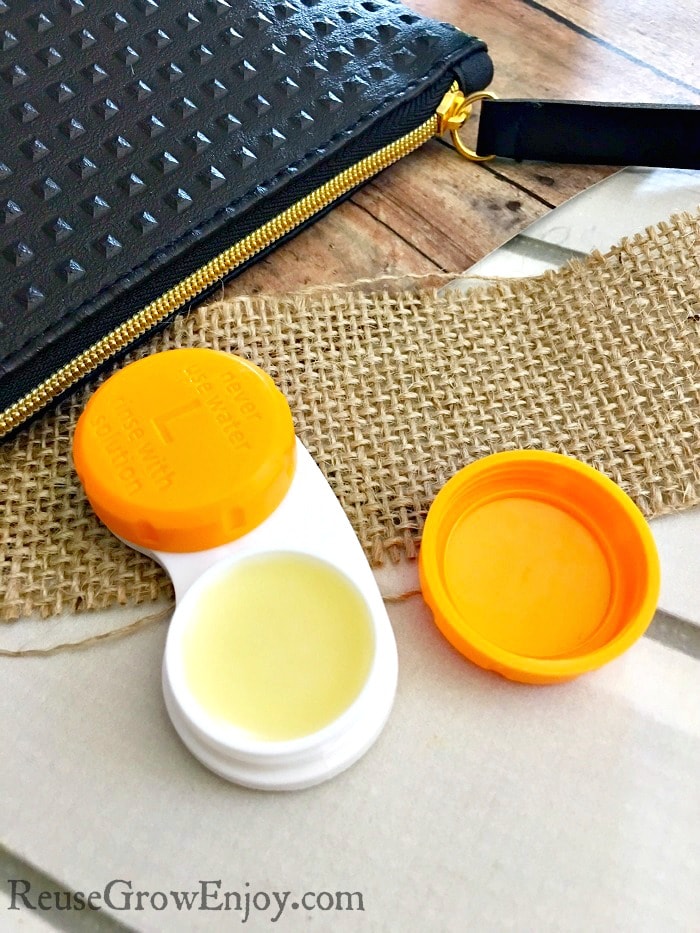 DIY Lip Balm – Orange Cream
Do you or someone in your house wear contacts? If so, chances are you have a ton of contact cases kicking around that do not get used. I mean almost every time you get new contacts or solution, they come with a case. I am going to show you are a great way to reuse them with this DIY lip balm.
This DIY lip balm is for orange cream. It will leave your lips feeling, smelling and looking amazing. Plus it also makes a really nice gift idea that is super easy a low priced to make.
DIY Lip Balm Supplies Needed:
Directions:
The first thing you want to do is measure your coconut oil and beeswax pellets. Then place them in a clean glass measuring cup.
Next, microwave it on high for about 45 seconds then give it a good stir. Then microwave it for about another 45 seconds.
Now add vitamin e oil, 5 drops of your orange essential oil and 5 drops of your vanilla essential oil and stir.
Carefully pour your melted lip balm mixture into your contact lens cases. Let them sit at room temperature for about 30 minutes. If you are in a rush, you can carefully transfer to the refrigerator for a faster set time.
This orange cream lip balm recipe will make enough to fill 3 whole contact lens cases. That means both sides of all three.
If you liked this post, here are a few others to check out.