Looking for a cute and fun craft to make on a budget? I have just the one for you. We will show you how to make this DIY string wall art from supplies you can get at Dollar Tree.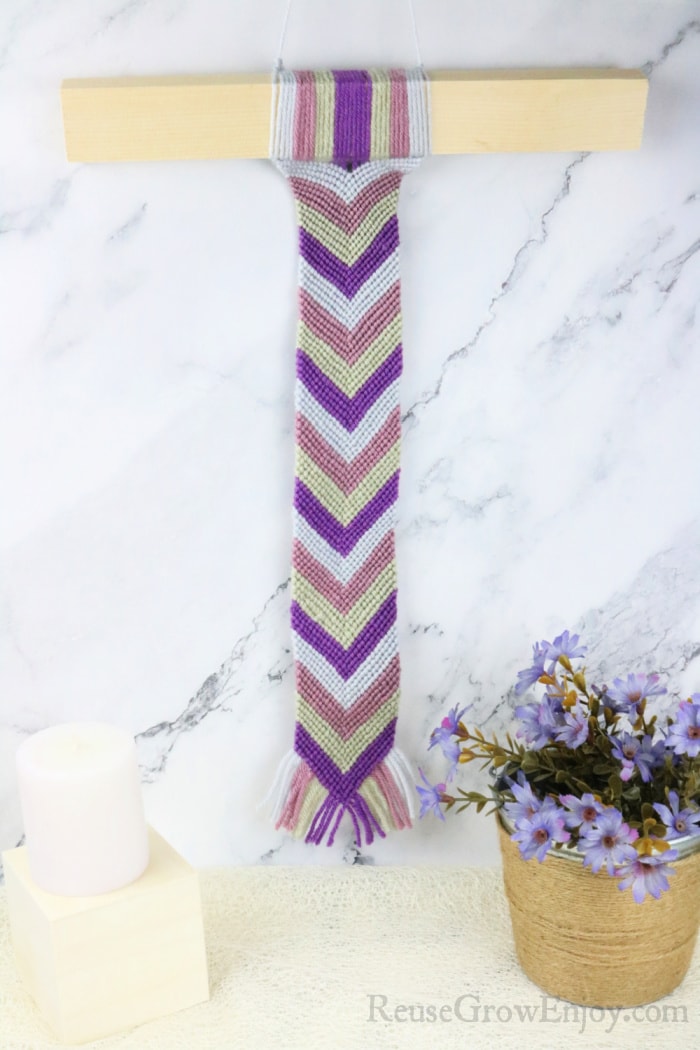 You may even have some of the supplies on hand and not even have to buy any supplies to make this DIY string art wall decor craft.
After you give this DIY craft a try, here are a few others to check out.
Skill: Medium
Makes: 1 Wall Art
Time: depends on length but ours was about 4 hours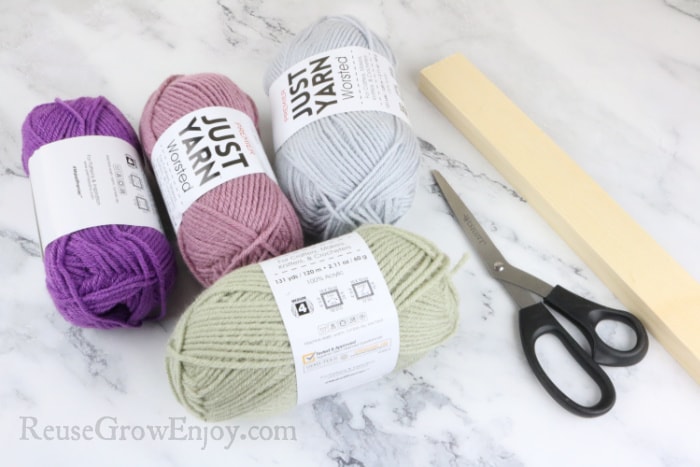 Supplies:
How To Make This String Wall Art:
Step 1: You need to cut 4 pieces of yarn of each color that are 20 feet long. We did end up trimming off some as we got to a length that we liked. If you want yours shorter you can use less.
Note: If you are making yours wider and use more strands of yarn, you will need to make them about 5 inches longer for every string you add. Also while we cut ours as 4 pieces per color, it really ends up being 8 pieces as we have them doubled over.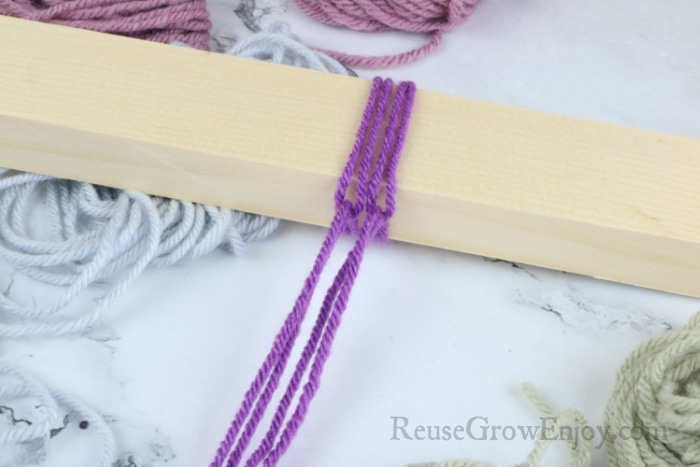 Step 2: After you have them all cut, place the two ends of a piece together. Then loop it around the wood and pull it back through itself. You will need to figure out the color pattern you want at this point as well.
4 pieces of one color will go in the center. Then on each side of that, you will put two pieces of each color on each side.
Step 3: This step is optional but I really find it helps to keep things from getting really tangled. Wrap the end of a strand around your hand so that about all but 10 inches or so is wrapped up. Then put a rubber band around it to keep it wrapped.
Do this to each of the strands.
Finishing Rows & Making Hanger:
Step 4: Starting with the first string on the left side you will cross it over the next string so that it makes the shape of a 4. Then run the end of the first string through that center of the 4 from the bottom and pull tight. After you have the first knot you will do another just the same.
After you have made 2 knots on that second string you will move on to the next string and do the same. Keep repeating this step until you get to the center, in ours, the center is after you have done 4 strands of the dark purple.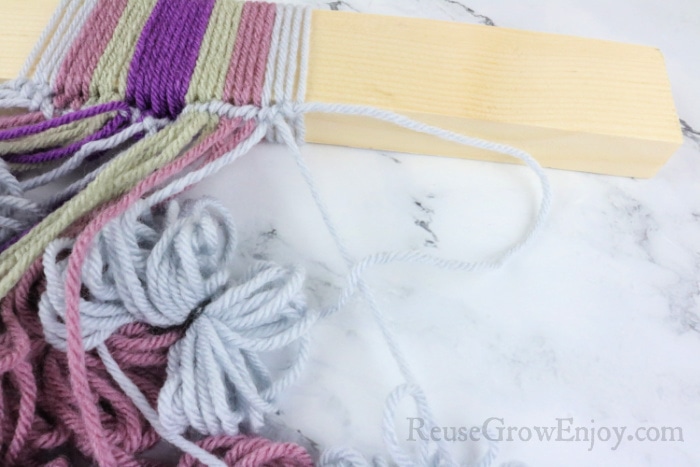 Step 5: Now we move to the right side. This time we will make a backward 4 shape over each strand. Other than that it is the same as the others. 2 knots on each strand.
When you get to the center, this time we will do a backward 4 over the last string from the other side that you stopped in the center.
Step 6: Keep repeating steps 4 & 5. You will notice as you work you will start to move on to different colors.
Step 7: When you get to the end or to the length you want, cut off any extra yarn.
Step 8: Take a piece of yarn that is the color of the end pieces on the wood and tie it around the wood on each side. Then trim it off with the scissors.