Recycled Craft:
DVD And Paper Towel Tube Flower Wall Art
Are your walls looking a little plain? Are you looking for a fun and cute recycled craft to do? Well, I have a cool flower wall art craft to show you! It really does not take too long to make either. Plus it only uses a few items for supplies and chances are you have most of them on hand!
I made this recycled craft using an empty paper towel tube, but you can also use a toilet paper tube or a wrapping paper tube. Just depends on what you have available on hand. I also used an scratched up DVD, but you can use a CD, Blu-ray or video game disc. If you do not have any of those that are scratched up and no longer usable, you can use a blank one if you want to make this recycled craft right away. But chances are, you have a few of these around the house that no longer play well and you have not tossed it yet. Oh, this is also a great way to use ones that you have bought to burn/copy and they do not work well and or give bad burns/copies and you can not return to the store.
I used yellow acrylic paint on mine to give a touch of bright color to the room. But feel free to use whatever color paint you have on hand or any of your favorite colors. If you do not have paint on hand, you can still make this recycled craft. Just use the side of the disc that is shiny with no writing on it. It will give a slight mirror effect to your flower wall art.
Recycled Craft Supplies Needed:
Directions: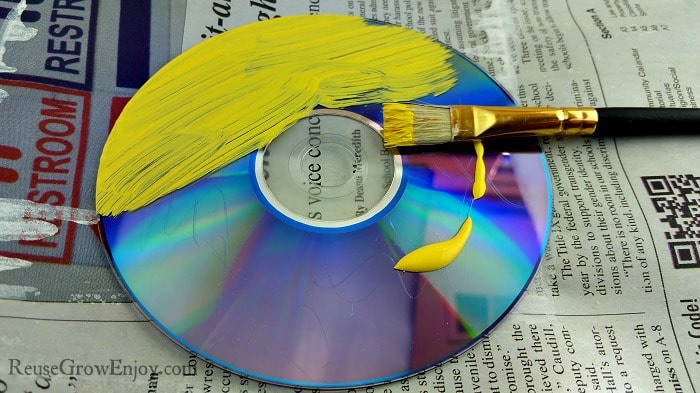 Lay the disc down on a piece of paper or something that you do not mind if it gets paint on it. Then using a small amount of paint, cover one side of the disc. Allow to dry (only took about 10 minutes for me). Then re-apply another coat of paint and allow that to dry.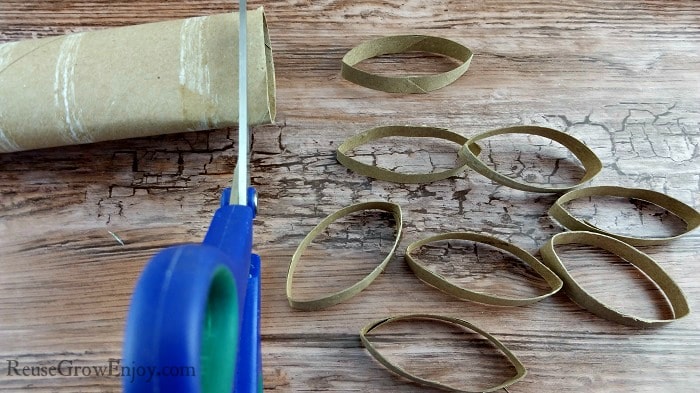 Using your scissors cut the paper towel tube into pieces. I only made my pieces about 1/4 inch wide. After the paint is dry on the disc, place the pieces around the disc so that the ends are at the center hole of the disc. You may need to squeeze them together a little.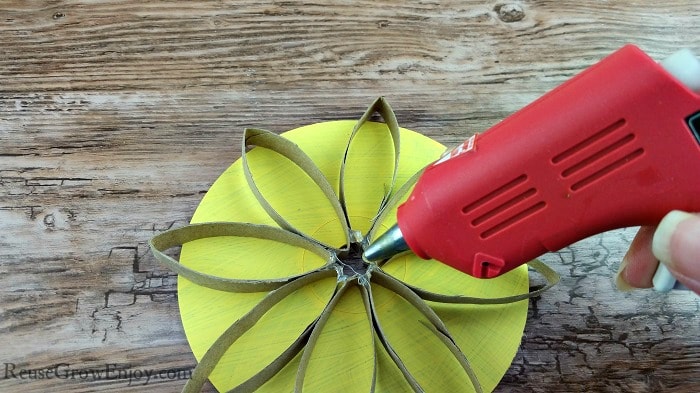 Now take the hot glue gun a put a small amount of glue at the ends of the tube pieces that are near the hole. This will glue them together to they stay in place.
Now on the flat side of the glass gem, cover it in hot glue. Then place it on top of the center of the tubes pieces you just glued together. Give it a few minutes to allow to dry.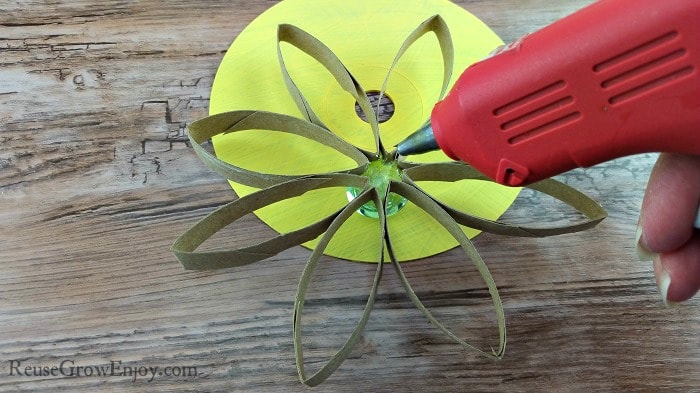 Now carefully flip it over (the disc will stay flat for now) and fill the center where the glass gem is with hot glue.
Now place the disc on top of the spot you just filled with glue. Make sure the disc is facing painted side toward the gem and tube pieces. After you have the hole of the disc lined up with the center area where the gem is, fill again with hot glue so that it comes just to the outside of the disc. Allow it to fully cool before moving. This may take a few minutes as there is a good amount of hot glue there to cool off.
After it is fully cooled, you can now flip it over. That is it! You now have a super cool recycled craft DVD and paper towel tube flower wall art! Now just find a spot on the wall for it and put a nail or something small in the wall to hang it from. I just used the tip of one of the pieces of tube to hang over the hook.
If you liked this recycled craft, here are a few others you may want to check out.