Are you thinking about taking a trip to the smoky mountains to go camping? We have a list of some of the best option campgrounds to go camping in Tennessee mountains. Other than some of the best camping sites we have a few tips to share as well.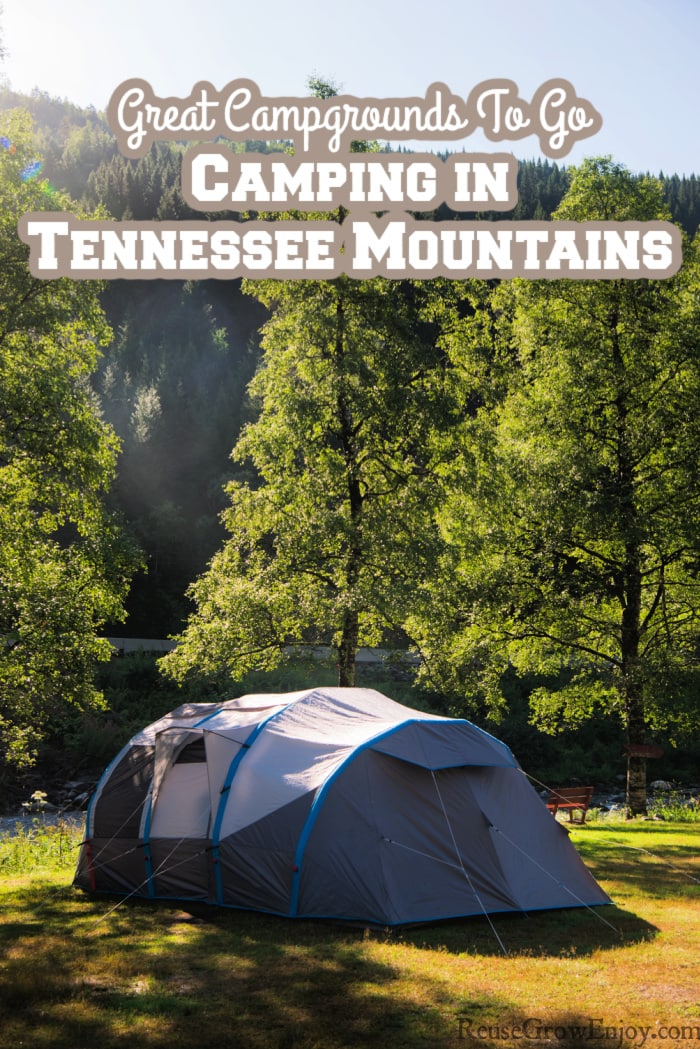 Fifty-four state parks dot the landscape of Tennessee. Campgrounds exist in 36 of them. From east to west, Tennessee's wide variety of woods, lakes, and mountains aid in making camping one of the biggest recreational activities in the state.
In fact, so many wonderful camp sites exist in Tennessee that it's easy to find many great places to spend a long weekend or your next vacation.
Finding the perfect camping location can be half the camping trip. If you want to find a good place that suits your needs as well as those of your children, look no further than the camping areas listed below.
We will cover options for RV camping sites as well as tent sites.
If you are looking for tips and pointers, here are a few of our camping posts you may want to check out.
Here are some of the best that made our list of best places to camp in Tennessee mountains.
Chickasaw State Park
Tennessee offers some of the more wooded areas of the state, and consequently, the region hosts numerous campsites. Chickasaw State Park, located in Henderson, has three campgrounds within its borders, including a wrangler site (aka horse camps) that allows for campers who want to bring along their horses.
Each of the three campgrounds features potable water and electric hookups, bathhouses, grills, and playgrounds. While on-site, campers can dine at the park's restaurant, fish or swim in beautiful Lake Placid, and hike or bike along the many hiking trails throughout the park.
Mousetail Landing State Park
This State Park is a beautiful park is on the banks of the Tennessee River. Every year thousands of people pillage this park for its wonderful views of nature, great boating, and camping facilities. It is a historical park as well as one for camping and boating.
Every year tons of authentic Indian arrowheads and memorabilia are found within the confines of this park. Though it is illegal to keep these artifacts, it makes for a wonderful vacation to witness the purest form of our history. Mousetail offers RV hook-ups and camping grounds. I
f you would like to partake in the surrounding attractions, the small town of Linden is located only a few miles away. It sports only two traffic lights and a great small-town atmosphere sure to reach the heart of every tourist.
Holiday Nashville Travel Park
Holiday Nashville Travel Park is located in the heart of Nashville. It has the convenience of home plus a whole lot of fun and excitement. This park is the closest one to the Grand Ole Opry and only miles from the famous Opry Mills Mall that is now where Opryland once stood.
Holiday Nashville Travel park offers Pull-thru sites, 171 hook-ups, 67 electric and water hookups, a grocery camp store, a creative playground, hot showers, a laundry facility, a spacious swimming pool, car rentals, Park models, sleeping huts, as well as guided fishing tours and 20, 30, and 50 Amp service, as well.
It uniquely offers the Live Country Music Nightly program that is in operation from Memorial Day thru Labor Day. It is sure to be an exciting stay for your whole family.
Fox Den Campground
Fox Den Campground is located in Cosby. It is a peaceful, low-traffic town that is located less than 20 minutes from the Great Smoky Mountains National Park, Gatlinburg, Pigeon Forge, Dollywood, and great whitewater rafting in Hartford.
They offer reasonable rates, senior citizen and military discounts. Fox Den also offers the rustic Juniper Cabin for private stays. It is located in the heart of the great smokies. It sleeps 4-6 people, has a full kitchen and living room, fireplace, offers linen services, and a wonderful view of the mountains. This rustic cabin is sure to make any romantic getaway even more so.
Huc-A-Bee Campground and RV Park
Huc-A-Bee Campground and RV sites are located in Gatlinburg, across the street from the Great Smoky Mountain National Park. It offers a grocery store, heated pool, playground, BBQ grill, and laundry facilities.
They offer cabins, RV hook-ups, Pop-ups with full hookups, and spaces for tent camping and vans. Rates are reasonable and start around $20 and don't go higher than $65.
You can enjoy the many sites that the surrounding mountains and cities have to offer and leave knowing that you have experienced the Smoky Mountains at their finest.
Natchez Trace State Park
Natchez Trace State Park may be the crown jewel of West Tennessee's campgrounds. The park itself spreads out into three counties and is a short ride from either Nashville or Memphis. Natchez features four campgrounds for a total of 210 sites.
Each site features grills, bathhouses, and two dump stations. The RV site offers laundry services, vending, telephones, and sewers.
The site also features a swimming beach, playground, and boat dock. A small store full of fishing, camping, and food supplies is located just beyond the campgrounds if you happen to forget or run out of anything while at the park.
Nathan Bedford Forrest State Park
Not too far away from Natchez Trace lies Nathan Bedford Forrest State Park, named after one of the most renowned Confederate heroes of the Civil War. This park features three campgrounds, two of which are primitive.
Happy Hollow Campground has all of the previously mentioned niceties, including showers, an electric hookup, and a playground. One of the other campgrounds hosts mainly groups such as girl scouts and boy scouts. The campground is situated along with Lake Kentucky and is available at no charge but only by request.
Cedars of Lebanon State Park
Middle Tennessee has more than its fair share of great campsites as well. Named for the wooded lands in the Old Testament, Cedars of Lebanon State Park resides smack dab in the middle of the state and features a wide array of activities for eager campers.
Along with the usual fixtures of grills and showers and such, you will also find a laundromat, a general store, and a souvenir shop. The park also has a huge swimming pool that is not open year round but is open during the summer months, along with six miles worth of horseback riding trails.
Fall Creek Falls State Park
While the prize for Tennessee's most beautiful state park may depend on whom you ask, Fall Creek Falls should be the perfect place for most people.
This unique experience area boasts all the amenities of the other campsites while at the same time presenting campers with immaculate views of waterfalls, gorges, cascades, and sweet little streams. Campers will continue to be dazzled by the park's natural beauty.
Fall Creek Falls features two group camps that include bunkhouses, playfields, and fire ring. There's also a golf course campers can try. Of course, nothing can be more recommended at this park than exploring all the many trails. Each step is prettier than the last making it the ideal place to go camping in Tennessee mountains
Davy Crockett Birthplace State Park
Boasting the highest elevations in the state, East Tennessee has numerous parks situated along the Great Smoky Mountains. Davy Crockett Birthplace State Park's distinguishing attribute is the log home built as a replica of the one in which Davy Crockett would have been born.
The campground itself lies adjacent to the gorgeous Nolichucky River, which is a great place for both camping and fantastic fishing.
Camping in Tennessee Mountains At Cumberland Mountain State Park
Cumberland Mountain State Park may offer more activities and facilities than most of the other state parks in Tennessee. The campsites all include grills, picnic table, and bathhouses, although if you rent one of the many cabins, many other amenities will be at your service.
The park's restaurant includes a buffet of some of the best Southern food around. Even non-campers visit the park just for the cooking as it is a local favorite! Boating, swimming, fishing, and a 18-hole golf course can all be achieved by campers at Cumberland Mountain. That makes this a perfect place for camping in Tennessee mountains!
Hiwassee/Ocoee Scenic River State Park
If you journey to the southeastern part of the state, plenty of beautiful camping options exist as well. One great choice is Hiwassee/Ocoee Scenic River State Park. This area caters to river goers more than any other visitors.
However, the campgrounds provide a serene resting spot for frequent water lovers. Campers can even fall asleep along the riverbank, achieving a peaceful night's rest. The entire camp also provides any nature buff numerous opportunities for wonderful sites and photographs.
Anyone who has spent time camping in Tennessee mountains knows the state consists of a plethora of fabulous landscapes. Woods, mountains, rivers, and a variety of animal life can all be found in this Southern gem.
Luckily for campers, all of these geographic features exist in the dozens of state parks across the state. No matter which end of Tennessee you find yourself in, if you love to camp and you love the outdoors, you won't be disappointed no matter which park you try.