Are you someone that likes to camp and thinking about going RV camping? Here are some of the best tips and tricks for RV camping to go over before you go.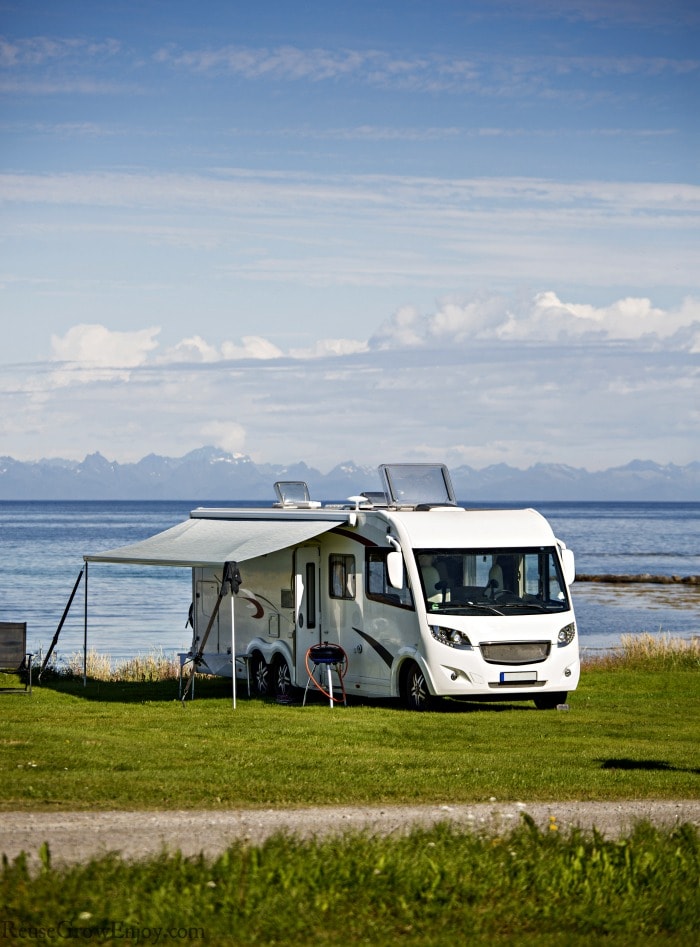 Best Tips And Tricks For RV Camping
If you have been following me for a little while you may have read my post on Living In An RV For 9 Months. But most only use their RV for short camping trips. If you are new to using an RV then you may want to read over these tips and tricks for RV camping.
While some of these only apply to driving RVs they do also cover the pull behind type as well.
After you go over these tips, here are a few other camping posts that you may find helpful.
Plan An Extra Budget For Gas:
RVs can eat gas quickly due to their size. When traveling in your RV, it is a good idea to have a backup budget for gas should you find yourself in a lot of stop and go travel that can lead to lower fuel economy.
Pulling over during rush hour is a great way to lower the amount of gas you use due to traffic issues.
Get Roadside Assistance:
Ask your insurance provider if they offer roadside assistance. The extra cost can save you money should you break down, have a flat, need a tow or have another issue while on your trip.
Many of these plans even offer discounts to members that can help lower the overall cost of a roadside assistance plan.
If you plan to camp often or even go full time RVing you may benefit from joining an RV club. This is a great way to get discounts on RV campsites and even make new friends while camping.
Do A Check Before Going On Your Trip:
From fluids to tire pressure take the time to ensure your RV is ready for the trip ahead to avoid things going wrong that could have been avoided.
If you can not do this yourself it is well worth the cost of having a mechanic give your RV a quick look over. If you take it in for an oil change (if it is the driving type) they can usually check everything else for you at little to no cost.
Know Your RVs Specifications:
Knowing how heavy, tall and how long your RV is, can save you from costly and embarrassing mistakes out on the road. If you are going out in a new to you RV, stick note with this information on the dash to make it easy to remember.
Use Walkie Talkies:
When parking the RV use walkie talkies to make it easy to communicate back and forth when trying to park your RV. You can normally grab some low price ones online like this set here.
While Cell Phones are more and more reliable every day as networks grow you will still find some out of the way campsites have limited cell service.
Stock Well Before You Go:
The cost of everyday items near campgrounds can be higher than average so doing a stock up before you leave home can save you a lot of money.
Don't skimp out when shopping for the basics like dish soap and toilet paper. While you do not need specialty products designed for RVs you want quality septic safe options.
Stock up when you find sales as these products often offer coupons and sales.
Aim For Zero To Low Waste:
While this can be difficult and you are bound to have trash while on your camping trip it can be a lot less stressful if you make a point to reduce the trash you will be producing.
Instead of paper plates, opt for reusable options. Not only will you not have to find a place for your trash if you are not near an appropriate place to dispose of it you will also have more room because you are not looking for a place to hold more than you need for each meal.
Keep Things Clean And Organized:
Being in a small space, traveling can get a bit messy and overwhelming. Hopping in your RV for a camping trip is the perfect time to work on goals for minimizing and excess.
Take only what you may need on your trip. Find homes for everything in one of the many storage nooks and crannies RVs have to offer before you leave.
When on the road make a point to put items away as you walk through the camper to help keep things clutter-free.