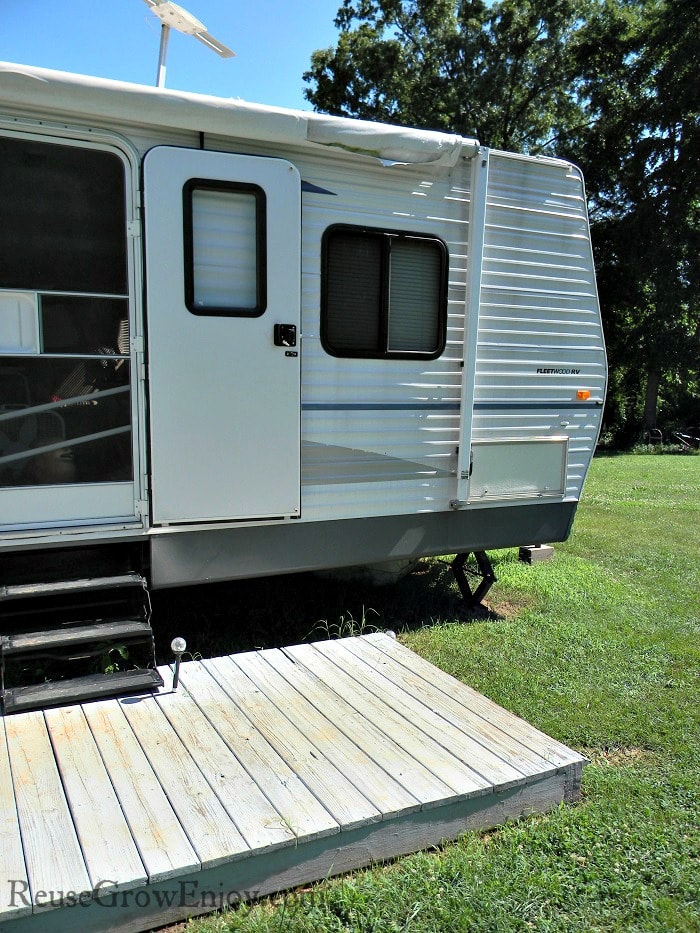 Living In An RV For 9 Months,
Could You Do It? We Did!
Have you ever thought about living in an RV? Some love to take it for camping trips, but what about for long term? Can it be done? The answer is yes it can! I am going to share with you how and why we took up living in an RV for 9 months!
It all started when we wanted to sell our house up north in NY and move south. We wanted away from so much snow that we had to deal with in central NY. We would get dumped on by not inches but feet and it would last for months and months. So we started looking into our options.
We would be buying a house so would need to be able to look at them in person as we found them. However, an 8-9 hour drive to look at a house was just not something we would be willing to do. So we thought about renting a place for a little while. But when looking a rent it was so high in the area we would be in. Plus you would not get any of it back, so it felt like such a waste of money.
That is when we came up with the idea of living in an RV for a little while. Yes, we would have to buy one first, but after we found a house we could sell it. That way we would get most of our money back and not have a loss like with renting. However, when we started out with this plan, we "thought" it would only be a month or two maybe three at the most.
Next came time to find an RV! I have to say this is when Craigslist is such a wonderful tool. Sure, there is a lot of crap on there and you do have to be careful, but it really is a great way to buy used stuff. So after a few not so great RV's, we found one that we thought would work at a great price.
Where To Park?
We did have to find a place to park the RV and campsites are still much cheaper than rent. However, we did luck out on this part as my parents have a hookup and said we could park it at their place while we house shop. Such a loving a kind thing for someone to offer even if it is family! I have always been a person that wants to pay my way and not take advantage of anyone, so we did make sure to pay a monthly payment while there to cover any power that we would use. No, they did not ask nor want it, but I made them take it anyways lol.
Moving In & Starting The House Search:
So we packed our whole house in a Budget truck (with help from family) and hit the road. Our house still had not sold yet, but the realtor said they could still work with us out of state.
After getting to Virgina, there was a fast realization just how much was not going to fit in the camper. So we put the most of it in storage and only brought the things we really needed into the RV. Again, we thought this would only be for a short-term, boy how we got that part wrong even after all the planning.
We looked at house after house for months and nothing was right for us. Either they would turn out to be a dump when in our budget (or I should say what I was willing to spend) or would be a crazy high price. We did not want to go over a set amount even when the bank told us we could go much higher. I always try to think ahead, yes we could go higher, but you never know what tomorrow will bring, so we stuck to our guns.
Then, then we finally found one and our offer was accepted! No, it did not happen without issues (don't even get me started on the internet issue) but we got it and it worked out. So we closed, moved into the house and sold the RV. We got most of what we paid for the RV all back just as planned. So planning does work out, just not always the way you think or timeframe you think.
What Did I Learn About Living In An RV For 9 Months?
Now that I have our story of the why and how out of the way, I want to share some tips on what I have learned about living in an RV. Including some tips for you to use even if it is only for when you are camping.
Living in an RV really is not much different from everyday living. You just have to adjust for limited room and small space. Before giving it a try, cut down on everything! A person does not need 20 pairs of pants. Cut it down to two for each person in the RV. Do the same for other clothing but adjust it to the item, like two pants are fine but you may need a few more undies, socks and so on. Carry that same thought to dishes, toiletries, towels and anything else.
Kitchen:
Like clothing, you only need a few dishes. For us, it was only two, so cutting down everything to twos was key. It allowed so much more room. Yes, that means you need to wash dishes more often, but it works best.
Another thing to note is not all pans and bakeware will fit in an RV stove as it is smaller. So be sure you try and stick with smaller ones, ones that work in a toaster oven normally fit with extra room leftover. This is also when an Instant Pot is super handy even with only being able to have a few kitchen items, I say this one hands down is worth taking up space.
Utilize Space Everywhere!
You would be surprised just how much you can actually fit while living in an RV when you use every nook and cranny of space. Yes, you do have to get creative and think outside the box, but it works.
A great way to do this is with hooks. We would use cup hooks right by the door to hang things likes keys, flashlight and so on. The 3M command hooks are another really great item. I put a few on the very small areas of the wall in the kitchen to hang dish towels, pot holders and things like that. I also put two on the wall in the bedroom to hang coats on. They also work great on the inside of the pantry and closet doors.
In the closets, a great way to keep them organized and get to the things you need is to use a hanging organizer in them. That way you can have your clothing neatly and not all just in a heap.
Buy Smaller Size Items:
When living in a small space it is so much easier when you buy smaller size items. Trial and travel sizes work so much better. You can normally grab them pretty cheap too in the travel area of stores like Walmart or even shop dollar stores where a lot of their items are travel size. Using small toothpaste, shampoo, dish liquid and so on saves so much space.
You will also need to do this with some of your food items. A full gallon of milk in a little fridge takes up so much room. When you buy it in a half gallon you open up so much more fridge space. You can do this with other items that have to be in the fridge after opening like ketchup, jelly, mayo and so on.
Winter In A RV:
Our 9 months of living in an RV was from October – July, so we had a full winter in the RV. I am just thankful it was not an NY winter, however, it was a little tough. The heat keeps it pretty nice but the floors are like ice. So a good pair of slippers at all times is a must.
Another great thing to do if you will be spending the winter in an RV is to add skirting around it. That way it will help cut down on the cold air blowing under.
With us living in it all winter, we could not really winterize it as we still needed running water. We did, however, do a few things each day that helped us make it through the winter with no busted pipes. Each evening we would discount the waterline running to the RV. We would then turn the sinks on to run any remaining water out of the line.
We did not use a water tank because we had a hose available so did not have to worry about that one. There were many nights that got super cold and it would sometimes be late morning before we could hook back up to water due to freezing but by doing this it must have allowed enough space so that what did freeze did not burst our pipes. Not to say that this is the best idea, but it is what we did and it worked for us.
Would I live in an RV again? Yes!
Have you ever lived in an RV for a long time? If so, what tips would you share with others?
If you liked this post you may want to check some of these others.