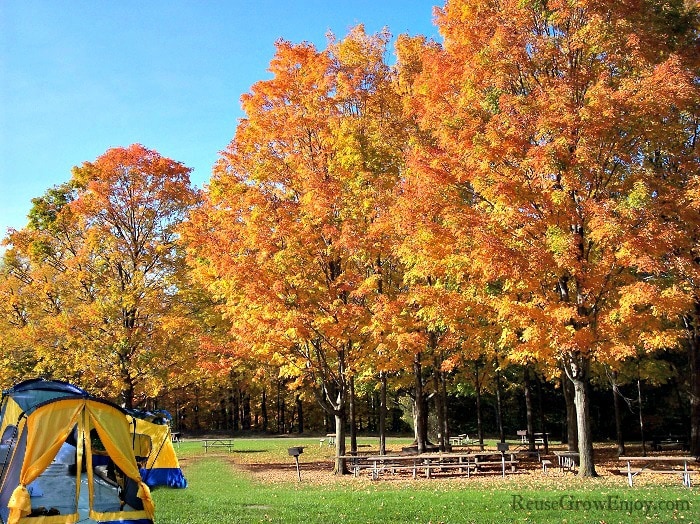 Fall Camping Tips
As the summer soon will draw to a close, autumn is fast approaching. With this, cold weather and staying much more inside will be a factor for most families. However, with fall weather, you still can enjoy the outside with fall camping. The fresh cooler air and the turning of the leaves change the whole outdoor experience to something new. You just have to be a little more prepared for the cooler weather.
Blankets:
One extra thing you need to remember is blankets. Gone for a while will be those hot summer nights when you are dying to get cool so you can rest. Sleep in your tent will be excellent when you are bundled in your favorite quilt or comforter. You just have to make sure you bring enough of them.
If you know it will be really cold in the area you will be camping, you may want to grab a cold weather sleeping bag.
Padding and or Flooring:
Even with blankets, it can feel cold when you sleep right on the floor of the tent. It helps a lot to either sleep on an air mattress or air pad. Also, you can add a little extra padding and insulation to the floor by adding floor padding. You can do this with things like thick yoga mats or even lock together kids foam tiles.
Warm Clothing:
Another thing to remember is warmer clothes. Heavier coats, hats, jeans, gloves etc. The nights can get pretty cold depending on what time of year you are camping. Packing an extra supply of these can save you from getting caught off guard by an extra chilly day or night.
Also, when it comes to sleeping, a good idea is to have sleep clothes. You can also just sleep in the clothes you had on during the day if you didn't get them too dirty. Your bed will more likely be chilly and damp when nightfall comes. Some covering on yourself can save you the shock of a very cold sleeping bag or a pile of covers when you finally lay down after a long day.
Heating:
If you are in a camper with electricity, bring a small space heater. Even those with propane furnaces can benefit from using the electric energy from the campground instead of your supply of propane.
If you camp on a site with no electric, you may want to bring along a small portable radiant heater.
If you are relying on a fire pit to cook and keep warm, remember to bring plenty of firewood. Sometimes it can be hard to just scrape up some wood pieces from your local forest. Making sure to include this can help you in the long run.
Another great nonpower heating option is to bring those air activated hand and toe warmer packs. They are super handy to have with you at all times. You can even toss one in your sleeping bag a little while before you go to bed so that it is nice and warm when you get in.
Cooking & Food:
In the summer everyone packs things that are light to eat as it is normally very hot out. However, in the fall you want to pack some more hearty foods and things you can eat to warm you up. Try to think about things like hearty stew, chili, hot cereals and so on.
Venting:
You can also expect to see some condensation in your tent or camper. This is normal and can be reduced some by venting your tent a little with the outside air. Just open or unzip one of your windows a touch. It should let some of your damp air that collects in your tent. If you will not be in the tent for the day and it will not be raining, I would just leave the windows open all day.
Just because summer is quickly ending does not mean you cannot have some of the same fun you had when the days were much warmer. With a little extra gear, your fall camping trip can be much different but a thoroughly enjoyable experience.
If you liked these fall camping tips, here are a few other camping posts to check out.