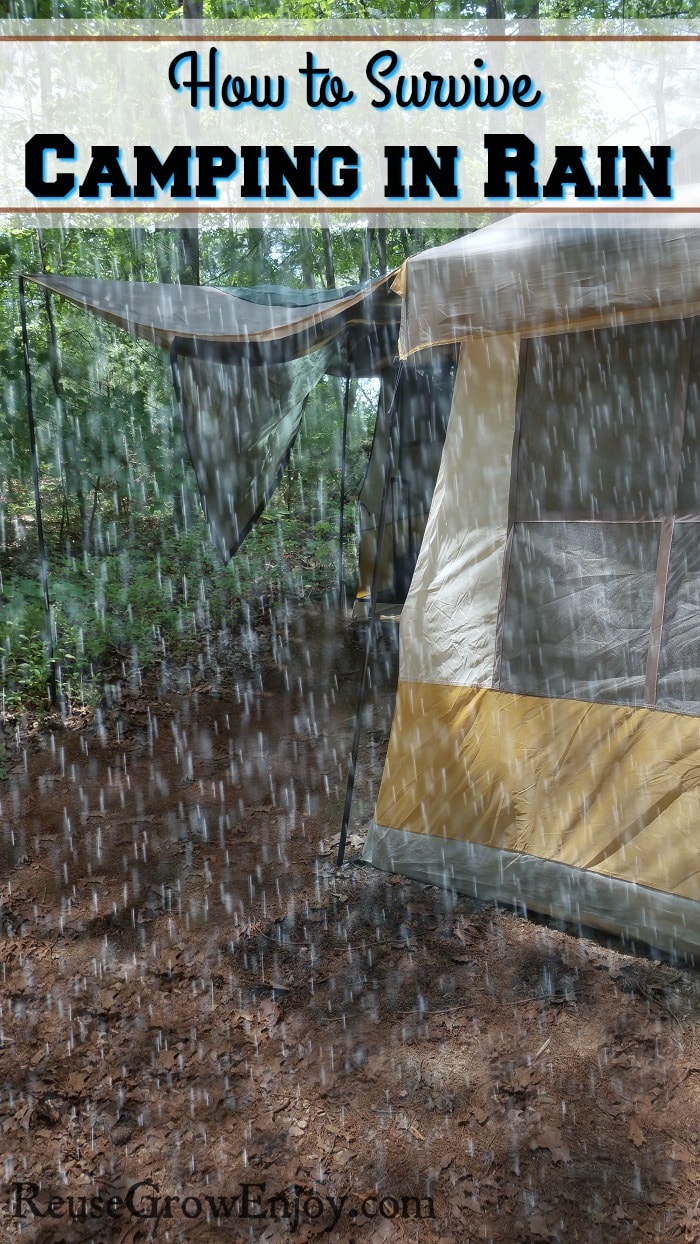 How to Survive Camping In The Rain
Camping can be such a fun way to connect with family and get away from it all. The issue with camping is that the weather is out of our hands, it's up to Mother Nature to determine whether you will be camping in the rain or sunshine.
When you have planned a camping trip and the rain shows up, it's time to learn a few camping survival tips. Today I am sharing some tips on how to survive camping in the rain so that you can still enjoy this time away from home.
Pack Appropriate Gear:
Whether you plan to go camping in the rain or not, you must learn to pack the appropriate gear. Always pack gear that allows you to be ready for any type of weather. As you know, Mother Nature has a mind of her own so be prepared with ponchos, tarps and umbrellas just to name a few.
Depending on the room you have to pack, you may even want to make sure each camper has their own rain gear so that there are no complaints of being wet.
You might also want to think about taking a folding drying rack to set up in a tent to dry out wet clothing.
Tent Setup:
Take a look at the ground where your camp site is. Learn to set up your tent in an area that won't leave you walking out into a puddle or even worse, the rain running into your tent.
Pitch your tent on higher ground and make sure that there's some sort of a tilt or tarp over the tent to keep your sleeping quarters dry.
Make sure that your tent is also rain resistant. If not, you may need to spray it with some water repellent to help in the long haul, when trying to survive camping in the rain. Just be sure to spray it before it is wet.
Pack Activities:
The family may not want to go dancing and running around in the rain (but that can be fun too), so be certain to pack some rainy weather activities. This can be word searches, picture finds, coloring books, books, games or electronic devices (if you must lol).
Think about activities that the family can enjoy both alone and together so that there is still some bonding occurring when camping in the rain. Games like 5 Second Rule (I love that game!) or UNO will work great to entertain the family when rain takes over your camping trip.
Fire and Food:
Fire is one of those things you just have to have to feel like you are truly camping. However, it can be a little hard to make in the rain. Depending on how hard it is raining you still may be able to have one. Just be sure to pack a lighter as they work better than matches when raining. Also, make sure you keep some fire starters in sealed containers or plastic bags so they are nice and dry when you need them.
Everyone has to eat even when it is raining. If you have super heavy rain, you may not be able to have a fire so you will need to have backups. You can either pack a portable gas grill that will stay going in the rain or just pack some foods that do not need to be cooked.
There are endless options when it comes to snacks, but try and think of things for meals too. Some ideas might include pre-made cans of chicken salad, pre-made cans of tuna salad, PB&J sandwiches, salad and fruit with nuts.
There you have it, a few ways you can prepare to survive camping in the rain. While some choose to camp in the rain, others end up stuck in the rain. Whatever you are planning for this season's camping trip, rest assured you will be ready for any weather patterns when you follow these tips.
Do you have any tips and tricks for camping in the rain?
If you like tips on camping, here are a few others to check out.