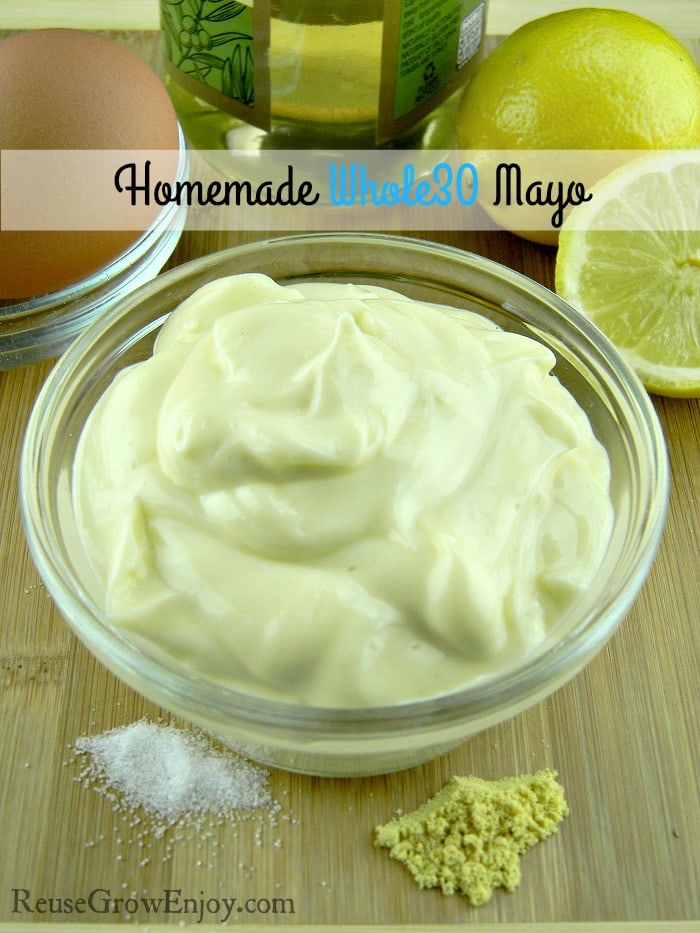 Homemade Whole30 Mayo
Are you doing Whole30? Finding it hard to find Whole30 mayo? I have never noticed how many things are added to mayo until I did Whole30. I searched and searched to find an affordable Whole30 approved mayo, finally, I gave up and just decided to make my own. Little did I know that making a Whole30 mayo would be super easy! Plus the price to make your own is SO much lower than buying one that is Whole30 approved.
So if you are like me and looking for Wole30 mayo, you will want to give this recipe a try. Plus it doubles as a nice base for many dips, dressings and more. You will only need 5 ingredients to make this recipe too! Chances are you already have at least half of them on hand. This will make just slightly over a cup of mayo. As with all mayo, make sure that it is stored in an airtight container in the fridge.
You will need a blender or a hand blender to make this. I guess you could mix by hand, but chances are your arm would get tired before you get to the right texture. Ready to get started?
If you enjoy this recipe, you may also want to check out my recipe for Whole30 Ketchup and Whole30 Potato Bites.
Homemade Whole30 Mayo
Ingredients
1/2

Tsp

Mustard Powder

1/2

Tsp

Salt

1

Cup

Light Olive Oil

1

Egg

1

Tbsp

Fresh Lemon Juice
Instructions
Starting with all ingredients at room temperature.

In blender add egg, salt, mustard powder and about 1/4 cup of oil and blend well.

With blender still going, remove the small cap in the center of the top. Then SLOWLY add in the rest of the oil while blending.

After you have mixed all the oil in and have reached a mayo texture, stir in lemon juice.

Place in an airtight container and put in the fridge.