If you are wanting to grow your own lavender plants be sure to keep reading this post on how to care for a lavender plant.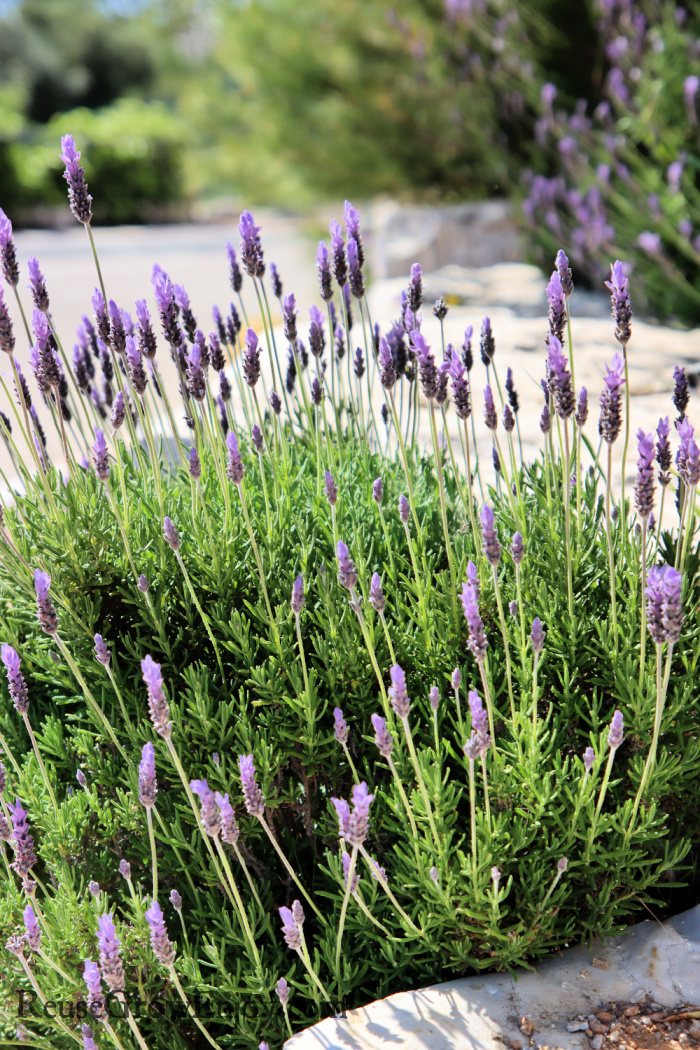 When most people think of lavender (aka Lavandula Angustifolia), they picture a light purple flower with a pleasant fragrance. But it is so much more than that. The blooms range from deep purple to light yellow. There are choices for hot and mild climates, but lavender doesn't grow in cold climates.
Lavender Varieties:
Different types of lavender bloom at different times. Some of the early spring bloomers are Spanish, yellow, and woolly.
English lavenders bloom in late spring. Some of those choices are Old English, munstead and hidcote.
Lavandins are the latest bloomers. They are a hybrid version of the English lavenders. Some of these choices are Fred Boutin, and Dutch mill. All of them have long, gray leaves are they are the fastest growers.
Features:
Lavender is not a flower. It is a fragrant herb. Each of the varieties of lavender is a bit different from the others. For instance, Spanish lavender has flowers that are shaped like a pineapple and are a deep purple with dark green leaves.
Yellow lavender has similarly shaped lavender flowers, but they bloom in a lemony color. Sweet Lavender grows the fastest and has the tallest flowers and deep green leaves.
French lavenders have leaves with serrated edges. Wooly lavender needs very dry well-drained soil. It has deep purple flowers and this lavender blooms in summer.
Old English is tall with large leaves. Munstead fares well in hot weather. Hidcote is for cold climate areas. It has a deep purple bloom.
Abriali lavender is one of the shortest. Dutch mill has light-colored flowers. Fred Boutin came on the scene in 1980. It has long stems, purple flowers, and silver leaves.
Functions and Uses:
Lower-growing varieties can be turned into topiaries. Varieties like Spanish lavender are used to make essential oils and perfumes.
Yellow lavender is tall and is good as a background plant. French lavender is an excellent choice for dried flowers.
Lavender is also sometimes used for culinary purposes.
Lavender does well when planted with roses, used as a background plant with smaller plants in front, and the taller ones are used as hedges.
Geography and Climate:
In the warmer planting USDA zone –8 to 10–you can have a variety of lavender blooming almost all year long. Lavender can be grown in zones 5 to 10.
Lavender likes heat, but not humidity. Do not plant lavender in places where water will accumulate, making the soil very moist and soggy.
Soggy soil will promote root rot. Lavender needs to be planted in soil that has good drainage. If planting in containers you need to make sure it has good drainage holes.
Lavender needs as much sun as possible so needs to be planted in full sun.
How To Plant & Care For A Lavender Plant:
Seeds can be started indoors 6-10 weeks before the last frost. Plant seeds 1/4 inch deep. Then keep the soil moist (not wet) and around 70-80 degrees. You should see seedlings popping up around 14-28 days after planting.
When the plants reach 6+ inches tall and all danger of frost is gone, they can be hardened off and transplanted into the garden.
All lavender varieties require well-drained soil. If you have poor soils such as clay soil and do not have good drainage in your soil, try mixing some gritty gravel or sand into the soil before planting lavender. Or it may also be a good idea to choose to grow in raised mounds or raised beds to increase drainage. The side of a hill or slope also works well.
You also want to select a full sun location as they will need 6 or more hours of direct sunlight per day.
The best way to plant is to plant just deep enough to cover the root ball and not cover any of the plant. They also need to be spaced 12 inches or more from each other to promote good air circulation.
When watering, lavender needs to be watered with long soak watering at the base of the plant. And only when the soil is dry. This will help to promote root growth and avoid rot and fungal diseases.
When you water with frequent and short watering cycles it will result in rot and unhealthy roots and may kill your plant. Too much water is not a good thing for lavender.
How to Keep Your Lavender Plants Lush:
How many of us dream of having a garden full of Lavender with the heavy aroma wafting about and happy little Bumble Bees getting drunk off the nectar as they buzz from bud to bud?
Why is it that our young plants begin to break and thin out in the middle? Why do they look like a big fat cat had a nap in the center of our precious plants? Was it a cat? Snow? Lack of fertilizer? While it can be from those reasons, the more likely cause is not properly pruning.
If your Lavender plants have already split, there is no amount of pruning you can do to get those plants looking fabulous again.
At this point it's worth it to try your skills at starting some new plants from cuttings; growing fresh plants from lavender seeds; or making a trip to your garden center because you need new plants. It's time to pull those busted-up babies and send them to the great composter in the sky.
Pruning:
Lavender is a sub-shrub, meaning they push most of the new growth from the tips of the plants. If you make the mistake of sheering into those bare brown old wood branches, you will always have a lifeless stub to look at.
So prune Lavender under the right conditions. Prune Lavender early in its life, and prune Lavender twice a year to encourage fresh new growth.
From the very beginning of your young plant life, prune away the faded flowers (if you haven't already harvested them early in the morning when the blooms were fresh).
Cut away the dead flowers using your hand pruners, only lightly cutting into the actual leaves of the plant. This late summer prune is primarily to remove the spent flowers but you can lightly shape the plant into a mound at this time.
Rake out those little cuttings, the telescopic adjustable rake can fold out or it can fold down into a compacted little fan that will fit easily between other Lavenders and perennials.
Spring Pruning:
This is the second prune, the one you do in the spring. I saved this one for last because it's the most important and the most difficult.
Even when those plants are tiny seedlings, just starting in your garden, you have to do this prune to get the fullest bushes later on in your Lavender's life.
Wait until the plants are just starting to push out some brand-new leaves, your looking for that brand-new spring growth.
Now take your sheers and put your instincts aside; you have to cut into that new growth (gasp! I know; it's difficult for me too). You're not pruning the new growth completely away, you're just cutting about halfway into it.
By making this cut at the right time and doing it every year, regardless of the plant's size, you encourage new side shoots on the rest of the plant.
It's kind of like the plant is confused, its new growth has been attacked and the little Lavender is going into defense mode.
It's assuring that it survives by sending out new growth from the dormant buds, in return guaranteeing you a fuller, lusher, gorgeous plant… just like in the hills of Provence.
Rake up those bits, and remember to prune in the summer to lightly shape but mostly remove the spent flowers.
Then prune in the spring, just cutting into that new growth to encourage the plant to produce side shoots and stay lush. You will be rewarded!
Tips & Considerations:
Your summer pruning is an ideal time to add a little lime to the soil around your Lavender. That's about all the fertilizing that Lavender requires, but, it never hurts to get your soil tested to be sure.
Consider planting a variety of types of lavender. The warmer your climate, the more choices you will have. But there are enough available just about anywhere so that you will be able to have different colors, shapes, and fragrances.
The hardest part is just choosing the type of lavender to plant. Lavender does take some maintenance. It needs to be cut back or annual pruning after a few years, and this is the best time to remove the old woody stems as well.
It also needs extensive weeding, especially the smaller varieties.
Subshrubs are also called woody perennials and most would benefit from this same pruning.
Frequently Asked Questions:
Q. Is the whole lavender plant edible?
A. While the entire plant is not toxic, the only part that is used in cooking is the unopened flower buds and leaves.
Q. Can I grow lavender indoors or in a container?
A. Yes! For best results use terracotta pots and a well-draining sandy soil potting mix to drain off excess water. If you will keep it indoors remember it needs to stay warm and have 6+ hours of sunlight per day. If you do not have a window or room with enough sunlight use a grow light to provide the right growing conditions.
More How To Care For A Lavender Plant Questions:
Q. Part of my plant is dead, does that mean the whole thing will die?
A. Sometimes part of the plant can die off. While it will never be as pretty as a fully healthy plant again, it may be able to be saved. Simply cut off the dead wood of the plant and make sure the rest looks to be healthy and pest and disease free. If it is, then it should be fine just not as full and pretty.
Q. Does lavender plant like sun or shade?
A. Full sun! They need to have at least 6 hours or direct sunlight per day.
Q. Does lavender plant need to be cut back?
A. They do need to be pruned. You can prune twice per year as we have noted how to do so above in the post.
Q. Are lavender plants easy to care for?
A. When you know what they need and how to care for them they are really a pretty easy plant to grow.
Q. How fast does lavender grow?
A. It is considered a medium-growth plant. It will depend on the type you grow but maturity can take 90-200 days.
Q. Will lavender bloom the first year?
A. This will depend on when it was started or if you planted it from seed or plant. Lavender normally blooms in late spring or early summer. So if you started from seed in early spring you may not get blooms the first year.