Looking for ways to preserve all those fresh tomatoes from the garden? I will show you how to dehydrate tomatoes! This a great option if you don't want to can and if you are running out of freezer space.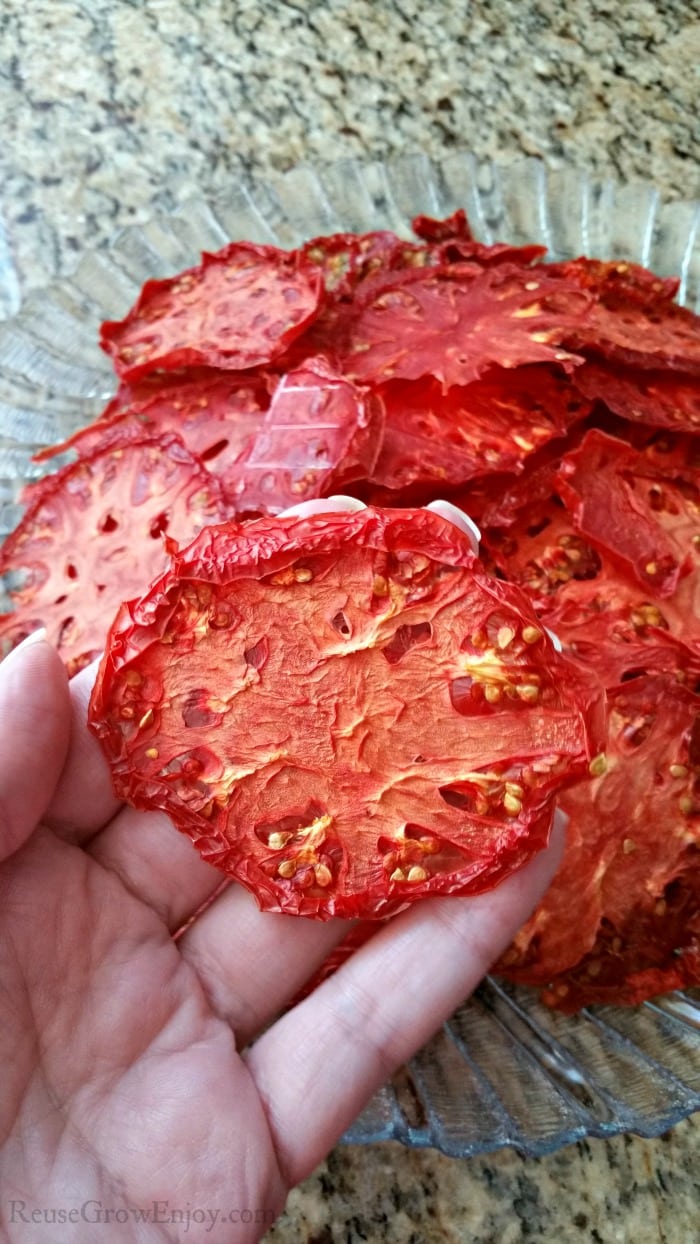 How To Dehydrate Tomatoes
Learning how to dehydrate tomatoes is pretty easy. I guess the hardest part is just waiting for them to be done. I know most dehydrator books say it takes 10-13 hours but I have found it takes much longer than that.
The time it takes will depend on a few things. It will depend on how thick you cut the tomatoes as well as how ripe the tomatoes are.
If you are drying tomatoes that are just ripening they will dry faster as there is less liquid in the tomato at this stage. However, if drying super-ripe tomatoes it will take a little longer as they are juicier.
First off, while those could be done in an oven I have found it is best to have a good dehydrator. I hade one years ago that I used and I hated it.
It would always scorch whatever was right over the air. Plus you had to rotate the trays every few hours. It was such a pain! But they have really come a long way over the years.
The one I use now is the Hamilton Beach Digital Food Dehydrator and I am in love with that thing! It is so easy to use and everything comes out perfect! You don't have to rotate the trays either.
If you are looking for other ways to use or preserve tomatoes, here are a few other posts to check out.
How To Dehydrate:
The first thing you need to do is wash the tomatoes and make sure to cut off any bad spots.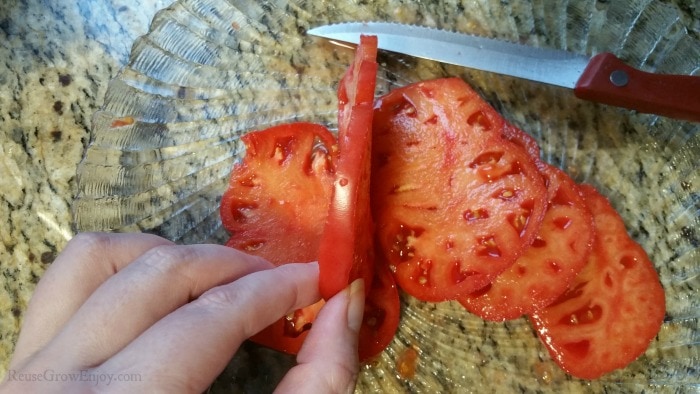 Next, slice the tomatoes in about 1/4 inch thick slices. You want all the pieces to be about the same thickness. If not then some will take much longer to dry then the others.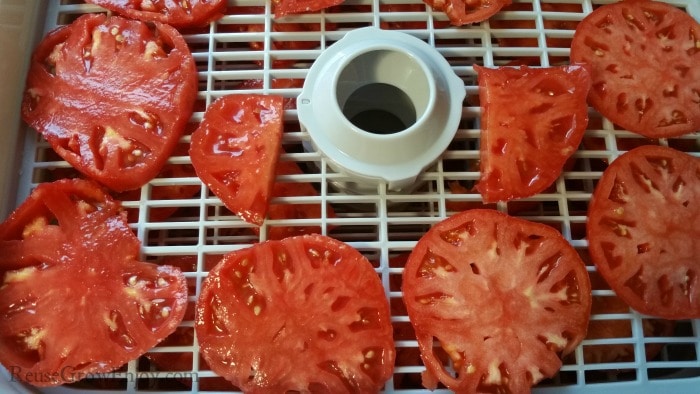 Place the slices on the tray making sure they are not touching each other. I set my trays on a cookie sheet while I am adding the tomatoes. That why it will catch any drips.
Next, stack the trays on the dehydrator and place the lid on. Set the temp on 125 degrees. Then set the time for 17 hours. Like I said above if you are drying less ripe tomatoes they may not take this long to dry.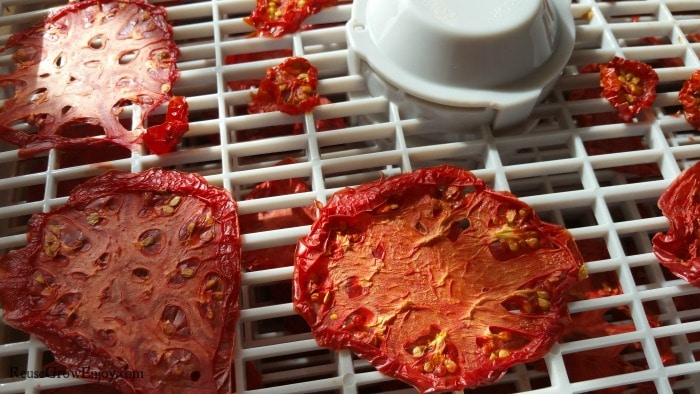 When done the tomatoes will be dry and crispy. They should not be soft or bendable without breaking. Allow them to fully cool before placing them in an airtight container for storage.
If you find that after the time is finished your tomatoes are not totally dry, add more time and let them keep drying.
I find it helpful to place Silica Gel Packets in all my containers that have dry foods in them. It helps to prevent moister from building up when you open and close the container. You can buy them, or do as I do and just reuse them from my herbs and vitamin bottles after I have finished them.