Thinking you want to add a backyard water feature to the yard but don't have a big budget? No worries! I am going to show you step-by-step how to make a backyard water feature DIY.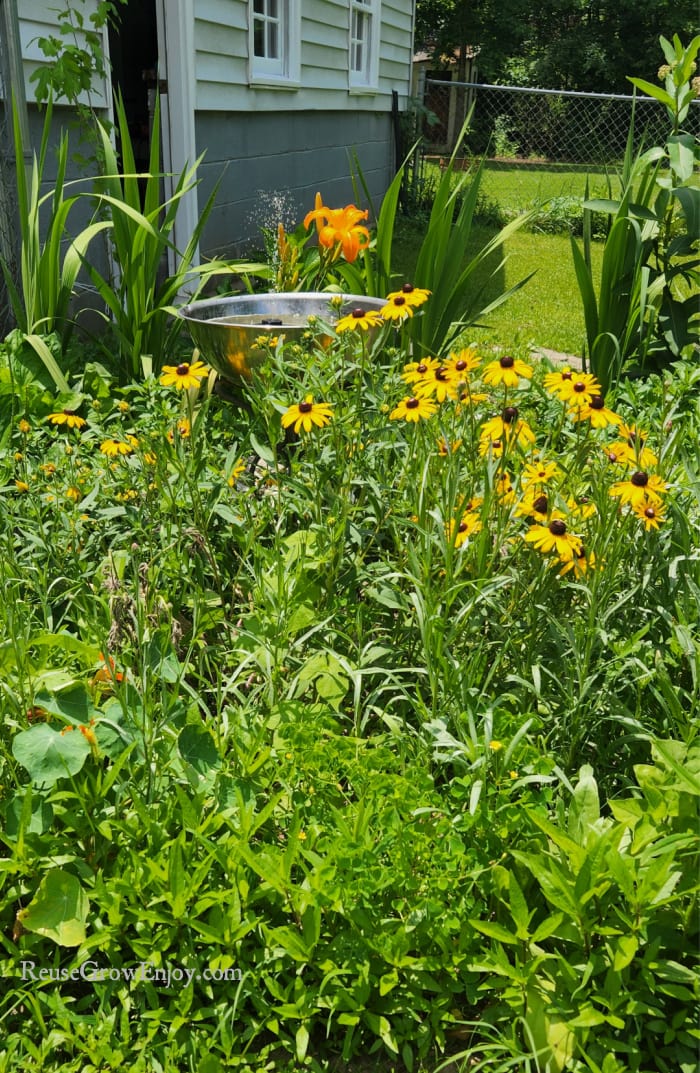 This backyard water feature is budget friendly because some of the supplies are things we had on hand or found in thrift shops. While the one we made is just to give you an idea for yours, you do not have to make it just like ours.
You can use similar items that you have or come across in your local thrift store or yard sale. Just use ours as a starting inspiration.
Before we get started on this outdoor water feature, you may want to check out a few of these others.
What I Like Most About This Garden Water Feature:
There are a few reasons I like this outdoor fountain more than some other styles. One of the main reasons is that this garden fountain is easy to make and it does not need any type of wiring done to get it up and running.
So you don't have to try and figure out or hire someone to put a power cord in.
You also don't have to hook up a copper pipe or pump tubing. That is because we used a solar pump fountain kit that you just drop right in the water!
Most other DIY water features require a large outdoor space such as a small pond. But the best part about this small water feature is it makes a great focal point for any outdoor living space even if you don't have much space.
It could even be added to a deck or sunny patio!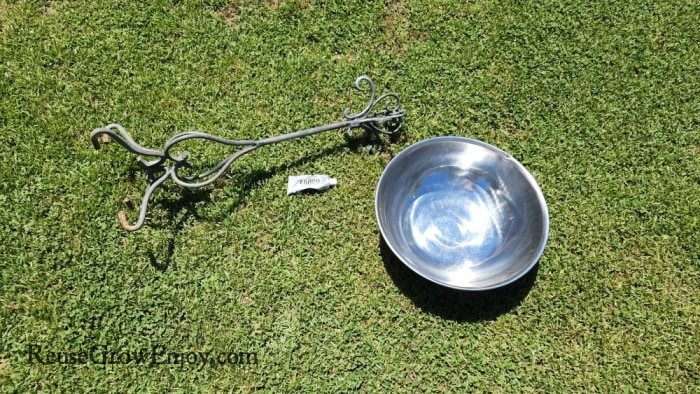 Backyard Water Feature Supplies Used & Ideas To Use In Their Place:
Ok so the same supplies we used to make our water feature was;
Rod Iron Fireplace Tool Holder
Large Stainless Steel Bowl
E6000 Glue: If you do not have this another great option to use in its place would be a weather-resistant epoxy or liquid nails.
Rod Iron Fireplace Tool Holder: For this, there really are tons of different items you could use as the base to hold your bowl. Such as a small rod iron table, orb stand, large flower pots, wine barrel, bird bath base, and so on. Just use what you have or can find to reuse for cheap. The one thing you need to keep in mind is it needs to be able to hold up to the weather conditions.
Large Stainless Steel Bowl: This could be replaced with a large glass bowl, ceramic pot, or birdbath top. Just keep in mind that whatever you use needs to be able to hold water. So if you want to use something that can not hold water such as a wood crate, you would need to also use something like a pond liner or even a pool liner.
Solar Fountain: We went with this option because it really makes this small fountain a super easy way to make your own water feature. However, if you are a little more skilled or maybe already have an area with a power hookup, you could also use a normal water pump, a powered fountain pump, or even a submersible pump.


DIY Fountain Care & Tips:
This homemade fountain is pretty low maintenance but there are a few things you do have to do to maintain it. First, you need to keep an eye on the water level. If it is really hot out with not much rain you may need to add water from time to time as the water line will drop. That is because if it does not have much water the pump will not work right and can burn itself out.
You also need to make sure the pump has enough water source around it. If the pump does not stay centered depending on the bowl you are using it can spray your water out of the bowl.
As long as the pump is working the water will stay pretty clean as it is always moving. But if you do get really hot weather or shady days where the pump is not running, you may need to give a good washout and change the water once a month. However, because things like birds, bees, and butterflies may drink from the fountain, NEVER use bleach or chemicals in the water as it will become toxic to them.
How To Make Backyard Water Feature DIY
Set your base upright and see if the bowl will sit on the top level. If not, use a hammer to pound the rods down some to make it so that it sets level.
I actually used the bottom of my stand for the area to attach to the bowl as it fits better and I would be putting mine in the ground some so the bottom could be more narrow.
The next step is to add some e6000 glue to the bowl or tops of the rods. Then turn it upside down onto the bottom of the bowl and make sure it is centered. It is important to do this upside down because if you don't the glue will run down the rod before it can dry and attach to the bowl. If you need to you can use things to help hold it in place to keep it from sliding off. Allow to fully dry before moving.
When the glue is fully dry you can move your DIY project to the perfect spot where you will be putting it. Anker it in place. I simply dug a small hole where the tip of mine would rest in. Then I added a stack of rocks around it to keep it from rocking. You could use a few large stones or river rocks if that is what you have.
Next, fill the bowl with clean water. Then place the store-bought fountain in the center. Mine had suction cups that I could use to anchor it to the center of the bowl and keep it from floating around and spraying the water out.
That is it! You now have a beautiful fountain that will make a great addition to any yard.
Frequently Asked DIY Water Fountain Questions:
Q. What do you do if the area you want to put the fountain in is not sunny?
A. While I love using the solar panel pump it does limit you to only adding this beautiful water feature to sunny areas. If you do not have a sunny spot, you may want to look into the next easiest option. That would be to use a small pump like a Fountain Water Pump.
Q. What are some different ways to use this water feature?
A. While we added ours to the middle of a flower bed, there are lots of other ways to use it. It could be added to the center of your garden or on a porch, or deck (as long as it gets sun). If you really wanted to go all out, you could add something like this to the middle of a koi pond. You would just want to be careful when choosing the base if adding it to the pond. As the rod iron may be toxic to the fish.
Q. Does this water feature make soothing sounds?
A. While you can slightly hear the movement of the water if you are right around the fountain, it is really quiet. That is because this is not a large water feature and does not move much water at a time.
Q. Can you add plants or rocks to the water?
A. It will depend on how large your bowl is. For mine, it was a little too small to add anything as the pump needs some room. If you have a larger bowl you could add a few aquatic plants and small water plants such as water lettuce or water lilies. Or you could even add a few small stones. You just want to be sure whatever you add does not tangle up in the intake of the water pump.