Looking for a fun and easy craft project to do? I am going to show you how to make these lavender felt flowers DIY made with Dollar Tree supplies.


These flowers only take a few minutes per flower to make. You can either use the full length of the skewers to have tall flowers. Or you can cut the skewers to have shorter flowers. If making an arrangement you may want to mix it up so you have different sizes.
We did this in a light lavender felt color but could also be made in a darker purple. Or you could even mix it up so you have flower bouquets in a rainbow of colors.
The one thing you should note when working with these felt flowers is that thinner felt works best. While you can use the thicker felt, the thicker the felt the less you see the details of the cuts or what looks like the individual petals of the flower.
Other than the hot glue gun you can find all the supplies needed to make these little cuties at Dollar Tree. If you don't have one near you, it can also be found online or at your local craft store.
While this is a pretty easy flower project to understand from photos and directions, we did a video tutorial too to make it even easier to see the step-by-step instructions.
If you like this craft project be sure to check out a few of my other flower tutorials.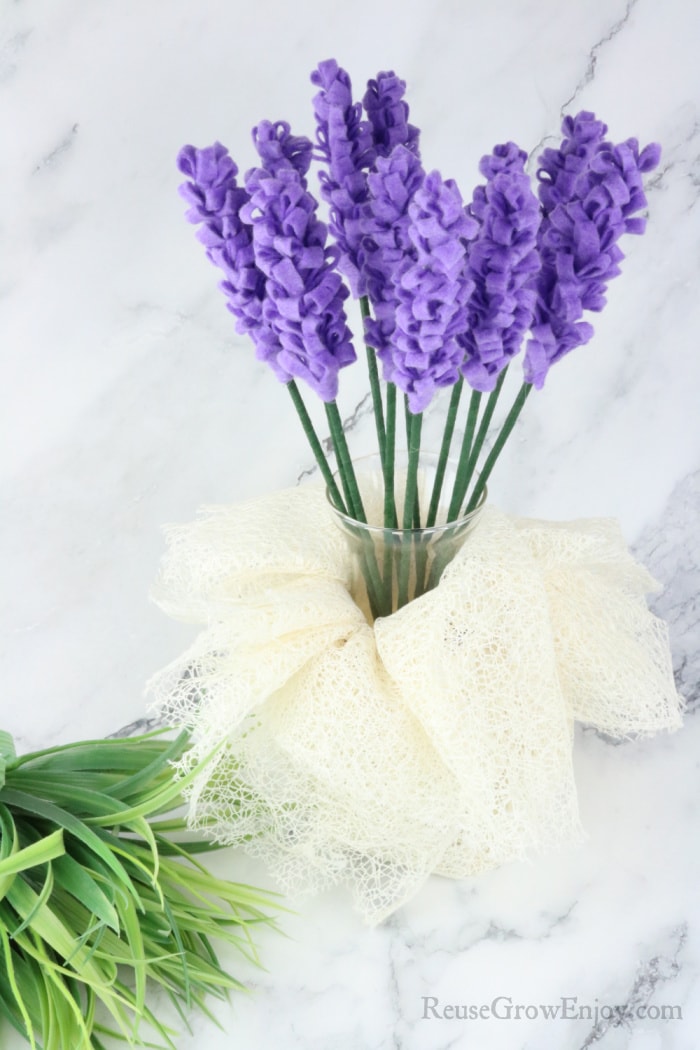 Frequently Asked Lavender Felt Flowers Questions:
Q. Can I use paper in place of felt?
A. While we love the look and texture of these beautiful felt flowers you could use thick paper in place of the felt. Just keep in mind that your paper flowers will have more of a smooth look to them.
Q. Can I use this same technique to make Hyacinths flowers?
A. Hyacinths are some really beautiful flowers and this same idea will work for them too. You will just need to make a few adjustments. Because lavender has smaller flowers than hyacinths you will need to cut slightly wider strips of felt. You should also use a larger piece of wood such as wood dowels. You may also want to add a cut piece of green felt to the stem cut as a leaf shape.
Q. Would this same idea work for making wheat?
A. Yes! Easy ways to do that is to use a tan or light golden color felt in place of the purple to make it look more like wheat that grows in the field. I would also skip the step of wrapping the wood with green tape. So that it has a different look from the green stem of the lavender.
Q. Could I use streamer paper to make the flower shape?
A. Yes! One of my favorite things about this craft is all the different ways you can change it up. You could easily use streamer paper also known as crape paper to make your flower petal shapes.
Q. What are these felt flowers used for?
A. The options are really endless! You can use them to decorate your house, as a felt flower bouquet to give as a gift, or even a few as a gift topper.
Q. Could these be used to make a hair clip?
A. These do not work well for clips, but you can make a few adjustments to make them work. You could cut the stick really short and put some ribbon or something around the end to hide the stick to adapt it for a clip.
Q. Could you make the flower petals a two-tone color?
A. Yes! There are a few different techniques you could do to achieve that look. First, you could dye the felt in a few areas to make splotches that are a darker purple then when you wrap it on the stick it will come out two-tone.
Another great idea would be to use two different colors of felt. You could glue the shorter sections together to make up one long multi-color piece before wrapping it. However, if you do this option be really light on the hot glue just using a dot of glue. You could even just use craft glue and allow it to dry before wrapping. You just need it to stay bendable to be able to apply it to the stick.
Q. Can you use something other than floral tape to make the stick green?
A. You sure can. You could also dye or paint the stick green. However, both of those options will take more time to make this craft because you will need to allow them to fully dry before adding the base of the flower.
Q. Is there a way to add small leaves to these lavender felt flowers?
A. If you want to add a little greenery you can. You could use some green felt to cut out pieces that are leaf-shaped or a small petal shape. Then just glue one or two to the bottom of the flower. You could also add a few down the stick if you wanted.
Skill: Easy DIY
Time: 2 minutes or so per flower


Supplies Needed:
Pair Of Scissors
Hot Glue Gun & Glue Sticks
How To Make These Lavender Felt Flowers DIY:
Step 1: The first step is to wrap the skewers in the floral tape. Simply start at the top and slowly wrap it around the skewer as you slightly stretch the tape so that it is a little sticky. If you have trouble getting it to stick when starting you can use a dab of glue to hold it in place.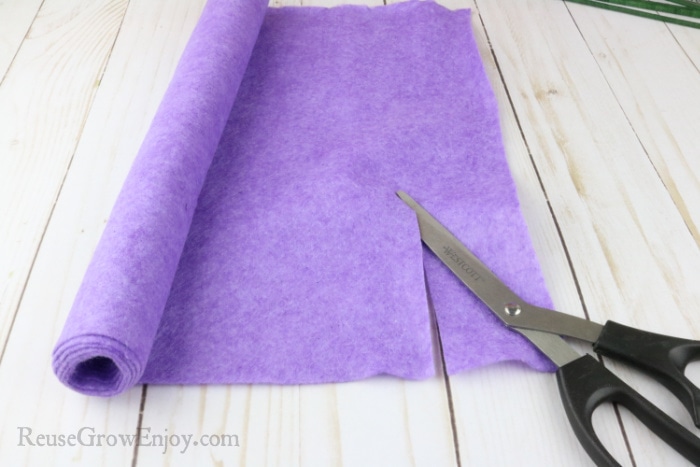 Step 2: Cut strips of felt that are about 1 ½ inch wide. You will cut across the narrow part of the felt and not the long sides.


Step 3: Fold those strips over length-wise and glue them in place with a small straight line of glue. Really try not to overdo the glue. Now you should have thin strips.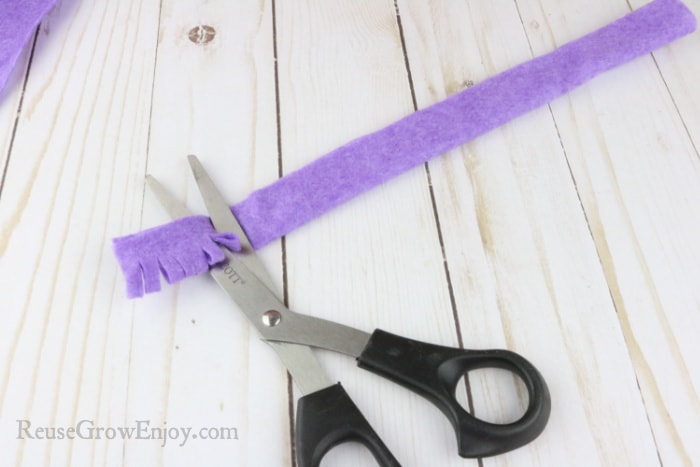 Step 4: Using the scissors, cut small slits along the outer edges on the side that is not glued. Make sure you do not cut through the glued side.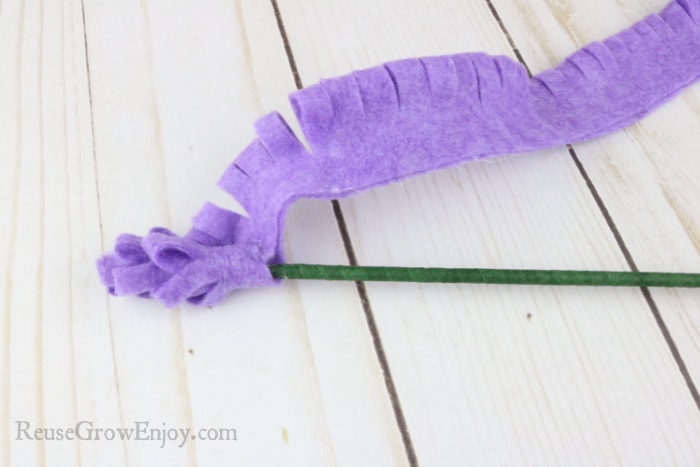 Step 5: Add a little hot glue to the top of the covered skewer, then put one end of the felt on that glue with the cut side pointing up.
Then slowly and tightly wrap that felt around and down the skewer. You can add a small dab of hot glue here and there to hold it in place. Then add a dot of hot glue when you get to the end of the spiral to hold the felt in place.
Step 6: Repeat the steps to make as many flowers as you want or need to finish your felt project.