Are you staying home more and looking for ways to make money from home? Did you know you can earn money from crafting?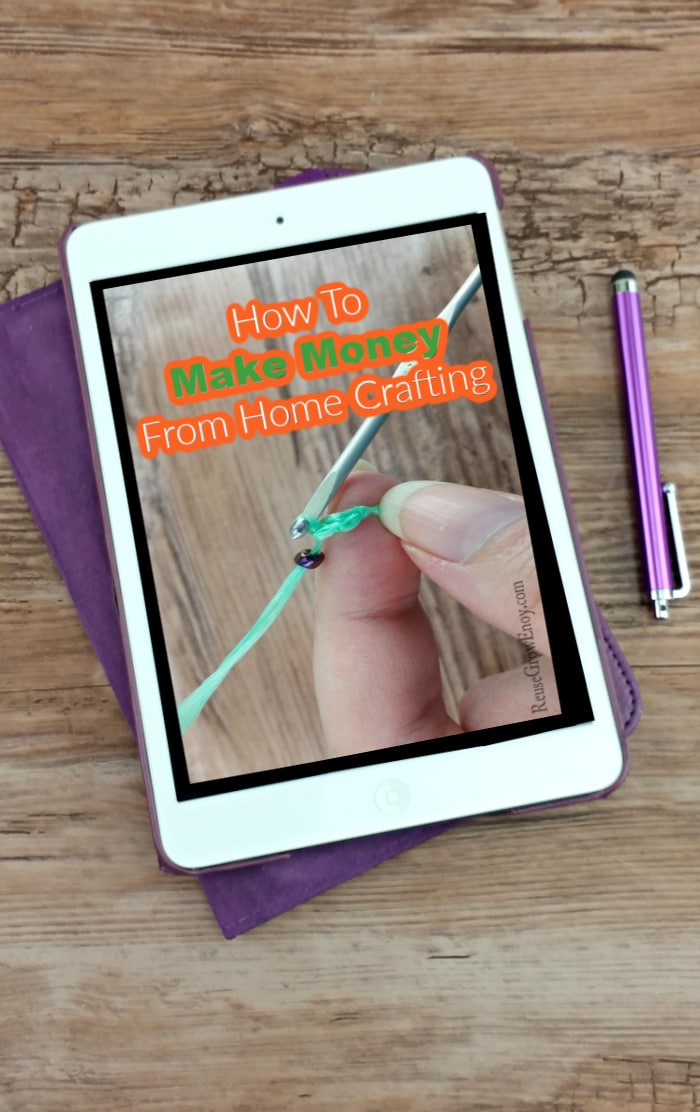 If you're an avid crafter, you probably spend a lot of time crafting. It's no surprise that Etsy is taking the world by storm. Because people love the authenticity of a great handcrafted product!
Before I started blogging I made crafts to sell. A few of the items I made are Glitter Upcycled Puzzle Piece Earrings and Upcycled Plastic Bag Flower Earrings. Those are just a few of the upcycled crafts I sold.
If you spend a lot of time crafting, you may have also considered turning your hobby into a business. There are many successful crafting businesses and by following these tips, you can make money from home crafting too!
Make Money From Home Crafting
Make something you like to make!
You definitely don't want to get burnt out on crafting because that would be detrimental to your business.
Find 1-5 things you enjoy making and focus your business on those things so you can enjoy yourself while you craft as well!
After all, it was a hobby first, and you want to still enjoy yourself!
Choose reasonable prices.
While it's important to make sure you don't overvalue your products and make them easily accessible to the public, you also don't want to undervalue your work!
It's very easy in a competitive market to undervalue your products. This can also contribute to burnout if you're not making what you should be.
Think about the time it takes, the cost of materials, and how much the product would normally be worth. Then, decide what your prices will be, and great ready to make money crafting!
Be consistent with your quality.
Like any good business, your product should speak for itself! Making sure that all products to leave your hands to go to a customer are in tip-top shape is very important to the success of your business.
Be consistent with sending out high-quality items, and you'll attract customers like crazy!
Advertising and marketing.
While paid advertising can be of great help to a business, there are a lot of resources to market your products without paying a cent!
Word of mouth advertising is huge, especially for handcrafted businesses. Consider sending out a couple of samples to friends, family, or even bloggers to review!
Good reviews will help your business tremendously – but make sure they're honest!
If you must pay for advertising, make sure you're tapping into creative marketing and create things that will catch the eye of people scrolling by, passing by, or reading!
Stand apart from everyone else.
Like any business, crafting businesses are pretty saturated. You'll find a lot of similar products on the market – so be sure to stand out!
If you offer a product that a lot of other Etsy or Amazon
sellers offer, find a way to put a unique twist on it.
Consider sending something like a lollipop, magnet, bookmark, or calendar with purchase orders. Any small memorable item or even a thank you note will stand out to get return customers.
Just make sure that whatever you're doing is unique and sets you apart.
How To Make Money From Home Online:
While you can make money from home by crafting and selling your crafts to friends and family by word of mouth or by going to craft fairs, you can step it up a notch by selling online.
How? Well, there are tons of great resources and places to sell your products. Such as Etsy, eBay or Amazon
just to name a few.
But there are other options to make money from home online too. You can start your own website to sell your products. You can build a site from scratch that may take a little research to do but is not as hard as you may think.
Or you can build one using platforms like Shopify or ecwid.
Conclusion:
To make money from home crafting, you have to really love what you do! That way it stays fun and does not turn into just another job.
But it can both be done. Fun hobby and making money.
Have a crafting project you love to do? Please feel free to share it with us in the comments below!