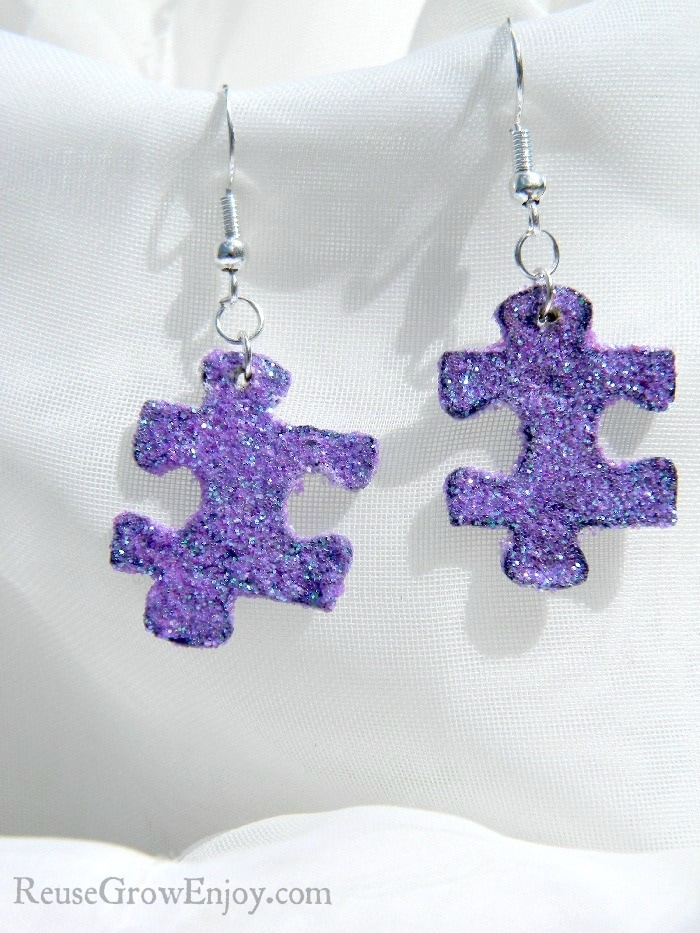 Glitter Upcycled Puzzle Piece Earrings
Have you ever had a puzzle that ends up missing a bunch of pieces? Well, even when that happens, there is no need to toss it into the trash. There are lots of different ways you can reuse puzzle pieces. One way that I am going to show you is to make glitter upcycled puzzle piece earrings.
If you are not a crafter or just don't have the time to make them but want a pair, I do sell the ones I make in my Upcycled Product Store!
Upcycled Puzzle Piece Earrings Supplies Needed:
2 Puzzle Pieces (makes one pair of earrings)
4 (4 mm) Jewelry Jump Rings
Pliers
Paint (try to make glitter color)
Paint Brush
School Glue
Drill With Small Bit

The first thing you need to do is paint the puzzle pieces. I painted one side at a time allowing to fully dry on a rack before painting the other side. The side of the puzzle that has the picture on it, you may have to put two coats of paint on it.
One thing to note when painting, make sure you move/unstick them after they start to dry. You do not want them to be glued in place by the paint. I found it helpful to paint them laying on paper, then after a few minutes move them to a cooling rack so the air can flow around.


After you have painted both sides and allowed to dry, coat one side with white school glue and then dust it with glitter. Place it back on the rack to fully dry. When dry, flip over and do the same thing on the other side.


Now that you can the upcycled puzzle piece earrings coated and dried, it is time to put the hole in. In one end of the puzzle piece, drill a hole just slightly away from the edge. Then put a jump ring through it and pinch it closed with the pliers.
Next, take the other jump ring and run it through the one you pinched onto the puzzle piece. Then put the earring hook through that ring too and pinch it closed. That is it, you now have a cute new pair of earrings!
If you liked this jewelry DIY, here are a few others to check out.