DIY Rock & Wire Jewelry Necklace
Do you make your own jewelry? Or maybe just looking for a nice handmade gift idea? Either way, I will show you how to make this DIY rock & wire jewelry necklace.
It is pretty easy and chances are you may even have the supplies to make it. If not, you only need a few items and they are all pretty cheap. You can grab the supplies online, at a craft store or even at your local dollar store.
Supplies Needed:
Small Rock, Shell or Beach Glass
Scissors
1 Small Jump Ring 
Pliers
The first thing you need to do is wrap the wire around your rock from top to bottom. Then at the top, twist the wire together slightly leaving about a two-inch end sticking to the side.
Next, with the spool side of the wire, keep wrapping it around your rock. You want to be sure to go up and down as well as around. After you have done that a few times, cut the spool end of the wire off leaving a long piece about 8 or so inches long.
Then take that long piece and go around the rock a few more times. This time you want to weave it under and through a few times to make sure everything stays locked in place.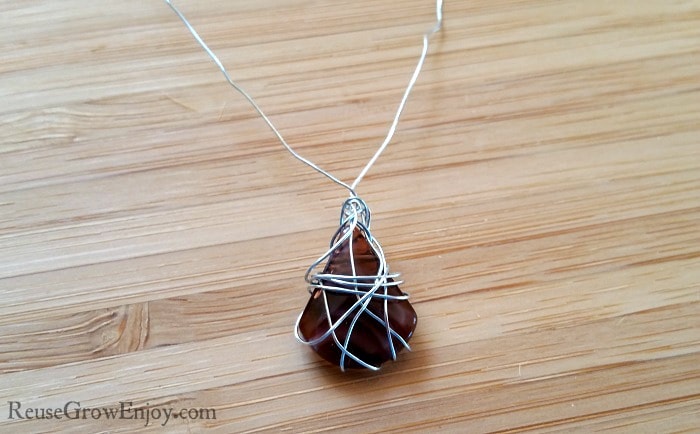 Now you want to end the wire back at the top by twisting it around the piece you have sticking off to the side.
After you have twisted them together all the way up, you can use your scissors to cut off the extra.
Now you want to take that twisted piece and loop it back through the top to make a big loop.
Use the rest of that twisted piece to wrap around the top just under your loop. When you get to the end, tuck the wire under/inside the rest.
Using the pliers, open the jump ring and hook it through your loop. Then pinch the ring closed.
Run your cord or chain necklace through the jump ring.
If you are using cord, you can simply tie the ends together to close it. Just be sure to cut a piece of cord that will be long enough to slip over your head after it is tied.
That is it! You now have a pretty new necklace to wear or to give as a gift!
If you liked this wire jewelry craft, here are some other jewelry ideas to check out.