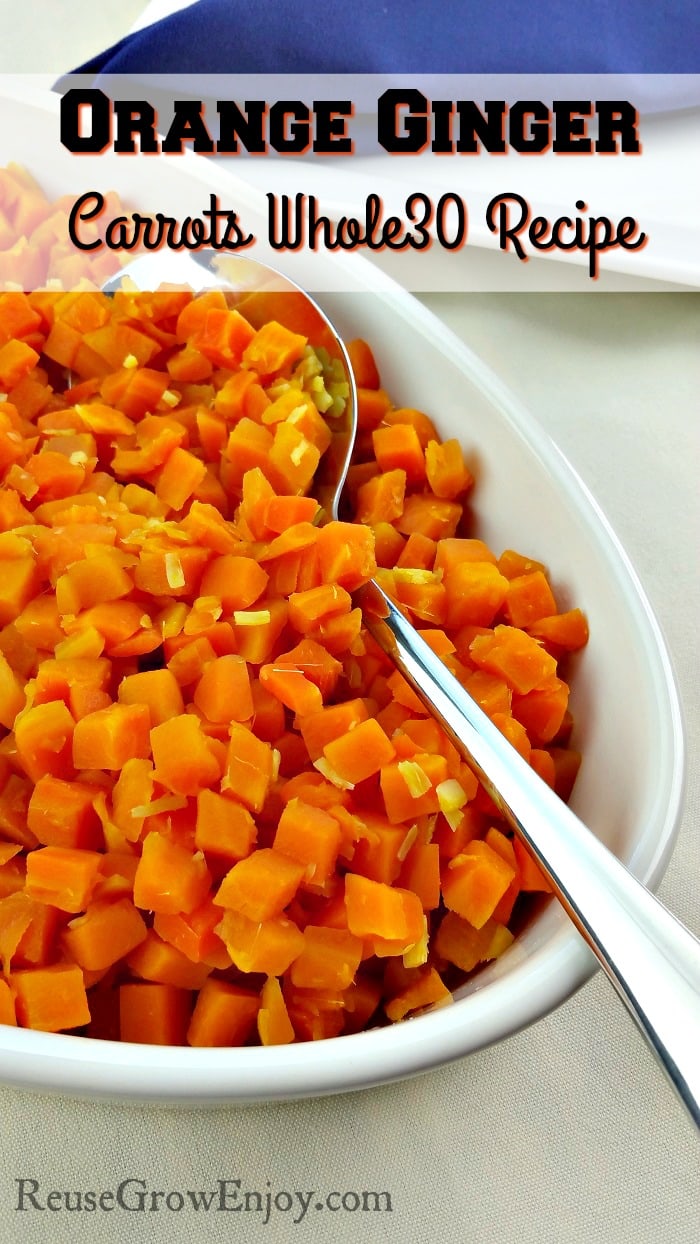 Orange Ginger Carrot Recipe – Whole30 Recipe
Do you ever get sick of the same old carrot recipes? I mean carrots are a wonderful food on their own but sometimes can be a little plain. And don't me wrong, I love honey glazed carrots as much as the next person,  the only issue is the extra sugar is not so good for you. I know a lot of people that are dieting, some for weight loss, some for health and some who just can not have much sugar because they are diabetic. So, I figured there has to be another way to flavor carrots. That is when I came up with an orange ginger carrot recipe.
This recipe is pretty easy to make and takes about 25 minutes to cook. I am sure this one would also cook well in a slow cooker or a pressure cooker if you wanted to speed things up.
Best part about this orange ginger carrot recipe is that it only uses 3 ingredients and some water (would that make it 4 ingredients??) to make. You will need one pound carrots washed, ends cut off and diced. If you are not that great with a knife these hand choppers work really well. About half an oz of fresh ginger peeled and grated. They do have special ginger graters that do a nice job. Half oz is about as big around as your thumb and about as long as your thumb. You will also need 4 oz of fresh squeezed orange juice (can also use pre-squeezed) and 4 oz of water.
If you like this recipe, here are a few others to check out.
Orange Ginger Carrot Recipe - Whole30 Recipe
Ingredients
1

lb

Fresh Carrots

4

oz

Fresh Squeezed Orange Juice

4

oz

Water

1/2

oz

Fresh Ginger
Instructions
Wash carrots and cut ends off. Then dice the carrots and place in a deep skillet.

Add in fresh squeezed orange juice and water.

Peel ginger and grate it and add to the skillet.

Cook 10 minutes on medium to low heat covered.

Remove the lid and cook another 10 minutes on medium-high heat. Be sure to stir it a few times to keep from sticking to bottom and making sure all carrots get coated on the juice ginger mixture.

Then cook on high heat for 3-5 minute while stirring to get a slight caramelized color on the carrots.