Pressure Cooker Lemon Pepper Chicken
With Broccoli And Tomatoes
This is a family favorite in my house. We have it at least one time a week if not more! So easy and very healthy! It is lemon pepper chicken with broccoli and tomatoes. Plus you cook it right in the pressure cooker!
If you are on a diet such as Paleo, Whole30, Gluten-Free, or even Dairy Free, this recipe works for all of them!
You can either use fresh or frozen boneless skinless chicken breasts. You can also use fresh or frozen broccoli.
This recipe will work for pretty much any pressure cooker. So if you have the Power Pressure Cooker XL or an Instant Pot or even some other brand, this should still work for you.
If you don't have a pressure cooker yet and are trying to figure out what brand to get, I would go with the Instant Pot as parts like extra pots and things are so much more available than a lot of others.
After you try this easy recipe for lemon pepper chicken with broccoli and tomatoes, you will be like us and will be making it every week!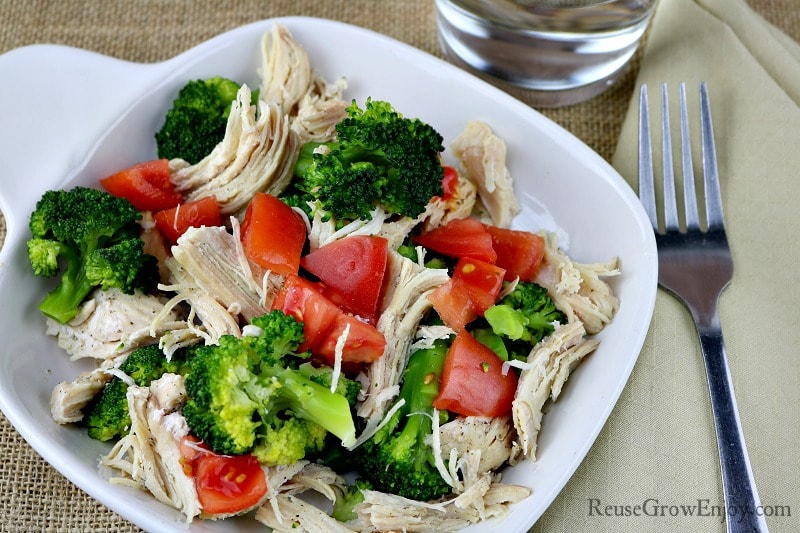 Few Things To Note From Reader Feedback & Questions:
Chicken cooking time. Yes, when using fresh, not frozen chicken you may be able to cook for a few less minutes. However, I have found this to be the best time for really infusing the flavors into the chicken. I have cooked it using less time but it is not as flavorful.
Lemon too strong on chicken. Some have said they thought the lemon was too strong on the chicken. My family loves the strong lemon flavor so we love it just the way it is. But if you are someone that does not like strong lemon, you do a few things to reduce it.
If cooking with fresh chicken like noted above, you can cook for less time and there will be less lemon flavor. Try to cook it for 20 minutes. Another option would be to simply only use half a lemon and not the whole thing.
Broccoli not turning out right or too strong of a lemon flavor. If you are cooking the broccoli in the pressure cooker too, it only needs just a few minutes to cook. You also need to do a quick release when it is done to stop that cooking. You could also just steam your broccoli in the microwave or your steamer of choice.
If you don't want lemon flavor to also be on the broccoli, you can simply dump out the water after cooking the chicken. Then replace it with a fresh cup of water. Don't add any lemon or seasonings to that water and just steam as normal.
Ways To Stretch This Meal:
I have been asked a few times if there is any way to stretch this meal to make it feed more people. The best way I have found to do that is to add egg noodles. However, note that by adding the noodles it will no longer be a Whole30 or Paleo recipe.
Simply boil a handful of noodles per person. Then drain them and place them on a plate. Spray a few sprays of butter (or whatever butter you like) and sprinkle with a little parmesan cheese. Then simply top the noodles with the chicken, broccoli, and tomatoes.
If you liked this recipe, here are a few others to check out.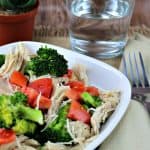 Pressure Cooker Lemon Pepper Chicken With Broccoli And Tomatoes - Paleo & Whole30
Ingredients
3-4

Boneless Skinless Chicken Breasts

Fresh or Frozen

1

Fresh Lemon

1

Tsp

Fresh Black Pepper

3/4

Cup

Water

2

Fresh Tomatoes

2

Broccoli Heads Cut Into Florets

can also use frozen about 12 oz
Instructions
Chicken Directions::

Place water in your pressure cooker.

Cut the ends off the lemon and then cut it into slices. Place the slices in the water.

Add pepper to water.

Place chicken in the pot and put the lid on and lock it.

Push the meat button and then add time button. You want the total cook time to 25 minutes.

Allow to cook and when done release pressure (quick release).

When pressure is out, remove chicken and lemons from pot. You can toss the lemons.

Then using a fork shred the chicken.

Broccoli Directions::

Place the steam rack/trivet in the pot. You can leave the water from the chicken in.

Then add your broccoli on the steam rack/ trivet.

Put the lid on and lock.

Press the steam button (depending on your cooker you may need to add time) You want the total cook time to be 3 minutes.

Add some of the cooked chicken and broccoli on a plate. Then dice your tomatoes and add some of those to the plate as well.

Enjoy!