With fall comes the time to go pumpkin picking. But knowing how to pick the best one is not always easy. I am going to share some pumpkin picking best tips as well as some recipes and ideas for preserving your pumpkins to get the most out of them.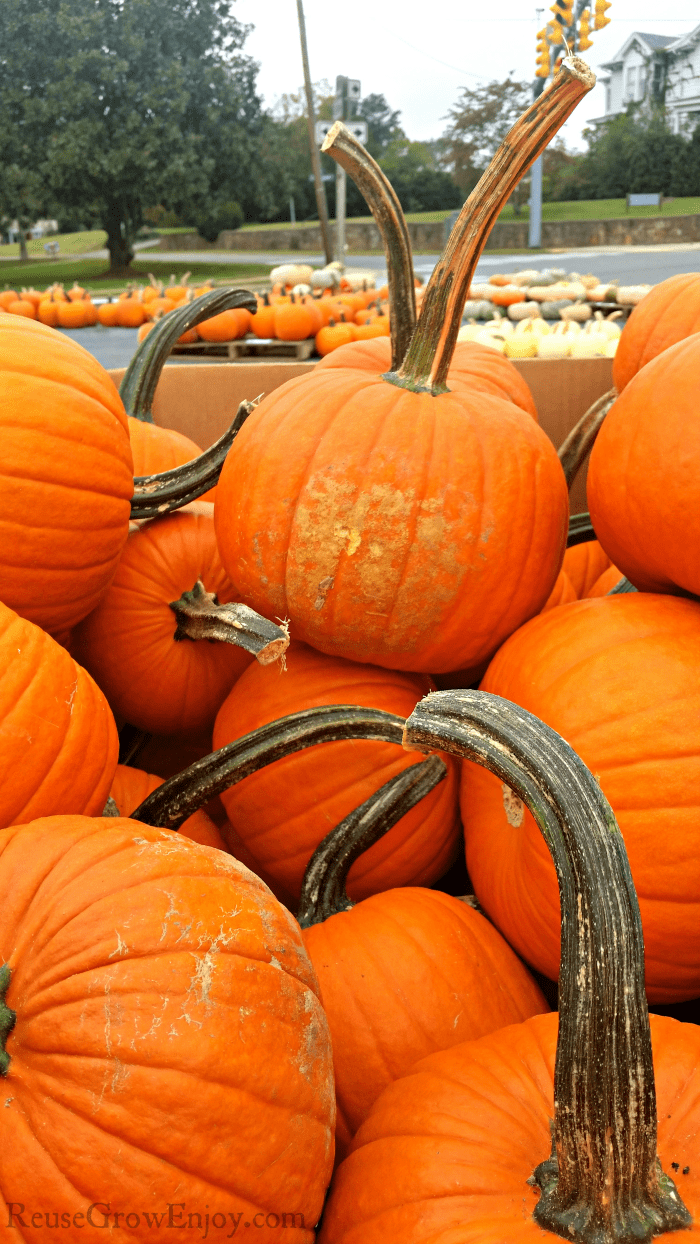 Pumpkin Picking Best Tips
As Well As Recipes & Preserving Ideas
I will cover pumpkin picking tips for when you are picking them at the store or if you are pumpkin patch picking. Either way, you will know how to pick the best pumpkin for your needs. Whether that be for decorations or to eat.
To sum up the post for you, here is what topics this post will cover,
How To Pick The Best Pumpkin
Tips & Tricks To Preserve Pumpkins
Pumpkin Picking Near Me (You)
Grow Your Own Pumpkins
Great Pumpkin Recipes
So let's dive in and get started!
How To Pick The Best Pumpkin:
Let us start with talking about picking a pumpkin at a grocery store, farm stand or a patch that has them pre-picked. Picking the right pumpkin will depend on what you want to use it for.
If using it as a display of fall decorations, you can simply just look for the prettiest. However, you do want to avoid ones that look like they are starting to spot or have any spots that are starting to get soft. Healthy pumpkins should always be hard/frim to the touch. If it is soft in any way, that means they are already starting to break down and will not last long.
You do also want to try and find one that has at least an inch or two of stem attached. If the stem is cut too short, this will also allow the pumpkin to dry out faster.
Choosing A Eating Pumpkin.
To pick a pumpkin that is good to use to eat, you do follow a few of the same steps as a display pumpkin. But we also add in a few other things to look out for.
So you like a display pumpkin, you want to watch out for any soft or strongly discolored spots on the pumpkin as it means it is already starting to rot. You also want to watch the stem to make sure it is at least an inch or two long.
The other important thing is to watch the size. While you can use super large pumpkins to make things like pies, bread and so on, they are not as sweet and you do get a lot more waste from them. So try and stick to the smaller ones that are about 8 to 10 inches in diameter.
Another thing is to check for ripeness. When ripe, it should have kind of a hallow thump sound to it when you tap on it.
Picking A Pumpkin Right From A Vine.
If you are growing your own or at a pumpkin patch that lets you pick your own pumpkin right from the vine, here is what you need to look for.
First, look for the proper size whether you are using for cooking or displaying. Then look at the color. The pumpkin should never be picked before it reaches the proper color for its variety as the color with stop changing after picked.
Again check for any soft spots anywhere on the pumpkin. There should not be any. The pumpkin should be hard all the way around and have a hollow sound when tapped on.
The last thing to look out for and probably the most important is the stem. You want to select a pumpkin where the stem is turning or already brown. It should also have a firm hard feel to the stem. If the stem is still green and soft, the pumpkin is still growing and not ready to be picked.
When you find the one that is perfect for picking, use some pruning shears to snip it from the vine making sure to leave a stem on the pumpkin that is at least an inch or two long.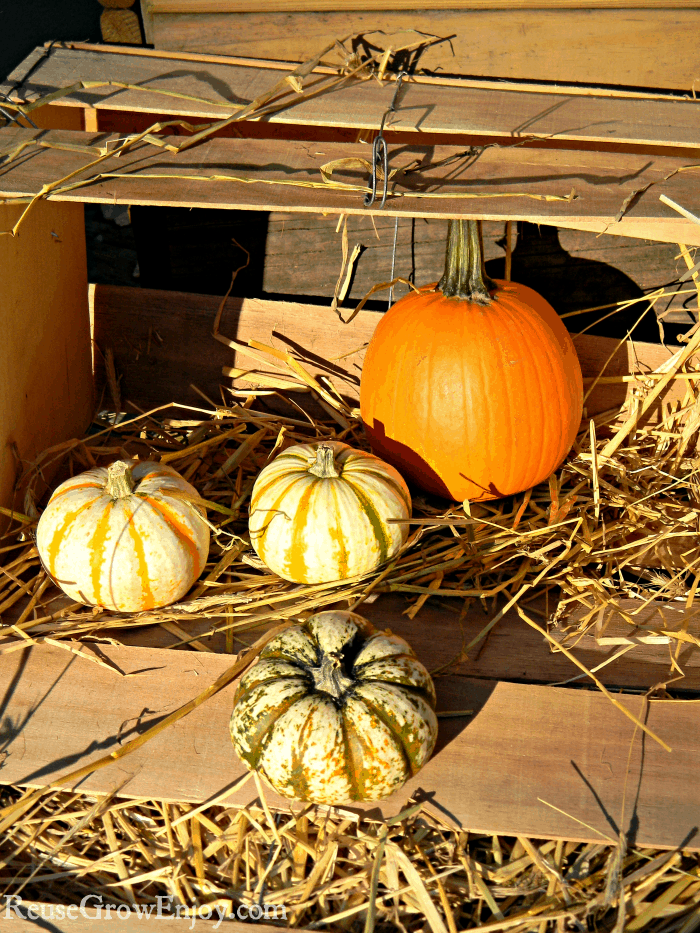 Tips & Tricks To Preserve Pumpkins:
Here I will cover a few of the best tips and tricks to preserve your pumpkin. I will cover both tips for saving your pumpkin meat to use for recipes later as well as ideas to make your pumpkins last longer for decorations.
Oiling/Waxing – If you are using your pumpkin for decorations, it helps to add a little oil or wax to the pumpkin shell. This helps to keep it from drying out as fast.
Location – Here is another one for those using pumpkins as decorations. Be sure to place your pumpkins somewhere that does not see a lot of sun and does not get a lot of rain. A cover porch is the best option. While you can place them in the sun or rain, those two things do speed up the break down of the pumpkin.
Vinegar Bath – One last tip for a pumpkin being used as decoration is to give it a vinegar bath. You can do that about one to two times per week. Simply mix equal amounts of water and white vinegar into a bucket and give the pumpkin a dip.
Canning
– It is not recommended that you can pumpkin puree or pumpkin butter. However, you can use cube chunks of pumpkin to can them and make it last longer. Then simply mash or puree when you are ready to use it in a recipe.
To can pumpkin, cute the meat of the pumpkin into cubes. Boil for two minutes in water. Pack cubes into jars and cover with liquid leaving a one-inch headspace at the top of the jar. Then follow the guideline for canning times found here.
Freezing – For someone just starting out in the kitchen, this is one of the easiest options. The best way to do it is to make Homemade Fresh Pumpkin Puree Made In The Instant Pot. Then simply allow it to fully cool. Place it in a freezer-safe container leaving a little room for expanding. Then pop it in the freezer.
Dehydrating
– There are a few different ways you can dehydrate a pumpkin. The first ways are the seeds. I have a great Pumpkin Seed Recipe – Salt & Pepper you should try.
The other option is to dehydrate the pumpkin flesh itself. To do that, you need to cut open the pumpkin and remove all seeds and sting like content from the pumpkin. Then cut the meat/flesh of the pumpkin (the inside layer not the shell) into thin pieces.
I like to make about one-inch pieces that are only about an eighth inch thick. Then place those pieces on your dehydrating trays. Then place the trays on the dehydrator and dry into the pieces are hard and all the way dried out.
Pumpkin Picking Near Me (You):
Looking for places where you can go pumpkin picking? It is such a great family thing to do together in the fall. It may not be as cheap as you would find them at your local farmers market or grocer, but it makes for a nice fall family outing.
Finding the best place to go pumpkin picking can normally be found by a simple Google search or just asking some friends and family. Nothing like good old word of mouth to find some of the best places that may not be listed online.
To help get you started on your search for pumpkin picking near me / you, we have rounded up a few of the best pumpkin patches we found online by state.
The states are in alphabetical order.
Arizona – Mortimer Farms 12907 E. State Route 169 Dewey, AZ 86327
California – Riley's Farm 12261 S. Oak Glen Road Oak Glen, California 92399
Colorado – Rock Creek Farm Pumpkin Patch and Corn Maze 2005 South 112th Street
Broomfield, CO 80020
Florida – Hunsader Farms 5500 CR 675, Bradenton, FL 34211
Georgia – Burt's Pumpkin Farm 4801 Highway 52 Dawsonville, GA 30534
Illinois – Goebbert's Pumpkin Patch 42W813 Reinking Rd Pingree Grove, Illinois 60140
Indiana – Dull's Pumpkin Harvest 1765 W. Blubaugh Avenue Thorntown, IN 46071
Kentucky – Crawford Farms Pumpkin Patch 3999 Hodgenville Road Elizabethtown, KY 42701
Michigan – Friske Farm Market 10743 US-31, Ellsworth, MI, 49729
Minnesota – 23618 CSAH 1 Litchfield, MN 55355
Missouri – Johnson Farms Plants and Pumpkins 17701 Holmes Road Belton, Missouri 64012
New York – Ontario Orchards 15273 Sterling Center Road Sterling, NY 13156
North Carolina – Stepp Farm's Hillcrest Orchard 170 Stepp Orchard Drive
Hendersonville, NC 28792
Ohio – Tom's Maze and Pumpkin Farm 4881 Germantown-Liberty Road, Germantown, OH 45327
Pennsylvania – Triple B Farms 823 Berry Lane, Monongahela, PA 15063
Tennessee – Gentry's Farm 1974 New Highway 96 West, Franklin, TN 37064
Texas – Dewberry Farm FM 362 & Morrison Rd Brookshire, TX 77423
Virginia – Ashland Berry Farm 12607 Old Ridge Rd Beaverdam, Virginia 23015
Washington – Carpinito Bros. Pumpkin Patch & Corn Maze 1148 Central Ave N, Kent, WA 98032
Wisconsin – Vesperman Farms 8149 Stage Road, Lancaster WI, 53813
Grow Your Own Pumpkins:
Growing your own pumpkins really is not as hard as some think. They do however take a little space to grow as they do spread out.
The other thing to note about growing your own pumpkins is it does take time. So you may not be able to use this option this pumpkin season, but you can keep it in mind for next season and make sure to start them early.
If you are wanting to grow your own pumpkins, be sure to check out my post on Tips On How To Grow Pumpkins. It should cover just about everything you need to know.
Great Pumpkin Recipes:
I think pumpkin recipes are one of my favorite things about fall. I love all things pumpkin! It can be from using pumpkin itself or just even the pumpkin spice flavoring, either way, to me it is the taste of fall.
If you have been pumpkin picking and have a lot of pumpkins and you are trying to figure out some new recipes to try, below are a few of my favorites. You can try one or try them all.
Do you have a favorite pumpkin recipe you like to make each year? Feel free to leave it in the comments below.