Been up north say around the Syracuse NY area? You may have heard of salt potatoes! I'm going to show you how to make salt potatoes in the Instant Pot!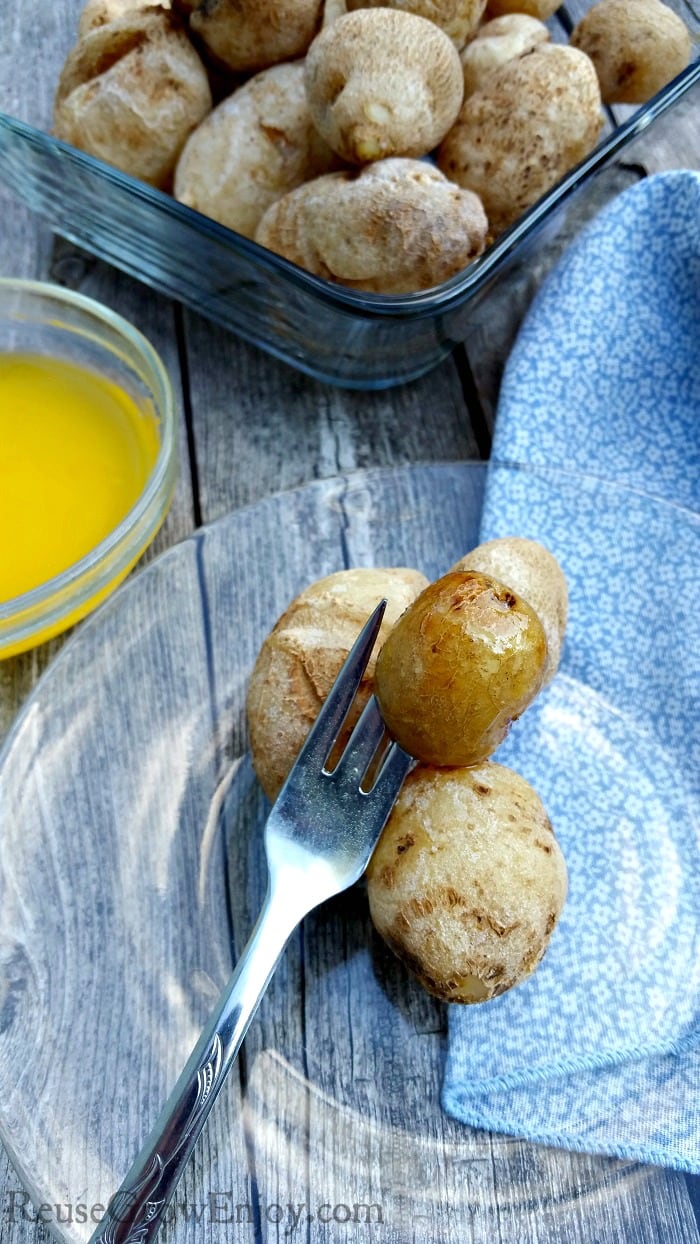 Salt Potatoes In The Instant Pot
I had never heard of salt potatoes before until I moved up north for a while. I was in central NY close to Syracuse New York. Anyways, I fell in love with these delicious little potatoes cooked in salt! Now that I am back south, I still try to have them from time to time. I even figured out how to make salt potatoes in the Instant Pot (or any pressure cooker).
While the classic way of cooking salt potatoes is to boil them in a salty brine, that way takes about 25 to 30 minutes. By cooking them in the Instant Pot or another electric pressure cooker you can be enjoying your potato side dish in much less time.
If they do not sell bags of salt potatoes in your area, don't worry. Any small B grade bite size potatoes will work.
A Little About Syracuse Salt Potatoes:
Salt potatoes originated in Syracuse New York. In the 1800's, workers in the local salt mines would bring potatoes to work for lunch, and boil them in brine. The result was a salty tasting potato with a non-rigid but firm peel to keep the potato from becoming mushy.
They actually have more of a creamy texture than regular boiled potatoes. Later on, in the 1900's, a local food businessman named John Hinerwadel started packaging small bags of young potatoes with a package of salt included.
Hinerwadels has been selling salt potatoes since the 1960's and today sells over a million bags a year. The potatoes themselves are a young white size B U.S. grade number 2. Most are served in a small dish, with melted butter.
The normal way to cook these potatoes is one cup of salt to six cups of water. That mix will fit about 2 and a half lbs of potatoes. You would boil for about 25 minutes or until the potatoes can have a fork inserted easily.
If you like this Instant Pot recipe, here are some others to check out.
Salt Potatoes In The Instant Pot
Salt potatoes make a wonderful side dish for all kinds of meals, however, the normal way of cooking them is not that fast. I am going to show you how to make salt potatoes in the Instant Pot in much less time!
Pressure Time about
10
minutes
Ingredients
1 lb 4 oz

Small Bite Size White Potatoes

(washed) while white potatoes are normal, any type will work

3/4

Cup

Table Salt

3

Cups

Water
Instructions
Place water and salt into the inner pot.

Then add your washed potatoes into the pot.

Place the lid on and twist until locked. Make sure the valve is on sealing.

Push the manual button and add a cook time of 2 minutes.

When it beeps that it has finished, allow it to natural release (NPR) for five minutes and then you can open the valve after that.

Drain off water and serve.
Recipe Notes
Serve with a small dish of melted butter or ghee.