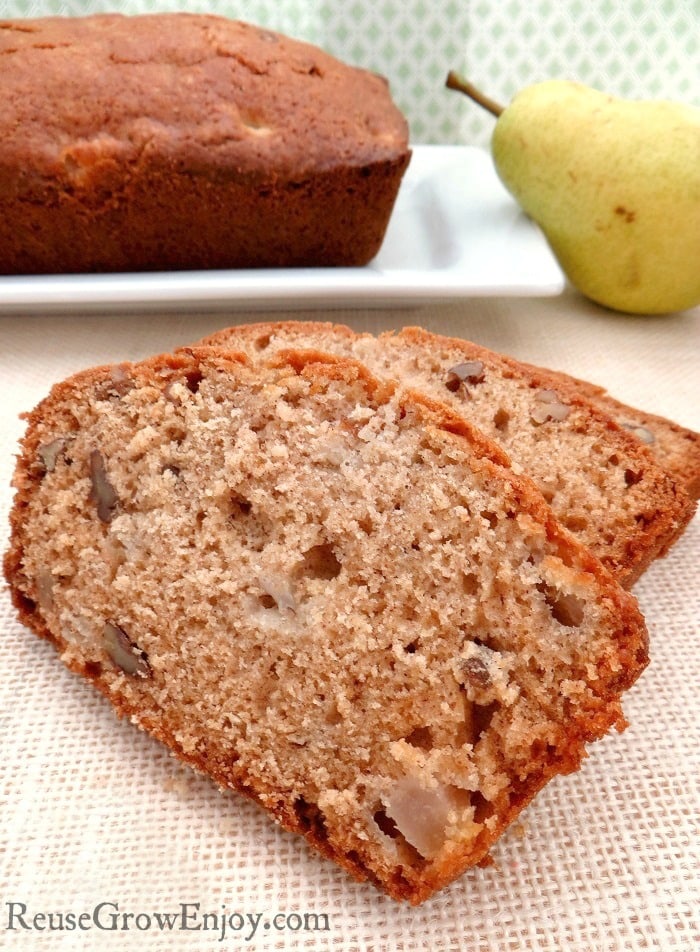 Spiced Pear Bread Recipe
Not long now everyone will be warming up those ovens and start baking away. What is one of your fall favorite recipes to make? Is it a pie? Or maybe cookies? Well, I have a recipe that you should give a try. It is for a spiced pear bread.
I know that most people in the habit of making banana bread or pumpkin bread, but believe me when I say, you HAVE to give this spiced pear bread a try! It will not disappoint!
It takes about an hour and twenty minutes to make. This recipe will yield two loaves. So if you do not have a large family, you could make them and give one away as a gift. Or you could also toss the second one in the freezer and have it for later.
Other than the ingredients to make this spiced pear bread, you will need a few other items. You will need two 8×4 inch loaf pans and two large mixing bowls. You will also need a mixer or whisk. Well, I guess you could mix with a fork if you had to.
If you like this recipe, here are a few others to check out.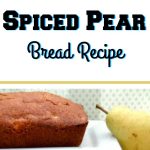 Spiced Pear Bread Recipe - Great Fall Recipe
Total Time
1
hour
20
minutes
Ingredients
1

teaspoon

salt

1

teaspoon

ground cinnamon

½

teaspoon

ground nutmeg

2 ½

cups

pears – peeled

cored and chopped

1

cup

chopped pecans

2

teaspoons

vanilla extract

1

teaspoon

baking soda

1

teaspoon

baking powder

3

cups

all-purpose flour

1

cup

vegetable oil

2

cups

granulated sugar

3

eggs
Instructions
First you want to preheat the oven to 350 degrees F. Next grease two 8x4 inch loaf pans lightly.

Now in a large bowl, add the oil, eggs and sugar. Beat until fully mixed. Then stir in pecans, vanilla and pears. In the other mixing bowl, mix flour, baking powder, baking soda, salt, cinnamon and nutmeg. Now you will need to mix dry ingredients with the pear mixture; mix until fully blended. Pour the batter into the greased loaf pans.

Bake in the oven for 60 minutes, or until fork or toothpick inserted into the center of the loaf, comes out with no batter sticking to it. Remove from oven and leave in the pans for about 10 minutes to cool. Then you will want to remove from pans and put on a wire cooling rack until fully cooled.