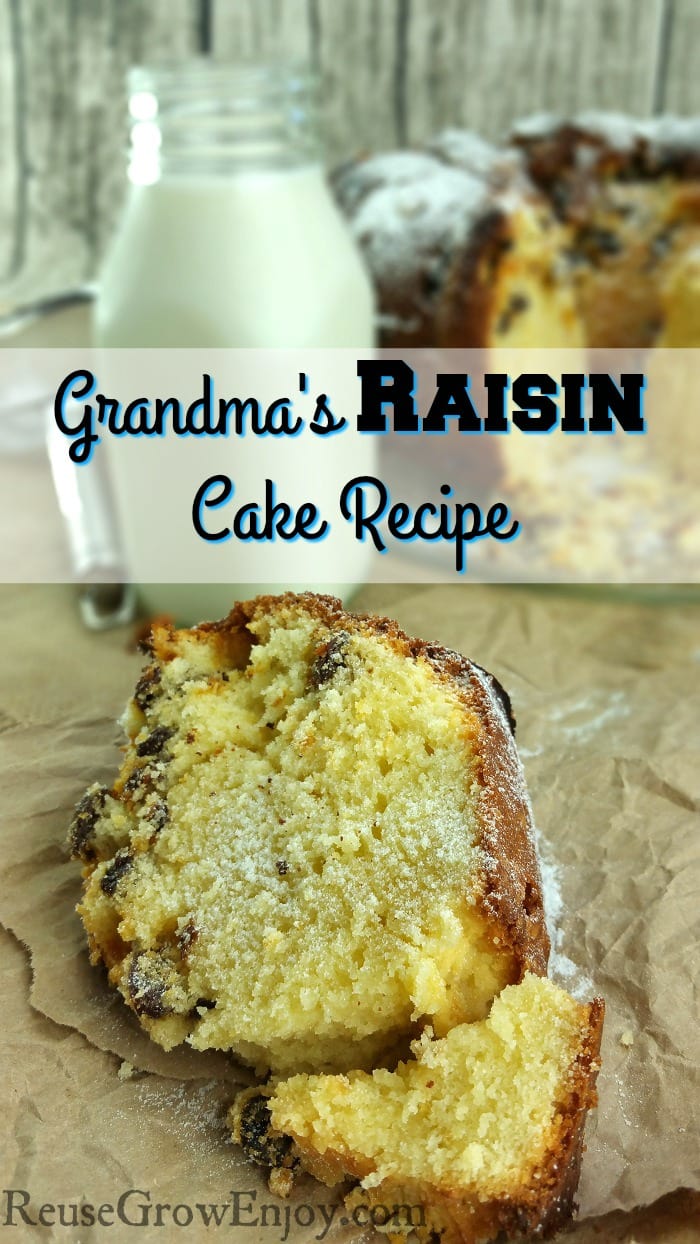 Grandma's Raisin Cake Recipe
Ok, so this may not be the most healthy recipe for you. But, it is one that has been in my family for many years and is enjoyed by all. It does not get made often, and still, is never made as well as my grandmother made it. But I felt I wanted to share my grandma's raisin cake recipe with you all.
This raisin cake recipe is made from scratch and not from a box mix. I do not always get the raisins to stay throughout the cake. They sometimes sink all to the bottom. But either way, it still has amazing flavor.
I guess grandma forgot to share her secret to keeping those raisins throughout the cake..lol.
The reason I say it is not the most healthy recipe is because it uses a lot of butter, sugar and white flour. I am sure I could change it up and make it so that it was a little more healthy, but then it would no longer be her recipe and the one that my dad loves so much. So, for this one, I am going to leave it just the way she told me.
For this raisin cake recipe, you will need a round bundt cake pan. I guess it could be made in another pan, but I have never tried.
When making this recipe, you can use a hand or stand mixer for most of it. But the last step, adding in the raisins needs to be done by hand. They need to be folded in and not just mixed. If you just mix them in, you will for sure have them all sink to the bottom.
You get the best result of the raisins staying in the cake mix when they are folded in by hand. But be sure not to over do it.
Note: after you have finished the cake, a great way to keep it fresh and moist is with an apple. Slice the apple into 4 pieces and place in the center of the cake. Wrap with foil or cover with cake cover.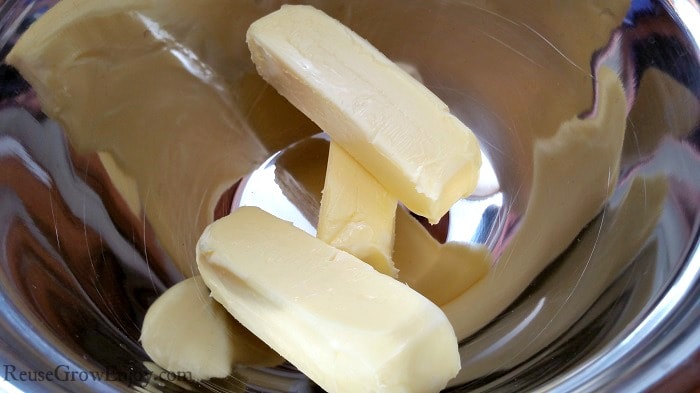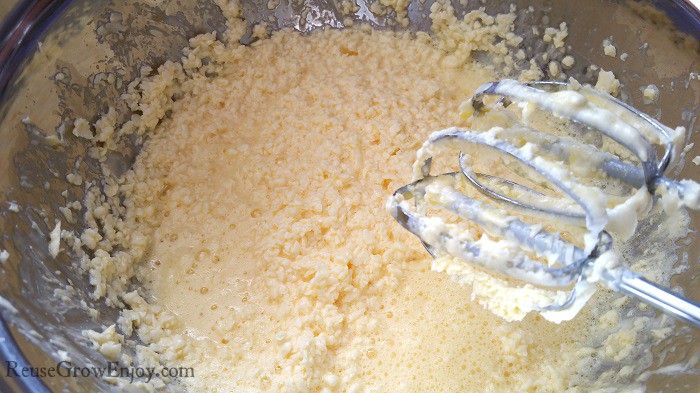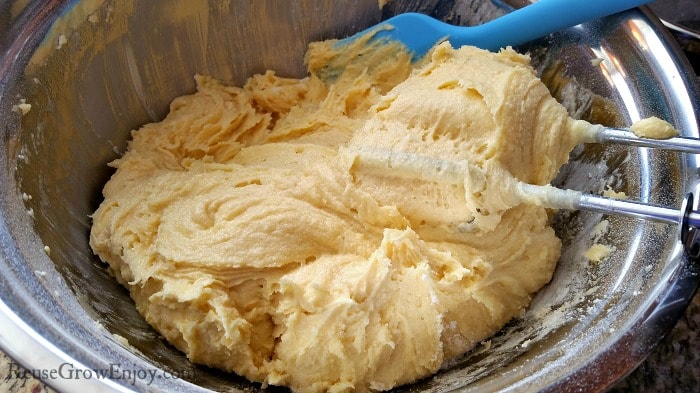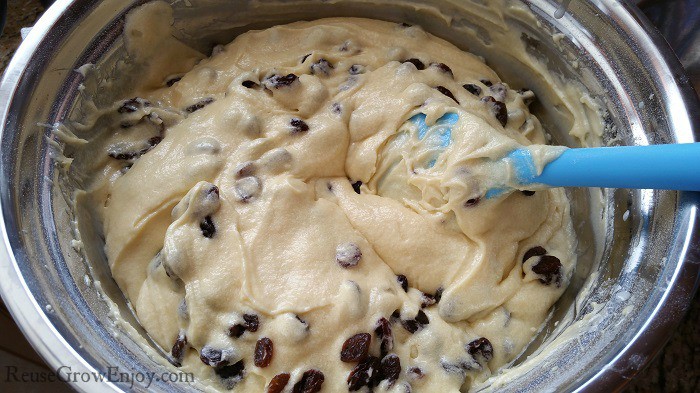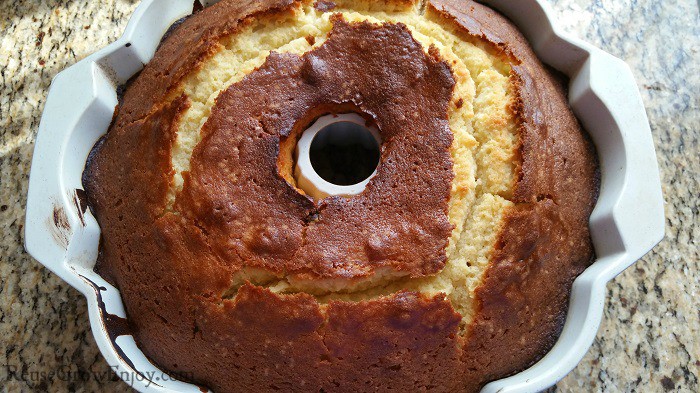 If you like this raisin cake recipe, here are a few others you may want to check out.

Raisin Cake Recipe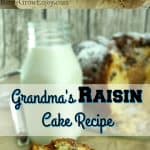 Grandma's Raisin Cake Recipe
Cook Time
1
hour
30
minutes
Total Time
1
hour
45
minutes
Ingredients
6

Eggs

3

Sticks Butter

Room Temperature

1 ½

Tbsp.

Lemon Extract

1

Tbsp.

Vanilla Extract

3 ½

Cups

Flour

1 ½

Tsp.

Baking Powder

1

Cup

Milk

15

oz

Raisins

Sun Maid

1

Tsp.

Salt

3

Cups

Sugar
Instructions
Pre-heat oven to 325 degrees

Grease the bundt pan well. Be sure to get the bottom, center and sides of the pan.

In small bowl mix milk and baking powder.

In large bowl cream butter and then add eggs in one at a time.

Next, mix in lemon, vanilla, flour, sugar, salt. Mix well.

Now add the milk mixture into the batter. Mix well.

Now by hand, fold in the raisins slowly. Be sure the raisins are not in clumps.

Dump batter into greased pan evenly.

Bake at 325 degrees for 1 hour and 20 min.

Then turn off oven and open it slightly. Leave cake in oven for another 10 minutes.

Remove from oven and allow to cool in pan for 10 minutes.

Flip onto a cooling rack or plate and allow to cool fully before serving.