If you are looking for the best camping sites on Oregon coast as well as around Oregon state, we are going to break them down for you.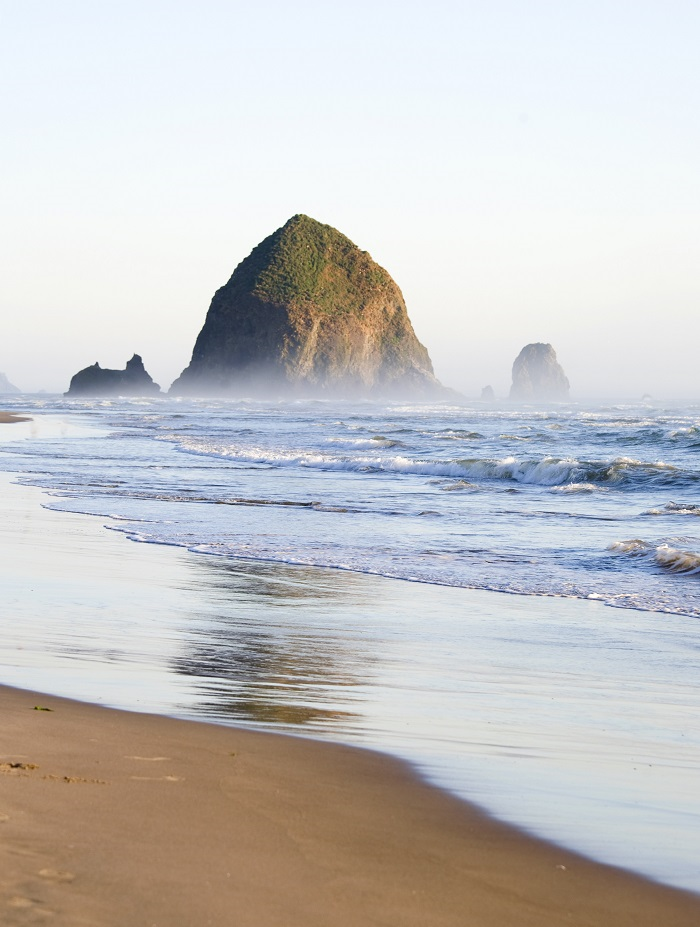 With its serene Pacific beaches and grand mountain ranges, Oregon is one of the most beautiful places in the United States. The state's many natural attractions make it a perfect spot destination for camping trips. You may also like to check out the book Oregon Bucket List Adventure Guide.
There are many Oregon state parks that offer a natural and peaceful getaway for anyone who is looking for a unique camping experience.
Before you embark on your camping trip, there are a few things you should keep in mind when choosing a destination.
Many parks require that you reserve your camping site at least two or three days ahead of time. Every park will provide different amenities.
For example, many parks offer camping sites with nearby hot showers, but some do not. Keep in mind that individual parks will have different policies about pets and alcoholic beverages.
Also, it is important to remember that some parks close off certain sections and activities during off-season months, usually during the winter months.
It is always important to call ahead and make sure a specific park will provide you with what you desire in a camping trip.
If you are looking for other camping tips, here are a few of my other posts to check out.
Best Camping Sites On Oregon Coast & Oregon State:
Travel to the mountains in northeast Oregon to find Wallowa Lake State Park. Wallowa Lake is the center of this campground and is a great place to enjoy fishing and boating. The park also offers miniature golf, horseback riding, and tramway rides to the top of one of the adjacent mountains.
Emigrant Springs State Heritage Area is a prime spot to enjoy camping in the midst of nature and explore American history at the same time. This park offers many educational and entertaining activities that the whole family can enjoy, and is near many educational centers and historical museums.
For a thrilling experience in the wilderness of the Cascades, look no further than Lapine State Park. This park has campgrounds located in the dense forest, surrounded by wildlife that is drawn to the area's winding river and clear mountain lakes. This is the ideal destination if you are truly looking to experience the beauty of nature during your camping trip.
Spectacular natural waterfalls can be found at Silver Falls State Park, where you can explore cedar forests blanketed in ferns and wildflowers while you enjoy the view of ten beautiful falls. Both walking trails and horse trails are available at this park, and you will be sure to spot the surrounding wildlife while camping here.
There Are Still Many Places To Camp For Free In Oregon:
Most of these are located on US forest service or BLM land, are away from population centers and are sometimes hard to get to, but they are there.
Most, though not all, are unimproved sites. This means that it is of the utmost importance to pick up after yourself. If you don't, a fee may be charged for anyone going there, sooner or later. Since south and eastern Oregon is the least populated part of the state, the focus, except for in one instance, will be on southeastern Oregon.
Deadhorse and Campbell Lakes:
These are both beautiful and pristine mountain lakes located between Bly, Oregon, and Paisley, Oregon, in the mountains that separate them. These two mountain lakes are only a mile and a half separated, and both lakes are maintained by the US forest service. They both feature many popular semi-improved campsites. Tables and fire pits are provided, and outhouses are available. There are also areas set aside for a picnic, and a larger area for RVs set away from the lakes, but still within easy walking distance.
Both lakes are annually stocked with rainbow trout, and both are great to swim in. As of 2009, both were also free sites to camp in, though the camping often starts in mid-June due to snow.
A drawback is that there is usually little firewood near the camp, however, it is abundant a short drive away, within a couple of miles.
The forest service also comes by almost daily to check on the campsite. If there are problems, the personnel are easily accessible and quite willing to help campers. This free site is well policed and free.
Gravel Pits:
Also known as the four-mile flat rock quarry, the gravel pits are just beyond Odessa, Oregon, on highway 140 west, about 8 miles from Odessa. The pits were created when the gravel was laid for the highway. This creates a shallow depression where water gathers and creates a seasonal lake. Camping sites ring the irregular-shaped lake, and all are unimproved. Firewood is abundant.
Though it is only a quarter-mile from the highway, few people are even aware that the site is there. Pines, cottonwoods, and other trees, as well as bushes, surround it. Yet, despite the fact that the water dries up usually every year, wildlife abounds, including frogs, fish, squirrels, deer, and elk. Fishing, swimming, and sightseeing are attractions.
The many sites are free, but not suitable for most RVs. Campers, trailers, and tent camping are the norm. A few do still camp there in RVs, though. They do need to be self-contained, but this is an excellent site for free camping.
Burnt Mountain:
Not far from Coquille, Oregon, quite near the Oregon coast but up in the mountains of the Pacific range, Burnt Mountain features several free campsites. Most of them are on the Coquille River, and a few are unimproved, but often packed with visitors. There tend to be fewer people at the unimproved sites.
There are many of these, however, most aren't suitable for RVs due to mud and later, ruts. The extra weight of an RV can cause problems and can cause a traveler or camper to get stuck. However, these sites are superb for wilderness campers. The river is easily accessible, has plenty of fish, and the area is beautiful.
The trees are mostly deciduous, ferns grow in abundance, and wild animals are in abundance. Firewood is readily available for anyone who wants to look for it.
The campsites are again free, and about 30 miles from the nearest beach. People should take care to clean up after themselves, as in any free or unimproved site, but this is another great and free camping area.
Oregon Campgrounds – Reservations Required:
The state of Oregon provides 100 federally and state-run campgrounds for avid campers and outdoor enthusiasts. Its moderate climate makes it perfect for hiking, boating, fishing, rafting, swimming, and winter sports such as skiing and snowmobiling. From Mount Hood to smaller parks, campsites can be reserved in advance to avoid crowds during the busy season.
By the Lake:
Dorena Lake, located in the Cascade Mountains foothills, offers many recreational choices. It has one private park, Baker Bay, located south of the lake. This site has overnight camping for families and large groups. Schwarz Park, maintained by the Army Corps of Engineers, offers non-electric, pull-through, and group camping facilities.
Cyclists can enjoy the bike trails after setting up camp. Harms Park has boat ramps and a picnic area. Known as "The Covered Bridge Capital of Oregon," Dorena Lake gives campers the option of swimming, water skiing, hiking along the Row River Trail, or shopping and dining in the nearby town of Cottage Grove.
National Park:
Located near Medford, Oregon, Crater Lake National Park surrounds Mount Mazama, the remnants of an ancient volcano. Crater Lake, which reaches depths of 1,900 feet, is the focal point. Campers pay a small fee for each tent or recreational vehicle upon entering the park. It's wheelchair accessible and has fire rings and picnic tables. Hookups aren't included, and only down and dead wood can be used for fires.
The Mazama Campgrounds, open from early June to mid-October, offers 200 camping spots, with laundry, showers, and dump stations. The smaller Lost Creek Campground has 16 campsites. Open from mid-July to mid-September, there's a general entrance fee for tent campers only. It has water, flush toilets, and picnic tables, but lacks showers, dump stations, or laundry facilities.
National Forest:
Mount Hood National Forest, located in the Willamette Valley, 20 miles from Portland, offers 1,064,573 acres of mountains, forest, lakes, and streams, along with 81 campgrounds. The Trillium Lake Campground consists of two defined areas. The larger one has drinking water, an amphitheater, and a boat ramp. The smaller section has no drinking water or parking area.
Open mid-May through Sept. 28, Trillum Lake offers 61 combined spots for recreational vehicles or tents. Trillum Lake contains no flush toilets or hookups. Explore the Green Canyons campground for backpacking and hiking opportunities. Open April 15 through the second week in September, Green Canyons has 15 combined tent / RV sites with a grill and table included.
State Heritage Area:
Emigrant State Heritage Campgrounds, on the top of the Blue Mountains, offers horseback riding, hiking, and basketball. From May 1 to Sept. 30, the campground provides 11 hookup spaces and 11 tent sites. You can reserve a horse camp, group tent, or cabin for a fee. From Oct. 1 to April 30, the same campsites are available for reduced fees. You can ski or snowmobile during the winter months at the nearby Blue Mountain Crossing Nordic Ski park.
Fishing Holes:
The campgrounds at Prineville Reservoir State Park offer a prime spot for campers who also enjoy fishing. Crappie, rainbow trout, largemouth, and smallmouth bass can be found in the reservoir and Crooked River. Pitch a tent or pull up a recreational vehicle in one of 22 full hookup sites or 23 electrical sites. Cabins, boat moors, and 23 tent spots can be reserved. Open year-round, rates are lower from Oct. 1 to April 30 than from May 1 to Sept. 30.
Ocean View Parks In Oregon:
Oregon coast camping is certainly breathtaking, which is why Beverly Beach is a popular place for campers. Seven miles north of Newport, this campground provides a variety of what nature has to offer. Enjoy camping in the sanctuary of the forest, and just a short walk away you will find the beach access, where you can enjoy swimming, surfing, and fossil-hunting.
Oregon's coast consists of 373 miles of public coastline complete with sandy beaches and forests that reach right down to the water. Along the coast, you'll find a variety of RV parks open year-round, including state parks, that offer breathtaking views of the ocean and easy access to the beach. You'll also find recreational opportunities including swimming and fishing in the ocean as well hiking to lighthouses and biking trails through lush forests.
About Camping Sites On Oregon Coast:
On the western side, the state of Oregon lies along the Pacific Ocean. U.S. 101 follows the coast all the way from its border with Washington on the north to its border with California to the south. Oregon's coast is broken down into three sections, including central, south, and north coastal areas.
Pick up a tide chart once you reach Oregon, and refer to it when participating in activities along the beach. If you plan to fish on your trip, you'll need to buy an Oregon state fishing license, available at sporting goods stores or bait and tackle shops in the towns along the coast.
South Coast:
Along Oregon's south coast, you'll find 29 state parks, including Cape Blanco State Park. The focus of Cape Blanco is the lighthouse and historic home you can hike to. Tours are available from April through October. Or you can hike on eight miles of trails with incredible ocean views and forest settings. Campsites feature electrical and water hookups. Access the beach just steps from your campsite. The campground makes a good base camp from which you can fish or boat in the ocean.
Central Coast:
Oregon's central coast features 38 state parks, including the Beachside State Recreation Site, located a few miles south of Waldport. The campground offers views of the ocean just feet from your campsite. Within 30 miles of the campground, you'll find three lighthouses as well as opportunities for clamming and fishing.
The campground offers 32 sites with electrical and water hookups. Head to nearby Heceta Head State Park to hike on the seven-mile network of trails of varying difficulty. One trail takes you to the lighthouse as well as a wildlife refuge island with nesting puffins.
Another coastal campground is Umpqua Lighthouse State Park, located on the central coast of Oregon near Winchester Bay. Enjoy the water at tranquil Lake Marie or at the secluded beach nearby. Many of the camping sites here are adjacent to the water. Popular attractions at this campground are the giant sand dunes surrounding the park and the Umpqua River Lighthouse that watches over Winchester Bay.
North Coast:
Nineteen state parks make up the North Coast. Cape Lookout State Park, located 1.5 hours west of Portland, offers 38 campsites with full hookups and ocean views. Hike through more than eight miles of old-growth forest or follow the Cape Lookout trail as it leads to views of the lighthouse.
Head to Fort Stevens State Park for 174 full-hookup and 302 electricity-only campsites with easy access to the ocean. At Fort Stevens, you can swim on several freshwater lakes, hike to see a historic shipwreck along the coast or bike on nine miles of trails. Six miles of hiking trails take you through forests, wetlands, and dunes.
These are just some of the many great campsites in Oregon. Many of them are located in the forest since Oregon is over half forested. It may take time to get there or to find them, but the campsites still do exist in Oregon. What are you waiting for? Camp Oregon!