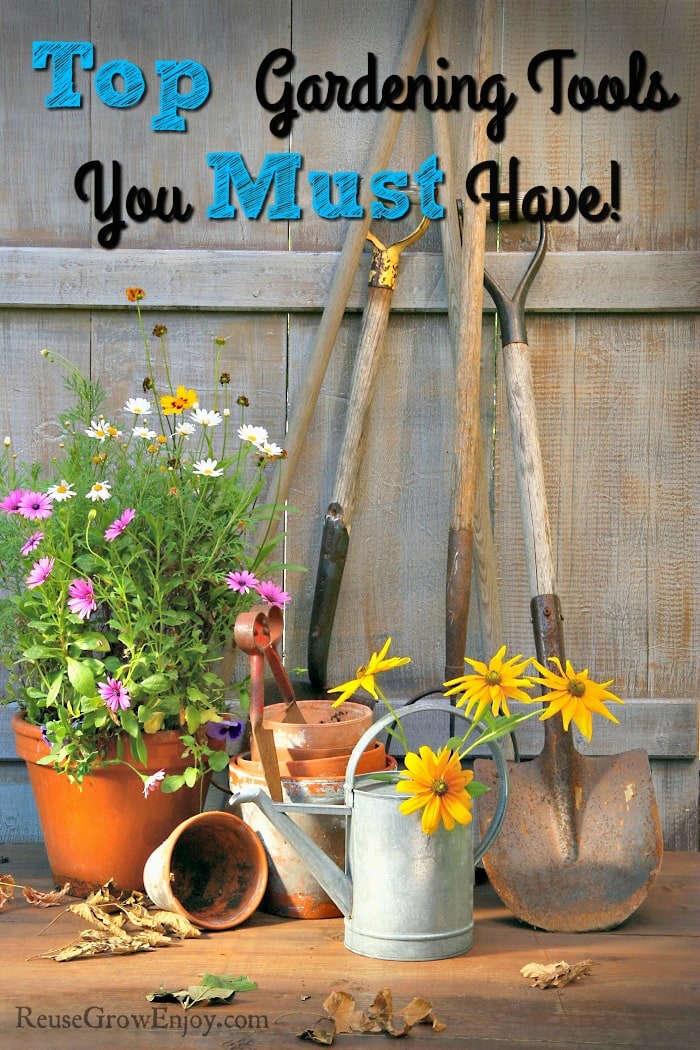 Top Gardening Tools You Must Have
April brings us some relief from the winter. For the people more north, the snow is now beginning to melt. For the areas a little more south, its time to prepare for some planting of our first garden varieties. The first question we all ask ourselves is "what gardening tools do I need to get started?"
There are some gardening tools that are a must have and you just should not be without, for many of the tasks that you need to do. So let's take a look at the top gardening tools that every gardener should have on hand.
1. Gloves
Firstly, you should make sure to have a good pair of gloves. Some soil may have sharp objects in them and these will give you an extra layer of protection. That extra layer will also help from getting blisters and from plants and weeds that can prick or scratch the skin. Plus, let's face it, it is much easier for cleanup when you wear gloves.
2. Rototiller
A powerful tool to have is a rototiller. A lot of garden stores sell or rent them or you can also find them on places like Amazon. You may even have a neighbor or family member that you can borrow one from for an afternoon. They can be very costly to buy, and you might not need them much through the year, but that first digging in the soil can be very challenging on your arms. It will make short work out of a long task. If you are just doing small flow pots or container gardens, then you will not need one of these.
3. Pointed Shovel
A pointed shovel is something you really need to have. It will take more effort and time, but especially those with a smaller garden, it will be what you need to get started. You can use them for turning over the soil and also for digging holes if you are planting larger plants.
4. Pointed Hoe
The pointed (triangular) hoe is one of my all time favorite gardening tools! It is very valuable for carving trenches between your rows of plants for more efficient watering. It is also nice to get under those small but very deep weeds. The point can bite right into the roots and rip them up.
5. Wheelbarrow
If you are carrying dirt, plants or just about anything to the garden, you can only carry so much without making lots of trips. Having a wheelbarrow to help lighten the load makes things a lot easier! They are also great for removing old sod, moving topsoil or even when it comes time to harvest.
6. Transplanting Spade
A good transplanting spade will be great to help for individual hole digging for your plants. It will dig much smaller holes than the shovel. You could do it with just your hands, but this just makes things a little easier.
7. Water Hose or Water Can
To keep your garden healthy, regular watering is essential. A good soaker hose or regular hose will be what you will need for keeping those plants hydrated. You may also even want a good size watering can to get those farther away plants that can't be reached with your hose or if you just have those few plants that need water a little more often.
8. Hula Ho
Once you have that garden growing good, you might have a weed problem. Rather than getting down on your hands and knees, a tool called a hula ho is priceless for pulling those pesky weeds and their roots out with one small movement of the handle. Another name for this tool is a stirrup loop push hoe. This is another one of my all time favorite gardening tools! I will never do any gardening without one!
9. Stakes, String and or Cages
If you will be planting something heavy like tomato plants, a tomato cage or strong metal or wooden stake will be necessary to keep those plants off the ground and growing healthy. If you are planting beans, peas, cucumbers or zucchini string will be something you will need to get them to grow up and not across the ground.
Remember most, if not all of these gardening tools here, can be used year after year. So once you have them, you're good for quite a while. With the right tools and a decent amount of effort, your garden will be something you can be proud of and it will give you much in return for all your time and investment.
If you enjoyed this post, you may also want to check out The Health Benefits of Gardening and 7 Places To Find FREE Gardening Plants.