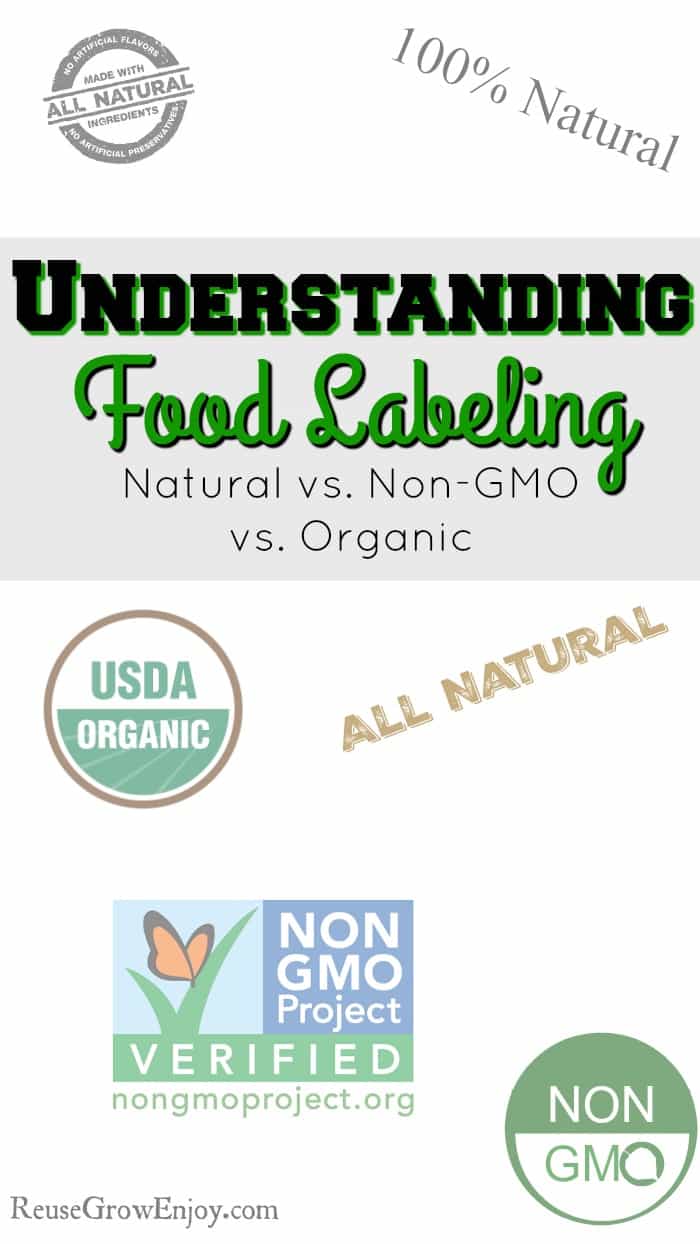 Understanding Food Labeling:
Natural vs. Non-GMO vs. Organic
In the last decade or so, people have become more aware of how our eating habits affect us and how the production processes behind our food affect our foods' safety. As a result, food labeling has become more important and more varied. But all those labels won't do you much good if you don't know what they mean! To help you make the most informed grocery shopping choices, here's Natural vs. Non-GMO vs. Organic: Understanding Food Labeling!
Natural
You'll see a lot of foods labeled "natural" these days, and at decent prices, too. You may think, "Well, I can't afford the organic version, but at least I can get this 'natural' version and still make a pretty healthy choice!" Unfortunately, you'd be wrong. "Natural" really doesn't mean anything, and in fact, there is no regulations or verification behind the "natural" label. Any company can put it on any food, even if it's full of pesticides, GMOs, and other less-than-natural ingredients. But companies know that consumers nowadays want healthy, truly natural food, so they use this unregulated label to capture the uninformed members of that shopping demographic. So when you're looking at food labeling, remember that "natural" means nothing.
Non-GMO
"Non-GMO" means that food has been grown without genetically modified organisms. If a product says "Non-GMO project verified" it contains 0-0.9% GMOs. If a product just says "Non-GMO" without the Non-GMO project's label, that's good, but the actual Non-GMO Project's label carries a bit more weight because you know the food's company took the time to actually get it certified by the nonprofit organization.
You may want to do your research on some Non-GMO products, though, as companies wanting to capitalize on the healthy eating movement are starting to put Non-GMO labels on things that have never contained GMOs. For example, while ears of kernel corn can be genetically modified, popcorn (which is a different kind of corn) has never been genetically modified. So no matter what brand of popcorn you get or whether it has the Non-GMO label, popcorn is always non-GMO.
Also, being free of GMOs is all that the Non-GMO label means. It doesn't mean fewer pesticides, no dyes, or any of that. It just means there are no GMOS, but the food could contain a bunch of other bad things. So as far as food labeling goes, Non-GMO is better than "natural" but not as good as "organic."
Organic
If you want the best of the best, organic food is what you want! Organic food labeling is highly regulated with many restrictions and guidelines that farmers and food factories have to follow. Of course, it's also the most expensive food. And depending on where you shop, it can be harder to find, though that's starting to change thanks to store brands like Kroger's Simple Truth Organic, Target's Simply Balanced Organic and Adli new organic line. But if you want food that's as safe as you can get (without growing your own), then you want organic. "USDA organic" foods are 95-100% organic. "Certified organic" foods (certified by Oregon Tilth, QAI, etc.) are 70-95% organic. Organic foods have no preservatives, artificial colors or flavors, are grown without toxic pesticides, are given no synthetic growth hormones, and contain no GMOS, among other benefits. While it'd be best to have a 100% organic diet, most families simply cannot afford that. However, there are ways to save on organic foods, check them out here.
If you liked this post, here are a few others you may want to check out.