No need to toss out that empty plastic chip can. With a few other supplies, you can turn it into an upcycled chip can that is turned into a pretty vase to hold real or fake flowers.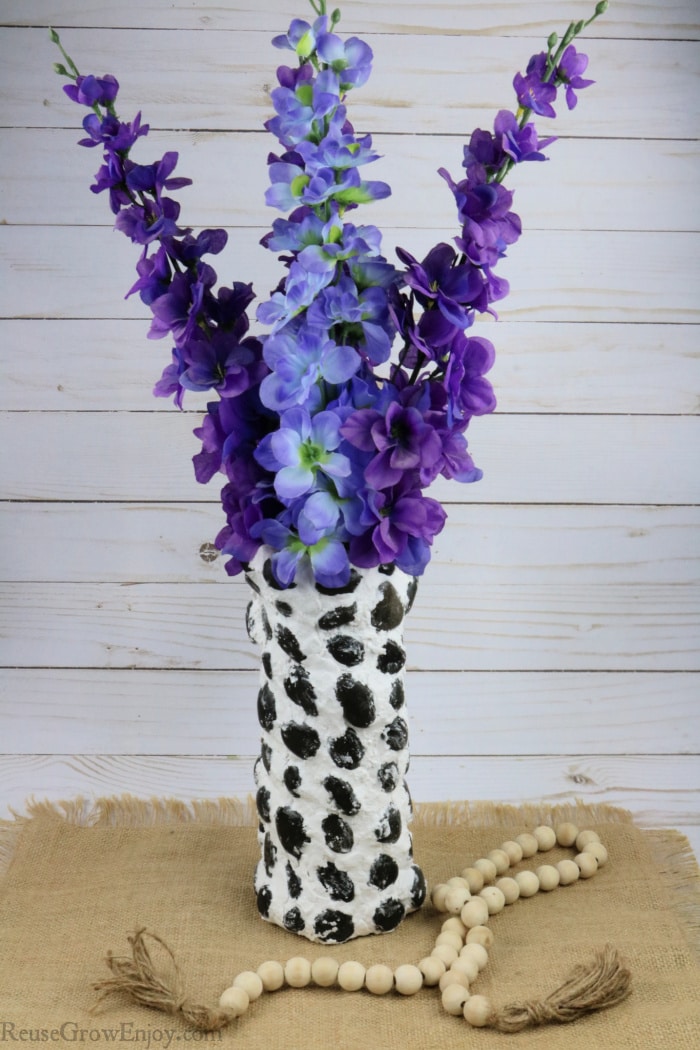 Upcycled Chip Can Into Vase
This upcycled chip can is a pretty easy craft but does take some drying time between stages. I just worked on it over a few days doing other projects and housework between stages.
This is such a cute vase for those that like that natural/country rustic look. Goes great with farm-style decor too.
Plus this is such a budget-friendly craft project. All of the supplies can be found at Dollar Tree other than the hot glue gun.
If you don't already have a glue gun you can grab them at just about any big box or craft store as well as online.
Looking for more ways to upcycle? Be sure to check out Ways To Reuse Everyday Items.
Time: 1 hour + drying time
Skill: Easy
Makes: 1 Vase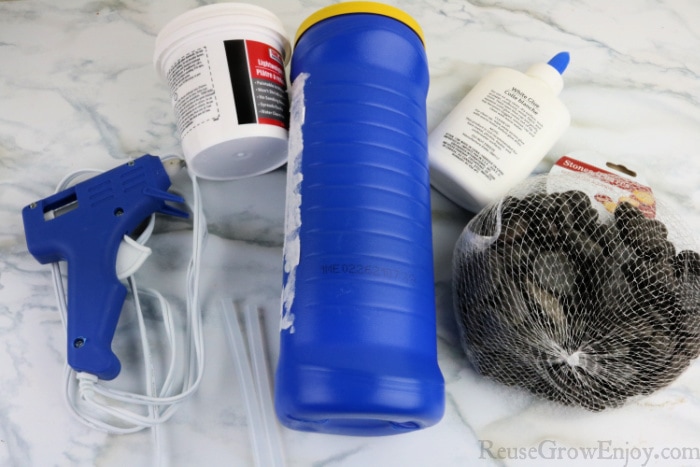 Supplies Needed:
1 Bag Black River Rocks
White School Glue
Hot Glue Gun & 6-8 Glue Sticks
1 6 oz Tub Spackling
1 Stax Can (washed and paper removed)
News Paper (optional)
Craft Stick (optional)
How To Make This Vase:
Start gluing the rocks to the side of the can. You want to try and glue on the flattest sides of the rocks. Leave a little space between them. I only glued one row of rocks at a time.
Lay some paper down for easy clean-up if you like. Using your fingers or craft stick carefully pack the spackling around those rocks. You do have to be careful as the hot glue does not hold the rocks really well. So you can knock them off. Another reason I only do a row or two at a time.
If you have issues with rocks coming off, do a few rows at a time and then allow spackling to totally dry before moving on with more rows.
When you have the whole can covered in rocks and spackling, allow it to dry.
Carefully wipe off any excess spackling from the rocks. I left a little on mine because I liked the look. You can leave some or wipe it all off.
Now you want to cover the spackling in school glue. It is ok if you get a little on the rocks as it will dry clear. I coated about half then allowed it to dry before flipping it over to do the other side. You can either use your fingers to spread the glue or a craft stick as I did.
Coating the spackling in glue helps seal it so the spackling does not come off. It also helps to harden and hold everything in place.
Allow the glue to dry before using.
Do you have a way you like to reuse chip containers?