Do you have a crib you are no longer using? Or maybe you see them at yard sales cheap all the time? This is such a great way to use them. You can make an upcycled crib garden trellis for your climbing plants. It is so easy!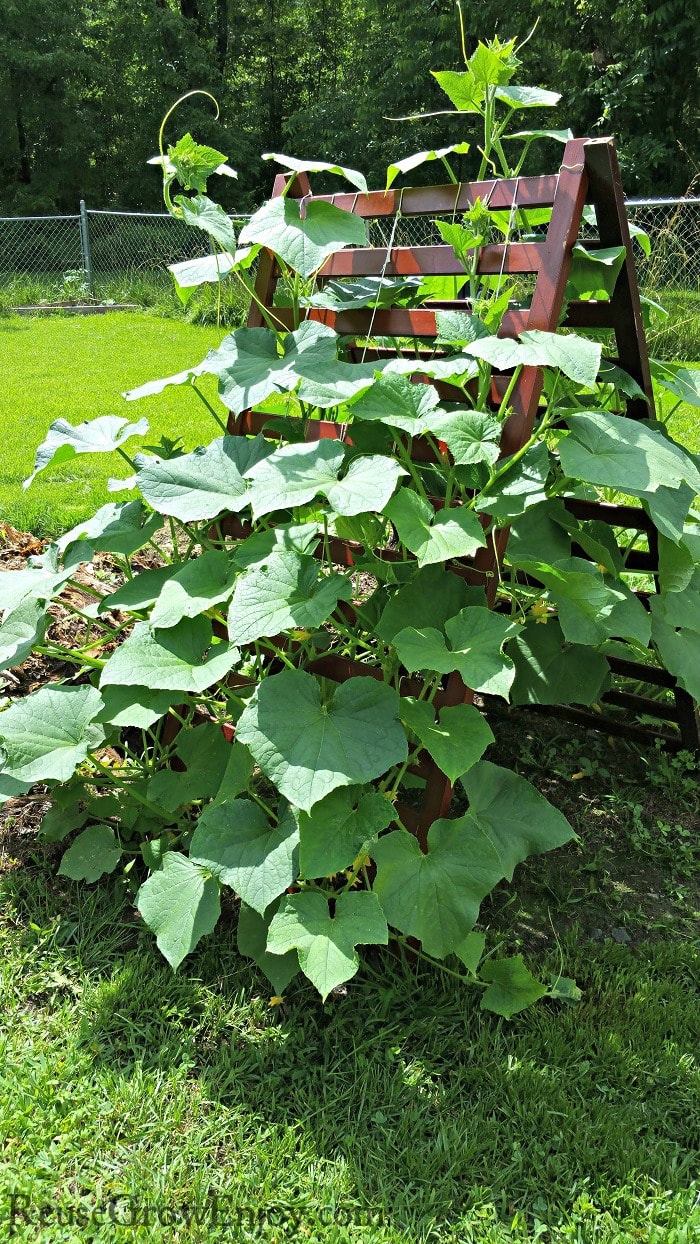 Upcycled Crib Garden Trellis For Climbing Plants
You can buy a garden trellis online or at just about any home and garden store. But sometimes you can just simply use the things you have on hand or things you find cheap at thrift stores (like Goodwill, that is where I got this one) and garage sales.
Crib rails are just one of many things that make a wonderful trellis in the garden. Other items that also work well are old ladders, wood, and wire, cage panels just to name a few. Just get creative and think outside the box.
Why Should You Grow On A Trellis?
Growing on a trellis as a lot of great benefits to it. It saves on garden ground space. Because you are forcing the plants to grow upward, they take up less ground space in the garden.
That works really well if you have a limited garden area to grow too. If you really want to save on space, you can also utilize the space under the arch as well. Grow plants under there that are short and grow in the shade.
Not only does growing on a trellis save on ground garden space, but it also adds a nice visual effect to the garden as well. Gives it some nice height which looks good and is appealing to the eye.
It also protects the harvest. When growing vertical it helps keep your produce off the ground. This both encourages straight not curved produce and protects from things like moister rot and lessens the chances of slugs and worms.
What Types Of Plants Grow On A Trellis?
Not all types of plants will grow on a trellis. You need to grow plants that have a vine nature to them.
A few that work will growing vertically are cucumbers, grapes, spaghetti squash, peas, pole beans just to name a few.
You can also sometimes do a few different types of tomatoes. They don't reach and don't vine like the others. So they will need to be tied in a few places to keep them on the trellis.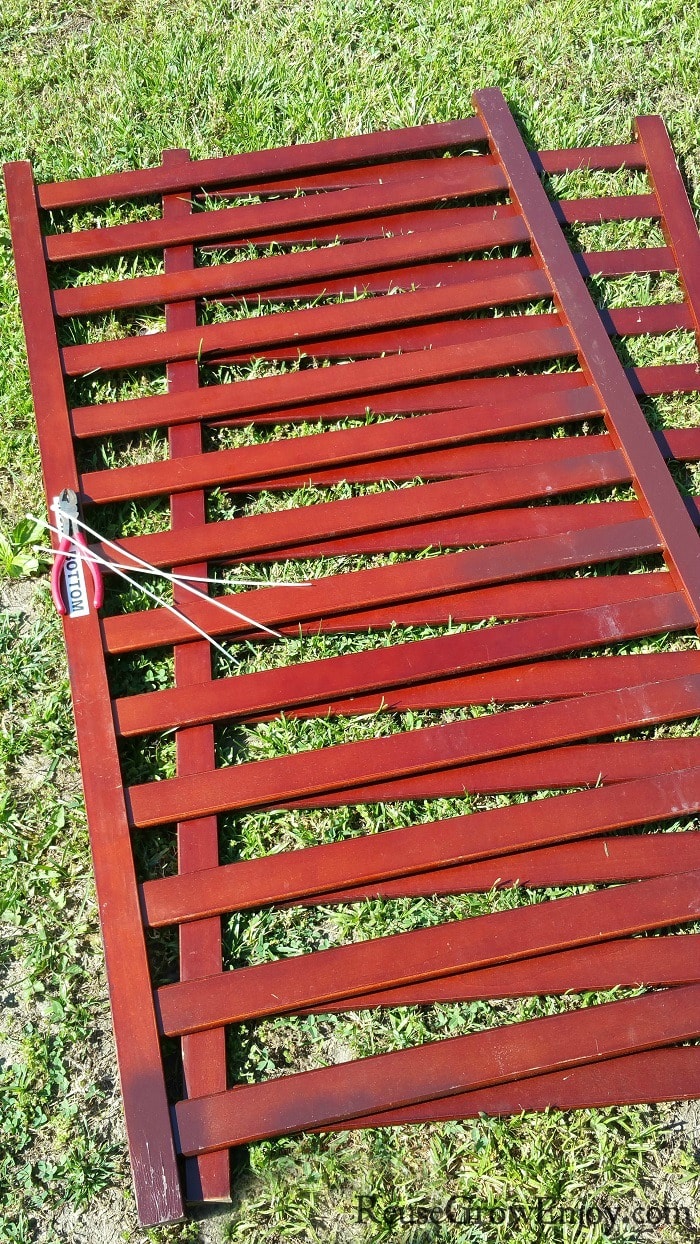 How To Make A Crib Trellis:
You can either maker your trellis before or after you have planted your plants. You just need to make sure the plants are spaced out correctly.
Lean you crib rails right near where your plants are planted or will be.
Place one on each side and lean them together so they form an "A" shape frame. Then you need to secure them together.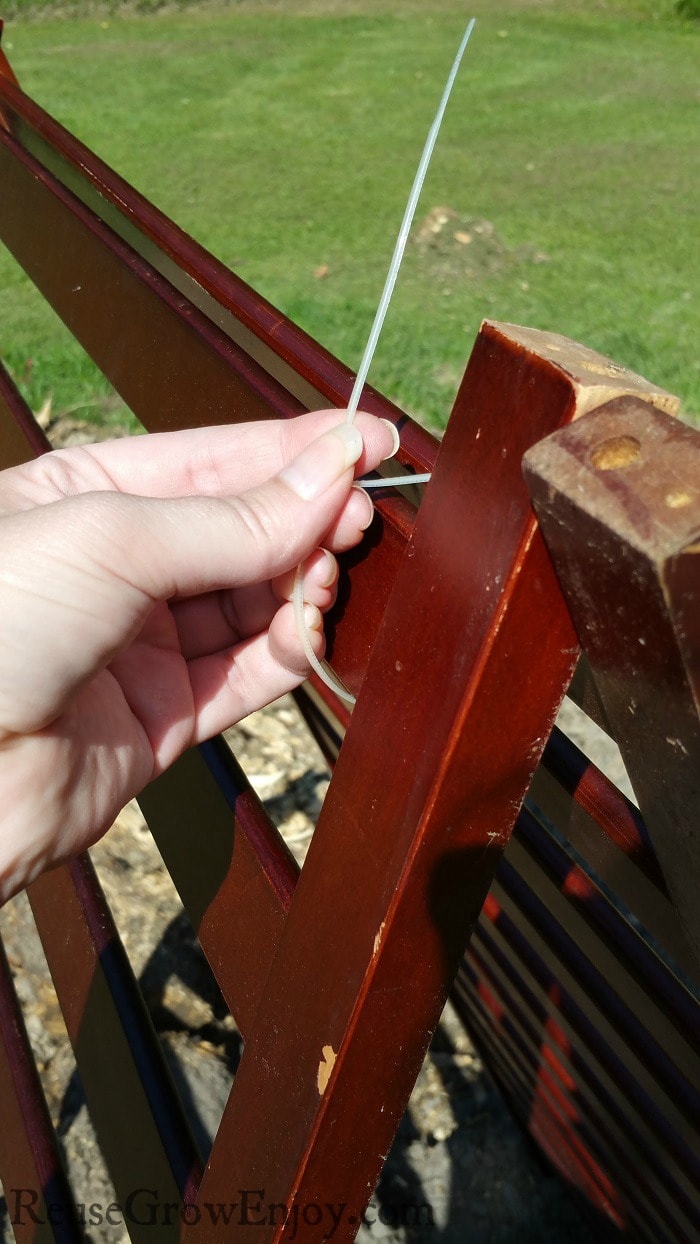 This can be done with string or use a few zip ties as I did for mine. You need to put two to three across the top to hold it tightly together.
Then using a pair of snips or wire cutters, snip off the end of the zip tie or sting.
Now depending on the type of crib or other items you are using to make this garden trellis, you may need to add something string for the plants to grab ahold off.
With the crib I used, it has some pretty wide slats. That makes it hard for the plants to wrap them self around it and hold tightly to the trellis.
So I just tide some cotton string to one and then looped it around a few others running it up and down the side of the rail a few times.
How To Train The Plants:
When you grow plants on a trellis you do have to train them. Sometimes if it is close and low enough they will start to grow up it on their own. But sometimes you have to show them.
To train plants to go up a trellis, you simply lean them near it each day. As they start to have the little vines the reach out, start wrapping them around the rail/sting.
After they get about a foot off the ground it should be able to keep going on its own as they like to reach for the sun. But you will still want to check it from time to time. Like every few days.
Just to be sure you don't have a runaway vine trying to make a break for the ground. If you do, just tuck it back and help wrap the little curling vine around the string/rail.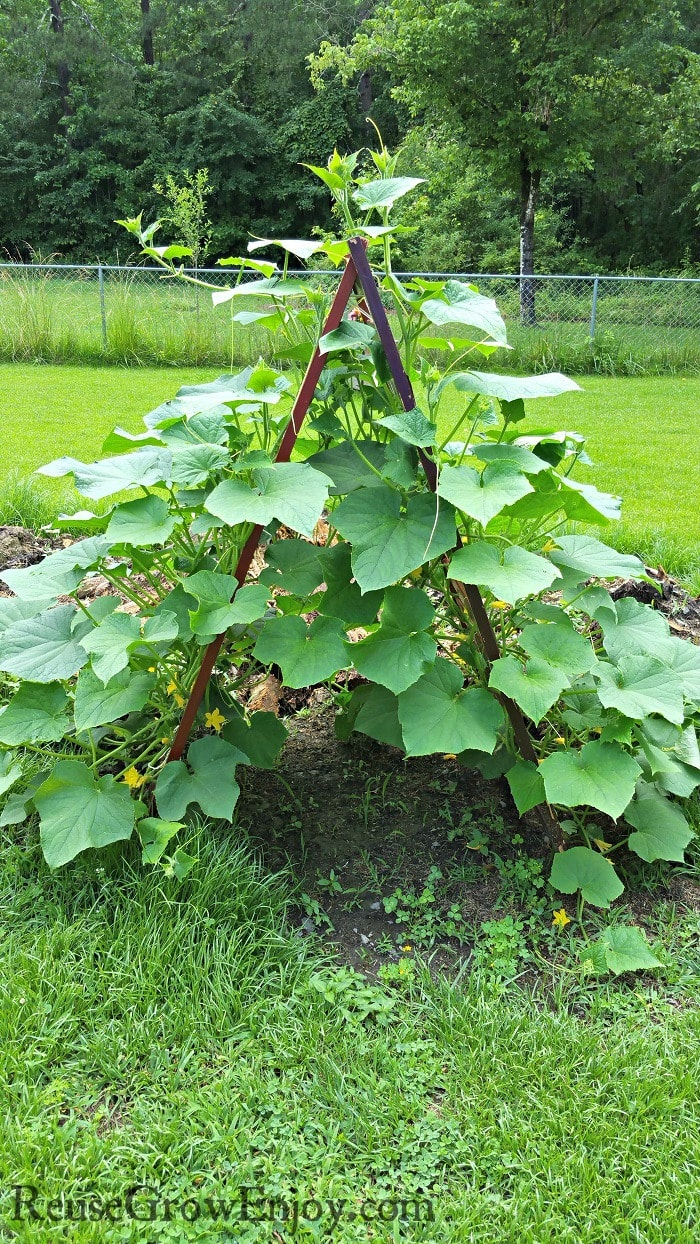 If you like this gardening tip, here are a few others to check out.