Thinking you may want to grow a garden this year but not sure when to plant? I am going to share some tips on when to plant vegetables.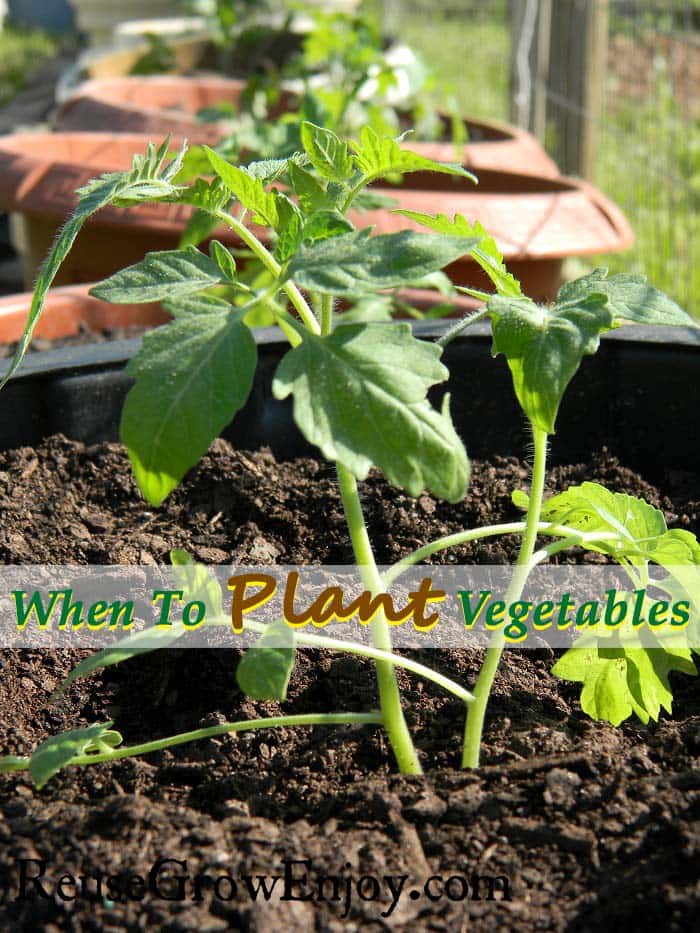 When to Plant Vegetables
Growing your own garden is a great idea! But knowing when to plant is not always easy when just starting out.
Not only is vegetable gardening fun and relaxing, but there's nothing better than homegrown food, especially if you prefer your produce to be organic and non-GMO.
And if you do a good enough job with your vegetable garden, you could find that growing your own produce is cheaper than buying it in the store! Healthier and cheaper?
That's a win-win! But to get the best yield and tastiest crops, you'll want to make sure you plant your vegetables at the right time. To help you out here's an easy guide on When to Plant Vegetables!
A major characteristic of the South is very hot summers and reasonably mild winters, often with limited snow. This means that growing a garden in the hottest heat of summer may be difficult. Depending on the vegetables you choose.
However, the region makes up for it with more manageable late-summer and early fall temperatures. And when considering when to plant vegetables, keep in mind that some vegetables can do well in more than one season.
So if an early crop doesn't grow as well as you'd like, you may get another chance later in the year!
After learning these tips you may also find these gardening posts helpful.
Tips To Know When To Plant:
To give your vegetables the highest chance of success, you may want to consider starting from young plants. Not seeds, especially if planting in the spring or winter.
If you like to grow from seed, then you may want to start the seeds indoors. Then transplant them outside into your garden.
Also, if you haven't grown a vegetable garden before, you may want to look up what the temperatures were in your area in the last year or two.
That will give you the best idea of exactly when to plant vegetables. There are even apps that can help tell you when your area is ready to plant, such as the Garden Buddy app.
Planting In The Spring:
Your Southern garden can successfully grow beans, asparagus, kale, peas, beets, tomatoes, and rhubarb.
You may want to check your local frost-free date to see when you no longer have to worry about frost damage or use the Garden Buddy app.
Also, watch out for spring storms. They can drown young plants or can damage them with strong wind and hail.
Cover your garden if necessary to protect your plants from storms. If you have a small garden you can do this with plastic or a tarp.
Just be sure not to let it touch the plants if you are covering for frost. If you have a large garden, use buckets and containers to put over plants. You can put rocks or bricks on top to keep the wind from blowing away.
If your plants do get hit with frost, you may find this post on How To Help Plants Hit By Frost & Ways To Prepare Plants For Frost Coming helpful.
Planting In The Summer:
You could grow a nice crop of radishes, corn, eggplant, squash, tomatoes, beans, watermelons, potatoes, sweet potatoes, and peppers.
However, watch your local temperatures. Be ready to water often to make up for the heat. Also to get your crops through periods with low rainfall.
If you know your area is prone to droughts, you may want to look into getting drought-resistant varieties. Or fast-growing varieties. Both require less water, making it more likely they'd survive a harsh summer.
Also, consider finding varieties that don't grow massive vegetables as they won't require as much water. You're more likely to grow a decent crop of cherry tomatoes in a dry summer than a crop of big Better Boy tomatoes.
Planting In The Fall:
You'll have the best luck with kale, spinach, lettuce, cabbages, radishes, and asparagus. If you're planting in the fall, make sure to check the first-frost date and watch your local weather for frost warnings.
Cover your garden if necessary to prevent frost damage.
In The Winter:
Southern gardeners can successfully grow carrots, asparagus, peas, and winter onion varieties.
If you're farther south and your temperatures don't drop that much, you may get away with planting some late crops of hardy fall vegetables.
What vegetables do you like to grow?