UPDATE: My favorite Virginia beach hotel is now closed. They are building a new hotel in its place.
Baymont Inn & Suites At Virginia Beach
Everyone looks forward to going to the beach, right!? With many places to choose from it is hard to know which place will make it comfortable for you without breaking your budget. I am going to share with you one of the places I like to stay. It is the Baymont Inn & Suites at Virginia Beach.
Virginia beach is a good place to visit when you just want to get away and cool down. Dozens of hotels line the beach side, so there is no shortage in lodgings. The prices for these are just downright high in the summer. They all are. But if you can wait until after labor day, you can find lodgings at fraction of the price. You can normally find better deals on the Baymont Inn & Suites At Virginia Beach Hotels.com page here.
Baymont Inn & Suites is a great place to spend your vacation at. It's located on the boardwalk right in front of the ocean so there is no shortage in Ocean view. Whether you are planning to go swimming at the beach, or just want that atmosphere, this place has it!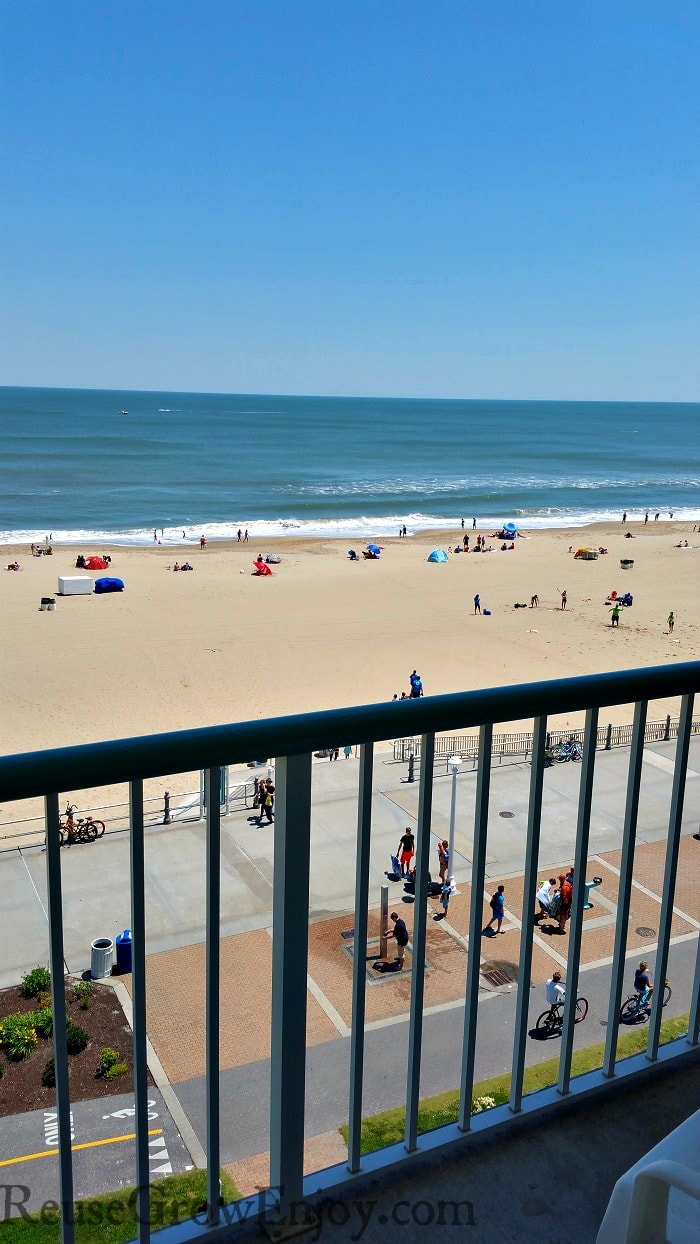 What Baymont Inn & Suites At Virginia Beach Offers:
First of all, the whole hotel has Ocean Front Views. No back alley or uninteresting street side views here. Each room also has its own balcony to enjoy that view. Complete with chairs and a small table. When we stay here (have stayed a few times now) we love to leave that balcony door open to listen to the waves crashing.
Now, while I really enjoy this hotel and will stay there again, it is not a newer hotel. If you are someone that has to have things super fancy and totally new, it may not be the hotel for you. We did find some small rips in the carpeting, paint peeling off door jams and little things like that. But I felt they made up for the little wear and tear in other areas that are more important to me such as being clean, views, customer service, comfort and so on.
Beds:
The beds themselves are also something above the norm when it comes to luxury. They feature pillow top mattresses with frames firm enough that don't make you feel like you are lying in a hammock. Just the right kind of firmness and comfort you want in a relaxing nights rest. Almost makes you want to stay in the bed your whole visit.
Room Amenities:
I love that the rooms provide you with a small fridge, microwave, and coffee maker. It really comes in handy if you are visiting while sticking to a budget. You can very easily stop off by a grocery store and get you some simple things to fix such as sandwiches, TV dinners, soup, and other items to avoid the high price cost of eating out.
Window Views:
If it's too hot that day, the window is large enough to take in that ocean atmosphere and bright sunlight while staying cool with your air conditioner.
Great place to work for your average blogger with its free wifi connection. There is nothing like setting up your temporary home office with the roar and view of the ocean, all while getting your necessary work done. It is hands down one of my most favorite spots to work!
Beach:
If the beach itself is where you want to be, the beach itself is right off the door to the hotel. Plenty of space to work on your tan or just relax. The boardwalk offers plenty to do and see when it comes to entertainment and dining. You can even rent some bikes and cruise on down the coast at your own pace. Occasionally there are activities from sponsored companies that can provide alternate entertainment.
This hotel is just a short walk away from the Virginia Beach Pier too! We take a walk to the pier pretty much every day we stay there. There are lots of things to do at the pier and it is not just fishing!
The beach is combed each night for a smooth experience each new day you visit. Vehicles work through the night, quietly of course, to layer and clean the sand. They do also have plenty of trash cans down the beach, so if visiting please do your part to help keep the trash in the cans and not on the beach.
Free Breakfast:
I have to say that their free breakfast is one of the best I have had from hotels. They have a pretty nice selection of items that can pretty much cover any diet that you are one. They serve, toast, yogurt, cereal, waffles, muffins, oatmeal, fruit, coffee, juice, milk, and a lot more.
If you are looking for more ideas, be sure to check out my post on Things To Do At Virginia Beach & Places To Stay!
If you are looking for a hotel to stay in central Florida, be sure to check out my review of Sleep Inn & Suites Lakeland Florida.