Although New Jersey is often derided as the waste dump and overflow housing facility of New York City and Philadelphia, it's not for nothing that it's known as the Garden State. As there is some great camping sites in New Jersey.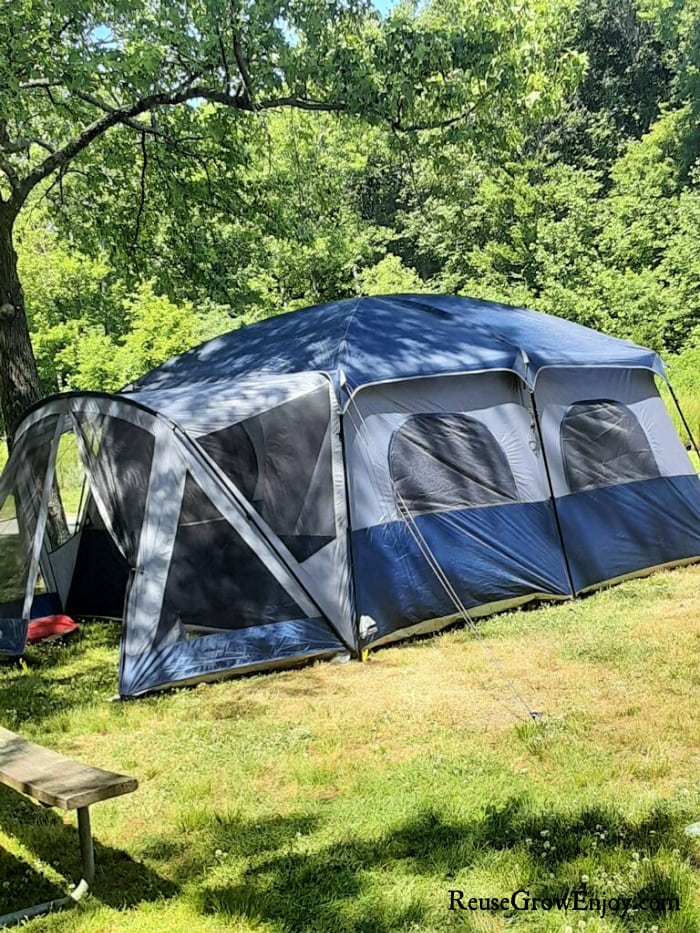 From the enormous expanse of the Pine Barrens to the local farms and wooded peaks of its northern reaches, New Jersey is a very green state with several camp sites and camping opportunities for those looking to remain active and athletic amid the urban bustle.
We do also have some other great camping tips, meals, and places to stay on our website. Here are a few you may want to check out.
Best Camping Sites In New Jersey:
While there are lots of great camping sites in New Jersey, we have put together a list of some of the best.
Pinelands National Reserve Is A Great Place To Camp:
The Pinelands National Reserve is more than a million acres of farms, forests, and wetlands spread throughout seven counties in southern New Jersey.
The National Park Service runs ten camping sites in the area, which include Beards Bluff Campground, Indian Creek Campground, and Horseshoe Bend East Campground.
The facilities at these sites include wilderness camping, cabins, lean-tos, and family camping spots. For athletic campers, activities in the Pinelands National Reserve include birdwatching and extensive hiking opportunities. Hikers may spot the Pine Barrens tree frog, rattlesnakes, turtles, hawks, or even a bobcat.
Tip Tam Camping Resort Is One Of The Best Places:
The Tip Tam Camping Resort of Jackson, New Jersey, offers camping, a picnic area with charcoal grills and woodland activities within easy commuting distance of Six Flags Great Adventure.
The camp has RV sites, deluxe cabins, tent spaces, and RVs available for rent. Amenities at Tip Tam include a swimming pool, hot tub, basketball and volleyball courts, a softball field, a miniature golf course, and plenty of woods and nature trails for hiking, biking, and other outdoor activities.
In addition to Six Flags, nearby attractions include the boardwalk at Seaside Heights, Fort Dix, and Monmouth Battlefield Park.
Harmony Ridge Is The Perfect Place For The Whole Family:
Harmony Ridge is a farm and campground spread over 160 wooded acres in New Jersey's Kittatinny Mountains. Camping opportunities at Harmony Ridge include tent camping, rustic cabins rentals, and trailer sites and RV camping spaces.
The grounds encompass flower gardens and three lakes, which are perfect for several outdoor activities, from botanical perusing to kayaking.
The surrounding woods and mountains present several hiking trails and the opportunity for nature enthusiasts to see wildlife such as deer, wild turkeys, pheasants, and raccoons.
Worthington State Forest Is One Of The Best Campgrounds:
New Jersey's Worthington State Forest is a state park that permits both tent and trailer camping. The forest has sites reserved for tent camping, trailer camping, and group camping.
Group sites at Worthington State Forest are large enough for 35 people to camp simultaneously. The state forest is the ideal camping location for those who enjoy an active lifestyle.
There are over 26 miles of hiking and biking trails in the forest, seven of which are on the Appalachian Trail, and the many waterways of the park corroborate to form five miles of canoeing trails.
Camp Glen Gray Is A Favorite Place With Modern Amenities:
Located in Bergen Country, New Jersey, Camp Glen Gray provides camping opportunities in the Ramapo Mountains. In 2002 the camp was incorporated into New Jersey's state park system.
This incorporation expanded the site's area by thousands of acres. Cabins, lean-tos, and tent sites are available for rental, as are canoes for campers looking to explore on-site lakes.
A sporting field is available for football, soccer, baseball, and several other sports, and a plethora of hiking trails offer rigorous outdoor activity.
Shore Area Camping For Your Camping Trip:
With 131 miles of shoreline, New Jersey offers some great camping opportunities. The shore area extends from Sandy Hook to Cape May with shore towns in between that offer activities from surfing to biking. Bring your tent, travel trailer, or recreational vehicle for a refreshing outdoor experience.
Things To Know About Camping Sites In New Jersey:
If you have never been to New Jersey or are just new to camping there, you may not know what to expect. So we are going to go over a few things to know about camping sites in New Jersey. Such as seasons, things to do, and types of campgrounds.
Seasons and Availability:
Campgrounds by the shore in New Jersey are usually open from mid-April to mid-October. Some state parks offer year-round camping.
Whichever campground you choose, it's best to call ahead for reservations to make sure you get the campground and type of site you want. The New Jersey shore gets crowded from Memorial Day through Labor Day, so book your site early.
Types Of Campgrounds For Those Summer Months:
The New Jersey campground shore area has camping in state parks and private campgrounds. You can rough it in a tent with minimal bathroom facilities or rent a cozy cabin or trailer at a campground. Some campgrounds offer full utility hookups to accommodate your RV.
State parks such as Allaire State Park in Farmingdale offer year-round camping and activities such as canoeing, kayaking, fishing, and cross-country skiing. Farther down the shore is Wharton State Forest in Hammington, which has sites for tents and trailers but is only open from April 1 to Dec. 15. Wharton offers miles of trails for hiking or mountain biking. Atsion Recreation Area is within Wharton State Park and on the southern shore of Atsion Lake. It allows campers to go swimming, fishing, boating, or canoeing.
Private campgrounds are located all along the Jersey Shore. Most offer tennis, basketball, and volleyball courts and have organized activities. Some have pools and lakes on site and are a short drive to beaches and boardwalks.
Activities Within The Campgrounds:
Many campgrounds have one or more pools and often offer separate kiddie pools. A few private campgrounds have adults-only pools and clubhouses.
Atlantic Blueberry Hill RV Resort in Ports Republic has an adults-only spa. Campgrounds with lakes on-site offer kayaking, paddle boats, and tubing.
Hydrobikes, and bicycles you ride on water, are available at Buena Vista Campground in Buena and Lake Laurie in Cape May. When you're ready to return to land, you can play volleyball and basketball on the basketball court, or miniature golf.
Private campgrounds often have planned activities for children and adults; some offer Wi-Fi hot spots, too.
Boardwalks and Beaches:
Venture out of your campground and check out the beaches and boardwalk, like the one at Wildwood. Most campgrounds by the shore in New Jersey are just minutes away from the ocean.
Bring your surfboard and catch some waves or swim. When the sun goes down, you can enjoy a healthy meal at a restaurant or practice your dance moves at a nightclub nearby.
Jersey Shore Activities:
If you're camping by the shore in New Jersey, you can spend the morning horseback riding, go parasailing in the afternoon and take a dinner cruise in the evening. Jet ski, canoe, and kayak rentals are available in some towns.
Atlantic Parasail in Wildwood Crest has been in business since 1987 and will sail you 300 feet over the waves. Island Beach State Park allows horseback riding on the southern six miles of the beach. You have to bring your horse, and this option is limited to October through April. Be sure to make a reservation to bring your horse to the beach.
Campgrounds With Waterparks in New Jersey:
While Fun New Jersey indicates New Jersey has more than 15 water parks and a wide array of campgrounds, a combination option hasn't been created yet.
However, there are many campgrounds near some of the most popular water parks allowing you to create your own camping-water park vacation experience.
With geographical settings ranging from forest areas, mountain areas, and even beach terrain, choosing a campground and water park combination that fits your vacation desires can easily happen within the New Jersey borders.
Geography:
New Jersey's unique geography gives families a great variety of vacation destinations ranging from traditional camping to theme park visits or a combination of both.
Choose a campground in the eastern part of the state where the beach campgrounds of the Jersey Shore are plentiful. A campground destination in the northern part of the state provides a mountain and lake-front vacation site. A southern-planned destination yields a woodland setting.
Campground Features:
Campground destinations in New Jersey, according to Fun New Jersey, typically feature pools, activity centers, and a variety of water activities that include kayaking, fishing, boating, and sailing.
Rental options range from site rentals for tents and RVs to cabin, RV, and tent rentals also. Some campgrounds located near water parks will offer discount tickets for those water parks, like Tip Tam Camping Resort in Jackson, NJ, near Six Flags.
Northern Water Parks and Campgrounds:
One of the more popular northern water parks in New Jersey is Mountain Creek Waterpark near Tall Timbers campground in Sussex.
It features a more natural, mountain-inspired theme. Coco Key Water Resort in Mount Laurel, located in the northern part of the state's Salem County, is also near Yogi Bear's Jellystone Park Campground.
In addition to traditional campground amenities, Yogi Bear campers can enjoy a trip to the nearby Cohanzick Zoo in Bridgeton, NJ.
Jersey Shore Options:
For a campground near the Jersey Shore and Breakwater Beach Waterpark in Seaside Heights, check out the Sea Pirate Campgrounds.
Or plan to visit either the Raging Waters or Ocean Oasis water parks on the eastern shore of the state and stay at the Holly Shores Camping Resort near Wildwoods.
A bonus to camping or enjoying water parks at the Jersey Shore is the proximity to Atlantic City and all of its attractions.
Considerations:
Because New Jersey is a northern state, despite its sandy beach destinations, travelers can expect to experience extreme variations in temperature of all four seasons.
Those seasonal fluctuations will cause some parks and campgrounds to close down during the off-season and campsite rental costs and availability may fluctuate during peak season and off-peak season.
Travelers should consult both water park websites and campground websites for updated information before traveling.