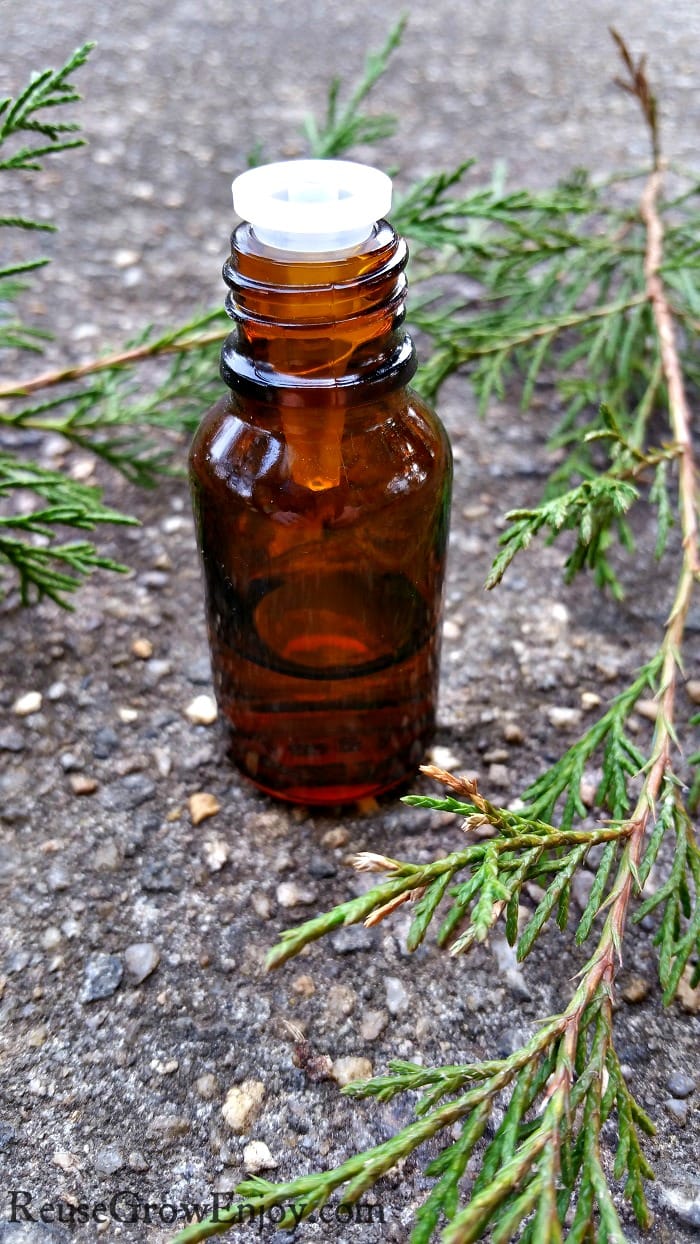 Cedarwood Essential Oil
With Roller Remedy Recipe!
Cedarwood essential oil is fast becoming a favorite in many homes. It is great for things like calming and sleep as well as household and bath product too.
Cedarwood comes from the wood of a Juniper tree and it is steam distilled as far as the process of extraction for the oil. It can be best described as a connecting oil, with a strong woodsy scent that goes deep.
It is one that can be overlooked many times for its calming properties because so many people automatically go towards lavender for that use. One thing to know if you are newer to using essential oils is that what oil works for one person may not be one that works as well for someone else, so if you have tried lavender and found it didn't quite do the trick, this is a great one to try next.
Cedarwood essential oil has many properties and uses in addition to the calming. Its main constituents are alpha cedrane and cedrol and its top properties are anti-inflammatory, diuretic, astringent, antiseptic, insecticide and sedative. Just from that list, you can see how many uses it has!
It blends well with many oils but try to pair it with a citrus such as orange or bergamot, or another wood like a fir, juniper berry or cypress. Blends well also with lavender, which is in the blend we will discuss at the end of this.
A few things to know about using cedarwood oil – If you have never used it before, try to use it diluted first to be safe, in case of a skin sensitivity, especially for older or very young skin. It should not be an issue to use it alone, directly on the skin, but it is always best to be safe and test it first.
It is not an internally taken oil, so it will only be used aromatically or topically.
Below Are The Top Uses for Cedarwood Essential Oil:
Focus:
Great for ADD/ ADHD. Add to a diffuser for aromatic use or apply topically to the chest, bottoms of the feet or pulse points and inhale. Topical use for this is also good to soothe anxiety.
Skin:
Apply to skin or into your favorite moisturizer for overall skin health. Great for eczema, psoriasis, itchy or rough skin. Also, when blended with lavender and/or frankincense makes a wonderful skin treatment.
Calming:
Use on the bottoms of the feet or in a diffuser for anytime you need calming or for kids for calming. For sleep specifically, apply a drop to the bottom of the big toe, as this helps calm mind chatter as well. Inhale deeply after putting on wrists or palms of hands and also can be applied to temples. Dilute with a lotion or carrier oil for young skin for sleep.
Anxiety:
Apply to palms of hands and rub them together, then lightly cup over the mouth and inhale deeply. Take time to relax as you do this. Place a drop over heart or pulse points as well, or use in a diffuser.
Respiratory:
Use for breathing relief, sinus relief or other respiratory health. Place a drop on sinuses and dot under the nose, and place on the chest to help loosen you up and break up congestion. Inhale off the palms of the hands and cup over the nose, or use in a diffuser. Combines well with rosemary and eucalyptus for a great sinus blend.
Gum health:
Helps the gums maintain overall healthy balance when applied topically as a rinse. Spit out afterward and don't swallow the oil.
Repellent:
Great for repelling many bugs and for use on animals as well, to help keep fleas off of them or other pests. Dilute when using in this way with a carrier oil or if using on your own skin, test it out. Diffuse to help clear the air of pests.
Acne and Blemishes:
As mentioned before, it is a great oil for the skin and when you have acne or blemishes on the face, it is wonderful to help clear them quickly. Blend with Melaleuca for an even more powerful solution. Add to moisturizer or other face products or just apply on a cotton ball.
Emotional use:
Cedarwood has the ability to help you feel connected and tuned in. It will take you from feeling disconnected and alone to the opposite when inhaled or used topically.
To make a great calming roller remedy blend – Take a 10 ml roller ball bottle and the following drops of oils: 15 cedarwood essential oil, 12 juniper berry and 12 lavender. Place those drops into the bottle first and then top off with your favorite carrier oil such as fractionated coconut oil or jojoba oil. Place the roller ball top into the bottle, pressing down to secure it and then you are ready to use.
Apply when you are feeling anxious or tense, or for sleep issues. Great for children at night as well. Roll on the bottoms of the feet, and on temples and wrists and have them inhale off the wrist deeply.
If you found this Cedarwood essential oil post helpful, here are a few other essential oil posts to check out.
Please note that I am not a medical professional and this post is not meant to replace your medications. As with any health treatment, be sure to consult your doctor before trying anything new.