Having a dinner party and want to show off the colors of fall? Here is an easy DIY plastic bottle leaf napkin ring to make. These are made in just a few minutes too!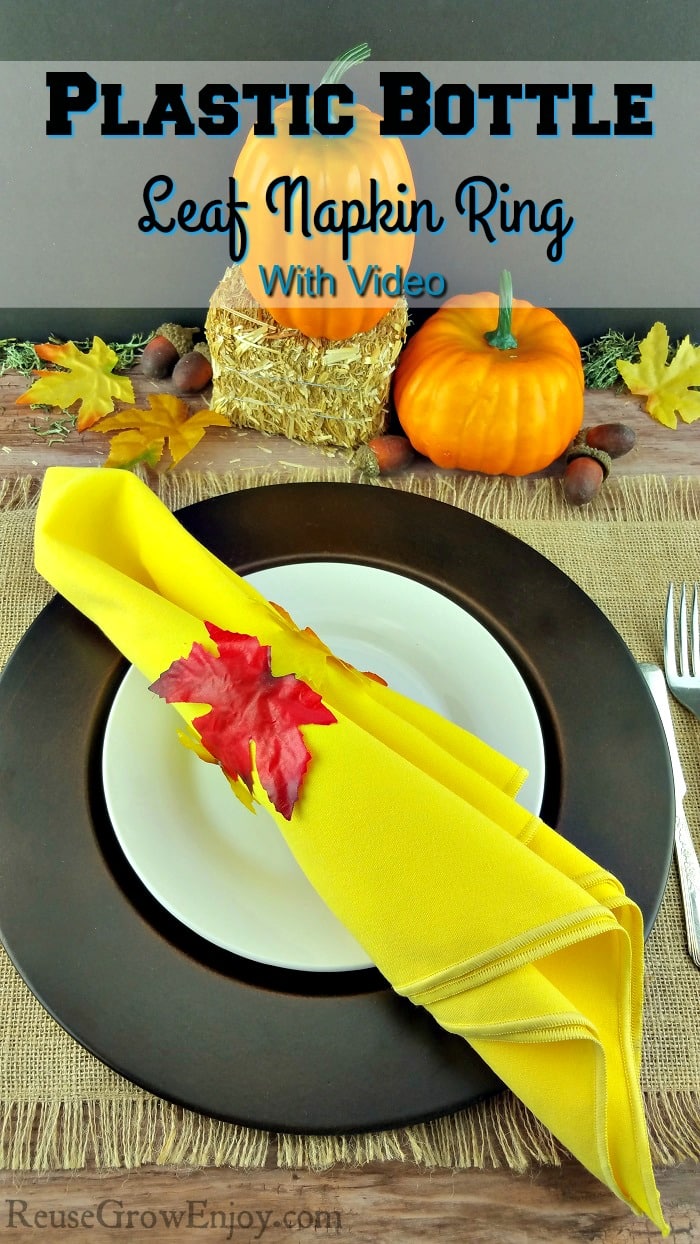 DIY Plastic Bottle Leaf Napkin Ring
This DIY plastic bottle leaf napkin ring is so easy to make and could very easily be matched with a fall centerpiece to have a beautiful fall table!
This leaf napkin ring uses fake fall colored leaves that you can grab at any craft store or even at Dollar Tree. Or if you do not want to have to go shopping for them, you can even get them at places like Amazon here.
Other than the leaves, you just need a few other items. You will need some scissors, hot glue gun, X-Acto knife and some plastic bottles. I used water bottles to make mine.
Plus I have made a super easy video to follow so you can see it made step by step. Not sure about you, but I always video it so much easier to follow along when I can see it made and not just by pictures.
Leaf Napkin Ring Supplies:
Directions:
First, you will want to remove the label from the water bottle. Then using the knife poke a hole just about where the bottle starts to widen out. Then poke another hole about 3/4 inch below that one.
Now using the scissors, put it in the hole you made and cut the top of the bottle off. Then place them again in the second hole and cut off about 3/4 inch ring. Trim off any rough edges from that ring.
Next, using the hot glue gun, place a leaf on the ring and glue in place. Keep gluing leaves in place slightly overlapping them as you go until you have made it all the way around. That is it. Remove any glue strings and place the napkin inside the ring. You now have a pretty fall plastic bottle leaf napkin ring!
If you liked this craft, here are a few others to check out.