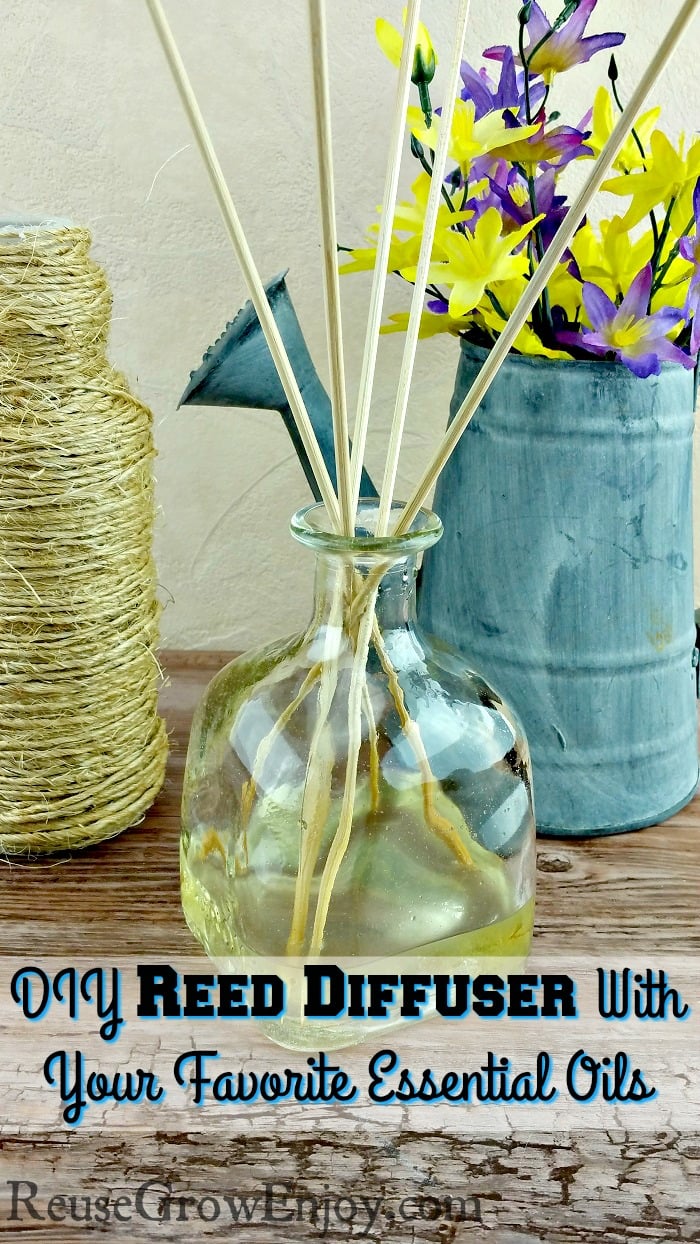 DIY Reed Diffuser With Your Favorite Essential Oils
Are you someone that enjoys the smell of essential oils? Do you just use them in your cleaners or on your body? Have you ever tried diffusing them? Making your own DIY reed diffuser is low priced and super easy to do!
There are many ways that you can diffuse your oils. There are plugin diffusers (have one and love it) that you can buy but many people do not like the fact that you have to plug them in. So the next best way for diffusing is with a reed diffuser. There are ones that you can buy pre-made, but they can often be high priced. Plus most come with the oils already added and I like to select my own oils (I am picky) this is when a DIY reed diffuser is super handy. It is much lower priced and I can choose what oil I want to use! Some may say is cost a lot to make your own because you do have to get carrier oil and essential oils if you do not already have, but both will make many batches. So they will last you a while.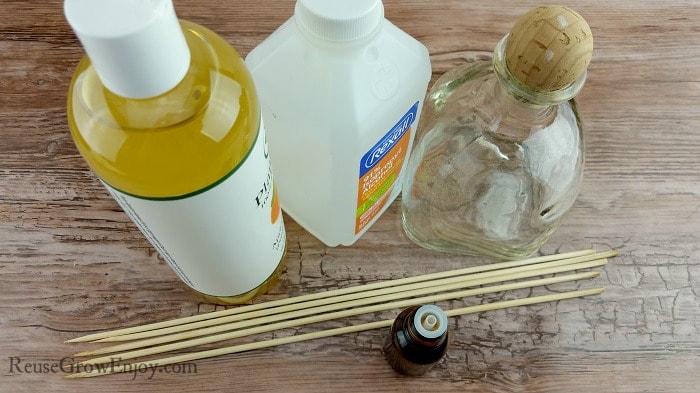 DIY Reed Diffuser Supplies:
1/2 Cup Carrier Oil (I used apricot kernel oil but fractionated coconut or almond oil work well too)
30 – 40 Drops Favorite Essential Oils (I used lemon)
3 Teaspoons Alcohol (91% or higher isopropyl alcohol or you can also use something like Vodka)
5 Diffuser Reeds (or bamboo skewers, these take a little longer for oil to travel up, but will work. I use them in a pinch, actually did for this batch as I did not have any reeds)
Directions:
Find yourself a small glass bottle or vase. The opening needs to be pretty small. The larger the opening, the faster the liquid will evaporate. It also needs to be glass, because plastic can absorb the scent of the oil and you will not get the full effect. While you can buy small bottles or vases, you can normally find one around the house or even at a thrift store like Good Will. I used a tequila bottle that was empty that we had saved and did not toss in the trash. Just give your bottle a quick wash and remove any of the stickers if you want.
After you have selected the bottle, that was the hardest part! Now simply add in all your liquids and swish it around to get it mixed up. We add the alcohol to help speed up the oils traveling up the reeds. If you do not need to have the scent super fast, you can leave out the alcohol.
After you have it mixed, place the reeds or skewers in the top of the bottle or vase. Stagger them to they are not all to one side. Now just find a nice place that it will not get turned over and that is it! The rest is just the enjoyment of your newly made DIY reed diffuser.
If you liked this post, you may also want to check out a few of my others.