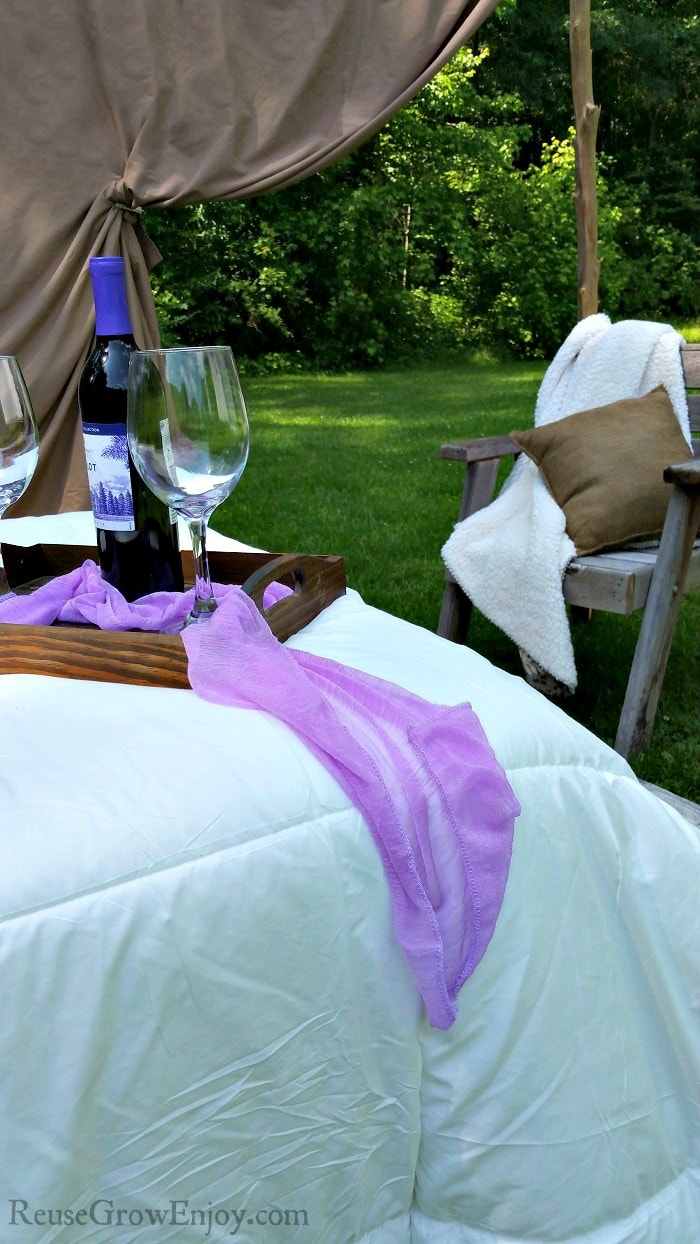 Glamping Camping
Are you thinking about going glamping camping? To someone who has never experienced it, to say you're going "camping", can make them shudder. They may picture you like a western cowboy, sleeping in a sleeping bag in the open air, near a campfire. Full exposure to the outside elements, including insects and animals.
If you believe camping has to be all about self-sacrifice and living first hand in the wild, with no modern luxuries, then this article might not be for you. However, I do have other camping posts to better suit your needs. But if you are wanting to take your camping to a luxurious level of glamping camping, then keep reading.
Glamping Is Glamour Camping:
Glamour camping or Glamping can let you enjoy the outdoors without having to be uncomfortable when it comes time to relax. You can be right there, in the middle of the great outdoors and still enjoy modern conveniences.
One such way is with your own tent or self-contained trailer. This is a really good way to experience what you want when you want with your own personal property. If you find a site with electricity, you can choose whatever you want to keep you comfortable. Watch tv or play a game when you take a break from the days' activities.
When hot, run an air conditioner. If its the cooler time of the year, run a small electric heater to keep warm. You may also have a small refrigerator in your tent to keep your food reliably colder than ice chests. In actuality, your camper is basically a portable apartment that you own and can personalize to your specific tastes and interests. A home away from home.
Glamping Camping Rentals:
Another way to get out there into the great outdoors is by renting a cottage or yurt. These both can be a much more comfortable way to get the most from your "get away" adventure. With some people not able to afford, or even have space to park a camper or lug around all the extra items to make for a cozy glamping trip, this can be the way to go.
Some cottages or yurts have just as many perks as your own trailer, just not personalized for you. Some have full-size beds, small couches, refrigerators, tv's and other nice items. These might be a better choice if you have more people with you.
You just have to make sure you have your personal items brought with you separately. Such as your clothes, food, first aid and toiletries and any other items you will be using on your trip.
You can often find deals on glamping getaways on some well-known deal sites. You simply search the getaway deals for the area you want to go to. Here are a few of the best sites I have found glamping getaways on.
These modern perks shouldn't take away from your adventure, whatever you choose to have. When you finish the day with your running, hiking, bike riding, swimming, boat rowing or just plain exploring the beauty of the woods, you have a truly relaxing way to unwind in luxury.
The important thing to remember is that it is not all about your personal sacrifice while out there. It is the experience you make yourself have that matters.
Looking for more camping ideas? Here are some other posts to check out.