Springtime Light & Refreshing Goat Milk Soap
with Calendula & Bergamot
Making your own soap such as goat milk soap has become more of a trend than it used to be, and for good reason. It can be very easy to do when you use the right ingredients.
Plus it gives you control over what ingredients go into it as well. You can change up the essential oils to fit your family's needs and it is up to you to decide and not left to someone else.
This goat milk soap recipe uses the cupcake sized silicone molds, to make individual, larger bars and makes 3 of them. It has organic calendula petals and bergamot essential oil which are both calming and have a light, spring scent.
If you want it to be a little stronger in scent, add another few drops of the bergamot.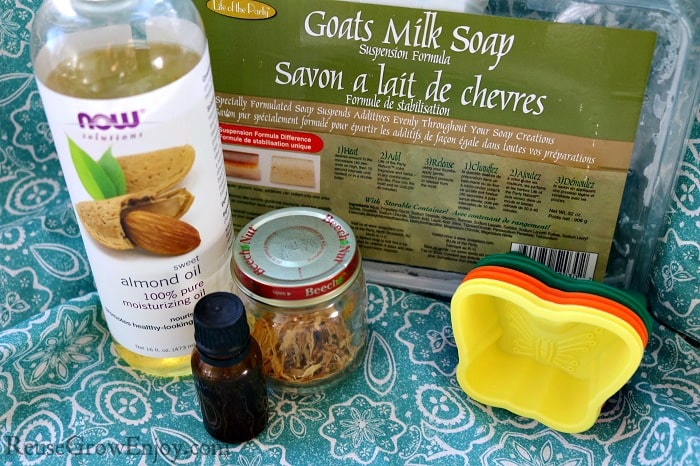 Supplies Needed:
Goat Milk Soap Directions:
Use a glass measuring cup to microwave the soap base in after chopping up the soap into the amount you will need.
Microwave for 45 seconds and then use a rubber or silicone scraper and stir, turning over a few times and scraping the sides.
Then place back in microwave for 30 seconds and stir one more time. Be sure there are no lumps left in it and it's all smooth.
Now you can go ahead and add in your flower petals and give a good stir.
Next you can add in the almond oil and essential oil. Bergamot can tend to be a very thin oil so pour in your drops carefully as it can suddenly get away from you!
The soap base does tend to set up fast, so if it has started to get too thick when you're ready to pour, just place it back in the microwave for 10 or 15 seconds and stir before pouring.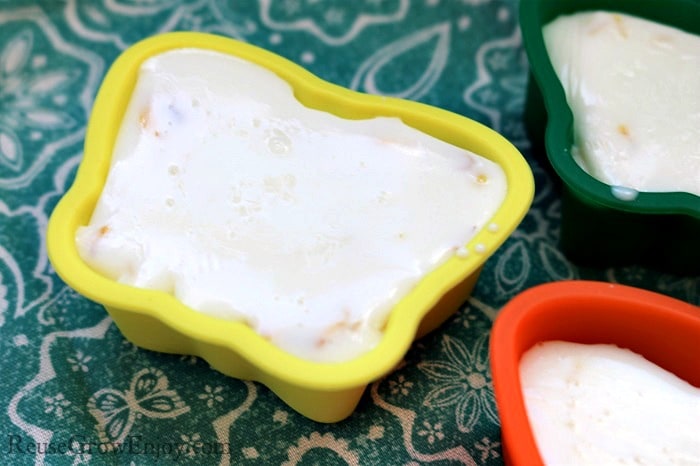 Now pour into molds, filling as close to the top as possible without going over.
Last step is to let them cool down at room temperature for about 30 minutes or so. You can tell if they are cooled by feeling the bottom center of the mold and seeing if it is still warm.
Once cooled, go ahead and pop out of the molds slowly. They should come out fairly easily and the molds should be pretty much all clean.
You can give them as gifts by dressing them up in small bags with tags or just place them in a glass jar or your own pretty soap dish.
If you liked this Goat Milk Soap craft, here are a few others to check out.