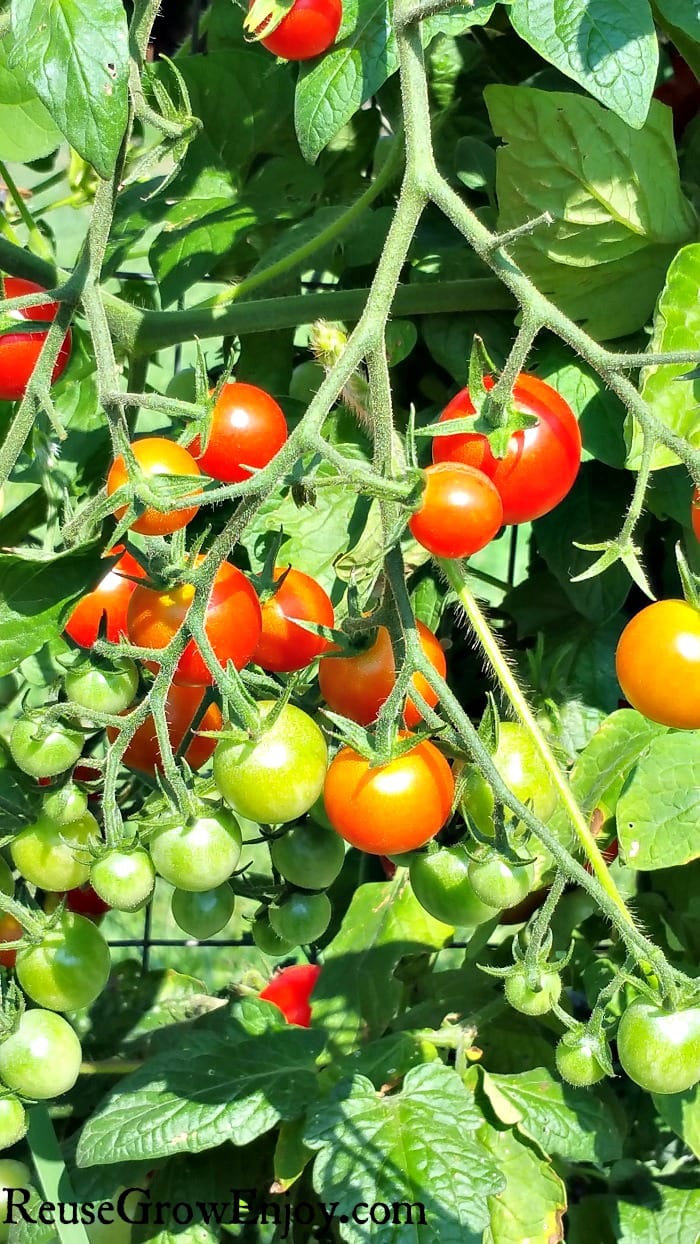 Grow Tomatoes Better With These 6 Tips
If you love eating tomatoes and tomato-based foods, then you've got to grow your own! Whether you like small cherry tomatoes or big steak tomatoes, you'll find that you can grow tomatoes in your own garden, to be a very rewarding experience. Homegrown tomatoes are so delicious, and if you take good care of them they can yield really big crops! To grow the biggest and tastiest tomatoes, take a look at how to Grow Tomatoes Better With These 6 Tips!
1. Give Support
Tomato plants mainly grow vertically. As a result, if you want to grow better tomatoes you'll need to provide your plants with appropriate vertical support. You can use stakes, cages, or trellises. The main point to give the plants support as they grow taller, otherwise they may sag under their own weight (and possibly even break their stems)! I personally have found that stakes work the best, as you can push them deeper in the ground to get better support. Just be sure when you are attaching the plant to the stake, that you do not tie the rope, string or ties to tight. It can cut into the plant and cause damage.
2. Water Carefully
If your children are going to help you in the garden, make sure they know that tomatoes are finicky about how they're watered. First of all, it's best not to get the leaves wet, especially if the plant won't have enough time in the sun to dry off before nightfall. Wet leaves can lead to fungi like powdery mildew and gray leaf spot. You also shouldn't water too often, and you should try to water during the coolest parts of the day (morning and evening). You may find drip irrigation worth installing to make sure your tomatoes are getting watered properly.
3. Space
Sometimes people think that since tomato plants grow vertically that they can plant them very close. This is wrong for a couple of reasons. First of all, tomato plants will gain some width as they grow. Secondly, if the plants are too close to one another, they'll block each other's sun. And third, if your tomatoes are too close they'll reduce how much air can circulate around them (which can lead to diseases developing). So to grow tomatoes better, keep your plants about 24-36 inches apart.
4. Plant the Right Way
Whether you're growing from seed or from young plants, make sure to plant your tomatoes deep. Tomato plants actually can grow roots off their stems, so the deeper you plant them, the larger their final root system will be. If you have young plants, you should also plant them on their sides (don't worry, they'll grow appropriately upright). Don't completely cover your young plants with dirt, but leave 2 or 3 rows of leaves still visible. It'll really help you to grow strong tomato plants!
5. Use Compost
If your goal is to grow tomatoes better, you'll want to start them off well by planting them in good soil. In particular, tomatoes succeed well in soil mixed with compost, or even in soil that is only compost! If you don't make your own compost, it'd be worth investing in some really high quality compost to grow your tomatoes in.
6. Watch the Heat
Tomatoes are classic summer plants, and they do love the sun. However, they don't do that well in extreme heat, especially if that heat occurs when their flowers are about to open. If your area has a heat wave of 90+ degrees every day, you may want to look into giving your plants some shade during the afternoon (they'll need sun in the morning to burn dew off their leaves). If your plants are already growing actual tomatoes, they won't be as affected, but still would appreciate the shade.
What tomato varieties would you like to grow?
If you enjoyed this post on how to grow tomatoes better, here are some other gardening posts.