Thinking about growing cantaloupe? Learn how to grow cantaloupe from seeds. It is easier then you might think!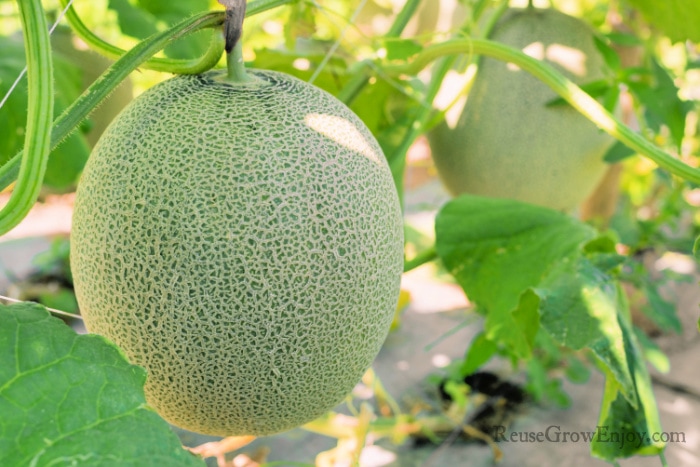 Cantaloupes, also called muskmelons, are members of the Cucurbitaceae family, which includes zucchini, cucumbers, squash, pumpkins, and watermelon.
They are easy to grow in home vegetable gardens when provided with proper care, according to the University of Minnesota.
Cantaloupes have specific environmental requirements. While a cantaloupe readily grows into a large vine in home gardens, several common problems prevent cantaloupe from setting fruit.
Understanding the growing conditions for healthy cantaloupe development is important to successfully grow young plants of melons.
How To Grow Cantaloupe From Seeds:
Cantaloupes are warm-season crops that have sweet and orange flesh. Germinating the seeds indoors protects them from diseases and insects until they become established.
Cantaloupes do not tolerate a disturbance to the root system well. So it really is recommended that you direct sow them. However, with short growing seasons, that is not always an option.
Starting The Melon Seeds Indoors:
Depending on the area you live if you have a shorter growing season, you can help your cantaloupe get a head start on spring growth by planting seeds indoors during early spring.
Plant cantaloupe seeds in small trays for two to four weeks before transplanting them into your garden. Sow seeds into small planting trays in sandy loam soil. Place the seeds 1/2 to 1 inch below the soil.
Just be sure the trays or cups you use are large enough so that the roots have lots of room to make the transplant more tolerable. Or they can also be germinated in biodegradable peat pots.
Maintain soil moisture and place the seeds in a sunny location. Cantaloupe seeds only germinate in soils with warm temperatures between 70 and 90 degrees.
Melons do not tolerate cold temperatures and a late frost will stunt their growth. So avoid transplanting before the risk of frost has passed in your growing location.
Once the soil warms outdoors, the cantaloupe seedlings can be safely transplanted into a home garden. Cantaloupes grow best in U.S. Department of Agriculture Hardiness zones 4 through 10.
Transplanting For The Best Results:
Young melon plants should have at least three to four healthy leaves and a developed root system before transplanting.
When you are ready to transplant outdoors, you will need to place the plants in a shady area for a few days first to harden them off. If you move them from indoors or from your greenhouse garden directly to the garden they will die.
Gently transplant cantaloupes into your garden, to avoid disturbing the root system. Cover the plants with a plastic tunnel or gardening fabric to maintain warm well-drained soil temperatures and prevent cold damage.
Apply a natural fertilizer and organic matter once the plants are established for robust growth. Be sure not to over-fertilize. Too much fertilizer will cause the plant to grow only male flowers and not female flowers and never produce fruit.
How to Direct Sow Cantaloupe Seeds:
You can also grow cantaloupe from seeds by direct sowing in the garden. This is actually the best method if you have the right area and growing season.
First, you want to start by getting your garden ready. When all threat of frost is gone then you can sow your seeds.
Plant 3-4 cantaloupe seeds per hill. Your hills need to be spaced 4 to 6 feet apart and in rows spaced 18 to 24 inches apart.
Avoid planting the cantaloupe seeds in soil temperatures below 65 degrees Fahrenheit, because it will promote root diseases.
Keep soil moist but not soggy until they start to sprout in 7-14 days.
When the seedlings get to be about 1-2 inches tall, they need to be thinned. Leave the strongest 1-2 seedlings per hill and carefully pull up the others.
You can discard the pulled up seedlings or you can retry to transplant to another area. Just know that transplanting does not always do well.
Soil Conditions For A Long Growing Season:
Cantaloupes thrive in well-drained, sandy loam soils. The plants are vulnerable to several diseases and pest problems that occur in water-saturated soils, so location in a sunny location with well-drained soils is important.
You can improve the drainage of your garden soil but building a raised bed 6 to 8 inches tall with loose topsoil. Soil pH should be between 5.8 and 6.2.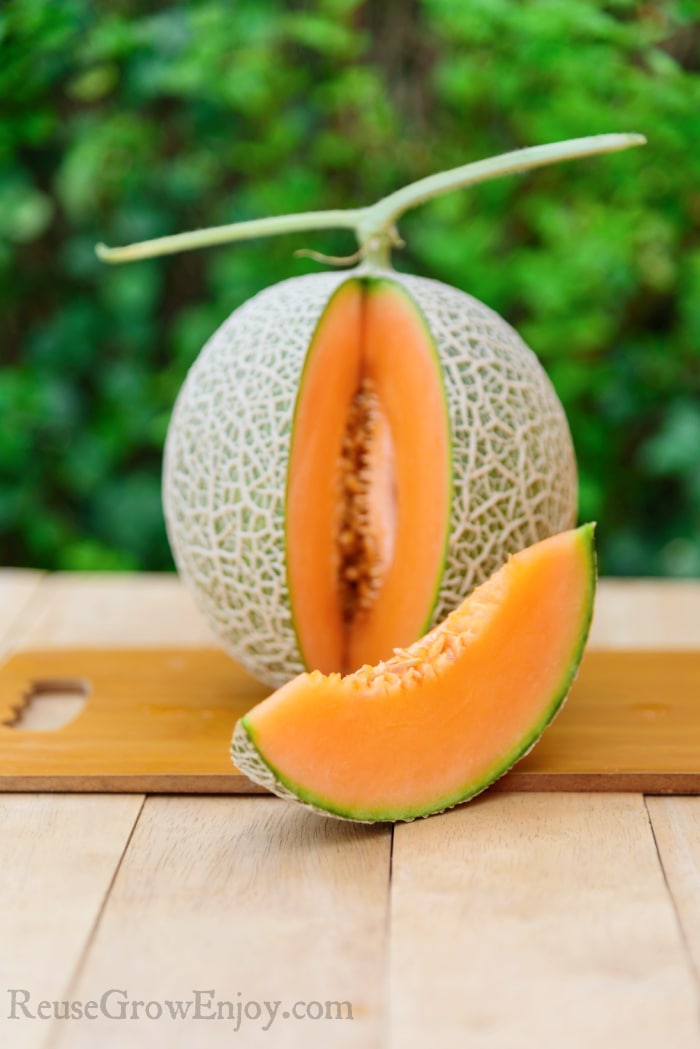 Care And Harvest Of Cantaloupe Melons:
Apply a 2- to 3-inch layer of organic mulch around the base of the true cantaloupe plants to retain soil moisture and prevent weeds and fungal disease from growing.
Water the cantaloupe plants deeply but infrequently throughout the growing season. Utah State University recommends applying 1 to 2 inches of water weekly.
Monitor your cantaloupe vines for common pests including aphids and cucumber beetles. Cantaloupes ripen in about 35 to 45 days after flowering. Harvest the melons when the background color turns from green to yellow.
Warmth:
Cantaloupe needs at least 35 to 45 days from flowering to ripen to maturity. They are not tolerant of cold temperatures and germinate when soil temperatures are above 60 degrees Fahrenheit.
Start cantaloupe seeds indoors two to four weeks before transplanting, and place them in the garden only after daytime temperatures are reliably above 75 degrees Fahrenheit.
Place black plastic over the soil to warm it, which will speed growth and increase yields. Cover the young cantaloupe with cloches or floating row covers, especially if temperatures dip.
Moisture And Outdoor Conditions:
Cantaloupe develops deep roots and needs less frequent watering than other garden vegetables. Water deeply at least once a week during dry conditions.
Reduce watering as the fruit begins to ripen to improve flavor. Too much water causes a bland flavor. Cantaloupe is a heavy feeder and benefits from the rich well-draining soil.
Amend the good drainage soil before planting, using compost or nitrogen. Sidedress each individual plant with 1 to 2 tbsp. of high-nitrogen fertilizer, such as a 34-0-0 formula, when the vines develop runners.
Harvest The Fresh Fruit:
Take care not to step on or damage the vines, which will kill any ripening fruit. Harvest cantaloupe when the base color under the netting turns from green to yellow or brown. It is important to allow the fruit to ripen on the vine.
Ripe cantaloupe has a sweet, musky fragrance that is evident when you walk through the garden. The sweet fruit also slips easily from the vine when it's ripe.
How Many Cantaloupes Grow From One Seed?
When you grow cantaloupe from seeds you may be wondering how many melons you can except.
One cantaloupe seed grown under ideal conditions may produce as many as six to eight melons per season. However, cantaloupe requires a long, warm growing season to thrive.
In many areas of the U.S., a short growing season nips cantaloupe vines before they produce more than three or four melons. To increase your odds, plant short-season-adapted melons, and keep the soil warm always.
Varieties And The Best Flavor:
Plant melon varieties well-suited to your area. Choose disease-resistant varieties, such as Classic Hybrid and Hale's Best, if you live in a hot, humid climate.
Choose early types, such as Early Hybrid Crenshaw, bush Musketeer, and Midget, if you live in a region with a shorter growing season. These varieties mature several weeks faster than other types, allowing one plant to produce more fruit.
How to Save Cantaloupe Seeds:
Cantaloupes are sweet melons that people often plant in their home gardens. Instead of purchasing cantaloupe seeds, you can save them from the fruit to grow melons the following year. Seed saving is easier than you think!
The warm season crop plant produces large seeds that you can save from heirloom melons. Hybrid cantaloupes are not recommended because they rarely produce plants. Once you remove the seeds from the cantaloupe, you can store them for up to five years in a dry place.
Slice a ripe cantaloupe in half with a knife. You should only collect seeds from organic melons if you are saving from store-bought. If you try and save them from nonorganic they may have been treated with chemicals that will keep them from reproducing.
Use a spoon to remove the seeds and place them in a bowl.
Rinse the seeds under cool water to remove the pulp. Cover the seeds with water and remove any that float to the top. Then drain off the water.
Spread the seeds on a paper towel to dry. Place the seeds in a warm and well-ventilated location away from direct sunlight.
Stir the seeds two to three times a week to prevent them from sticking. It can take up to two weeks for the seeds to dry. The seeds are dry when they snap in half. If the seeds only bend, they need to dry longer.
Place the seeds inside an envelope to store them. You can also store seeds in a jar and secure the lid tightly. However, if you are storing seeds in a jar, it is a good idea to also include a Food Grade Silica Gel Pack to keep away any moister.
Write the date and type of seeds on the jar or envelope with a permanent marker. Store the cantaloupe seeds in a cool and dark location.
Tips & Warnings For Home Gardeners:
Plant cantaloupes away from other melons if you plan to harvest the seeds and save them. The cantaloupe will cross-pollinate with the melons and the seeds will not be viable.
To avoid Alternaria Leaf Spot and Powdery Mildew water at ground level so the leaves stay dry. Also, make sure the plants get plenty of air circulation by removing any wilting leaves or overgrowth.
If you notice Cucumber Beetles or Squash Bugs, pick them off and drop them into some soapy water. If you see any eggs on the backs of the leaves be sure to crush them before they can hatch.