Having trouble keeping the rabbits out of your garden? I am going to share a few tips on how to keep rabbits out of your garden so that you are the only one that gets to enjoy your produce.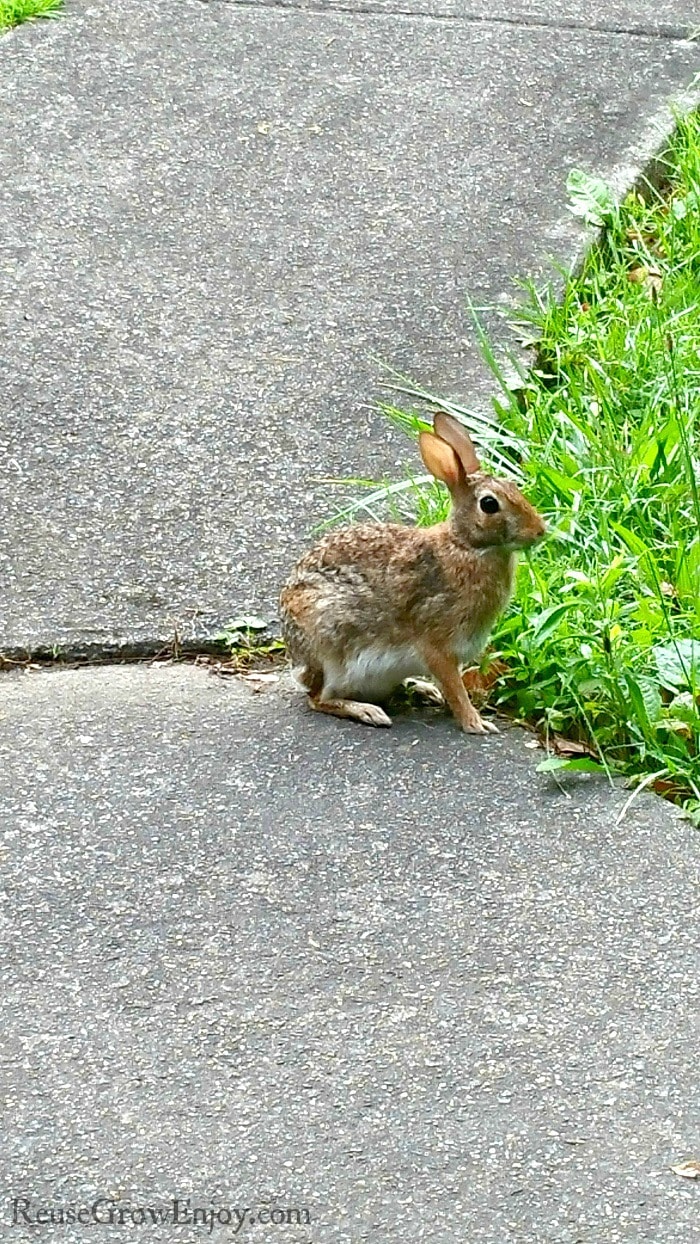 How To Keep Rabbits Out Of Your Garden
Growing a garden is a great way to stretch your grocery budget, but knowing how to keep rabbits out of your garden is important or you won't have any food to show for your work.
Rabbits are great little critters that typically aren't a nuisance in your yard unless you have a vegetable garden in the works.
Then they feel and act like it is their job to nibble away at not just your carrots, but lettuce, pepper plants, corn and more. These tips will keep your garden safe, and the bunnies out of the way without causing them harm.
Use Raised Beds:
This is a great and easy solution on how to keep rabbits out of your garden, for those who have space and are able to build simple raised beds.
Being off the ground makes them too hard for rabbits to get into and bother. It is the ultimate solution, but not always feasible for everyone's budget or physical ability.
Install A Fence Around Your Garden:
Fences are another key solution for how to keep rabbits out of your garden. However, rabbits can be excellent diggers and you'd be surprised at how easily they can break under a fence.
Wooden fences or chicken wire that has been buried a few inches into the ground around the garden are your best choices to keep the rabbits out.
Surround The Garden With Plants They Don't Like:
If they encounter plants they don't like the taste of, they are more likely to avoid the garden altogether. Not as effective as other methods, but still an option for those where fencing or raised beds aren't an option.
Suggested plants that rabbits avoid: potatoes, leeks, onions, tomatoes, squash, geraniums, wax begonias, basil, mint, tarragon, and oregano.
Trap The Rabbits To Release Away From Your Home:
While this can be a tricky method and one you may want to talk to local humane society about handling safely – it is effective.
A simple humane animal trap
can help you to remove the rabbits and re-home them in a nice area away from your home.
If you are doing this your self, you can find these humane traps at farm stores or a place like Amazon
.
Remove Their Homes:
Rabbits tend to build nests and homes around bushes, large shrubs or brush piles. Clear these from your home to remove their home base, and force them to move away from your house for a better place to live safely.
Away from your home means away from your garden.
Use Rabbit Repellent Sprays
On Or Around Your Garden:
Talk to your local gardener or nursery about repellent sprays you can use on your garden or around your garden. The smell and taste can dissuade rabbits from eating your plants.
However, you may wish to avoid chemical-laden pesticide type products on your foods. Ask the local nursery, garden center or master gardener in your area about the safest repellents to use.
These tips on how to keep rabbits out of your garden will keep your vegetables safe and ready for you to pick when ripe.
Rabbits are great pets for some families, and beautiful creatures to have in the wild, but if they are eating your groceries out from under you, re-homing them or helping them to avoid your garden is a must.
If you are looking for more gardening tips, here are a few to check out.