Do you have a garden? If so, I am sure you have had trouble planting those tiny seeds that need to be spaced out. They can be so hard to see and handle with them being so small. But what if I showed you a much easier way? I am going to show you how to make seed tape.
What is seed tape you ask? Well, it is a paper product that holds your seeds perfectly spaced and can be planted right in the ground.
The tape dissolves when wet and the seeds can sprout right through it. No more trying to see where you dropped the last seed.
You can buy seeds that are already in seed tape but they can be a little higher in price. Making your own is so much cheaper and it is super simple to do.
If you are looking for other seed starting ideas, here are a few other posts to check out.
Which Seeds Should You Use Seed Tape For?
While seed tape really can be used for any seeds that you want to be evenly spaced. It works best for those really tiny ones that are hard to handle and see.
The larger ones like corn and beans, are not as hard to work with so you may not want to use them in seed tape.
Try making seed tape using carrots, lettuce, spinach, beets, and so on.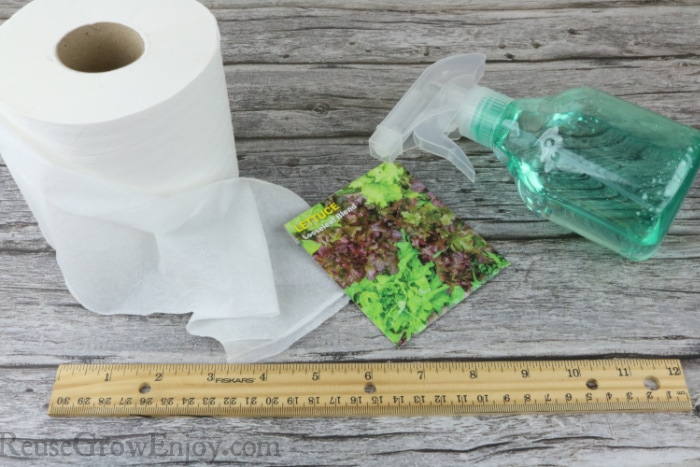 Supplies Needed:
Seeds
Water
Spray Bottle
Toilet Paper (1-ply works best)
Ruler (optional)
How To Make Seed Tape:
Rip off a piece of toilet tissue that is about or a little larger than 12 inches. I pulled mine apart at the 4 sheet mark just to make it easier. You can do longer pieces, it just gets harder to work with.
Fold the whole piece in half length-wise to make a mark for the centerfold.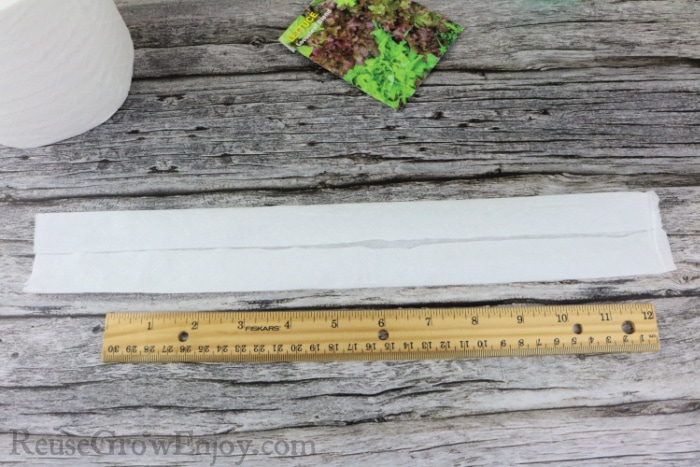 Unfold that half-fold. Then fold each side in so it touches that center fold mark.
Unfold it all again. Then lightly mist with water and place a few seeds in the middle of the moist paper. Space them at whatever requirement the seeds call for. You can use a ruler to space or just eye it if you want.
Now fold those outer folds back to the center again. Lightly mist with water if needed.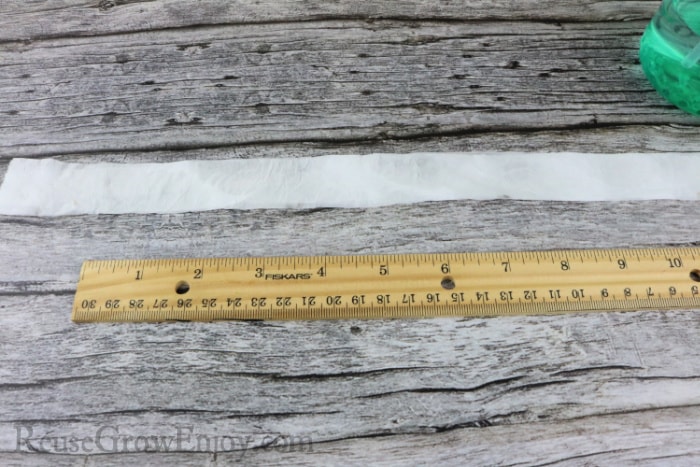 Next, fold those folds so they are on top of each other. Mist lightly if needed to hold everything in place.
Allow the tape to totally dry if the tape will be stored. Or you can also plant right away if you want to. If it will be stored, after it is dry you can fold the tape into shorter pieces and then store it in a paper bag or envelope until you are ready to plant.