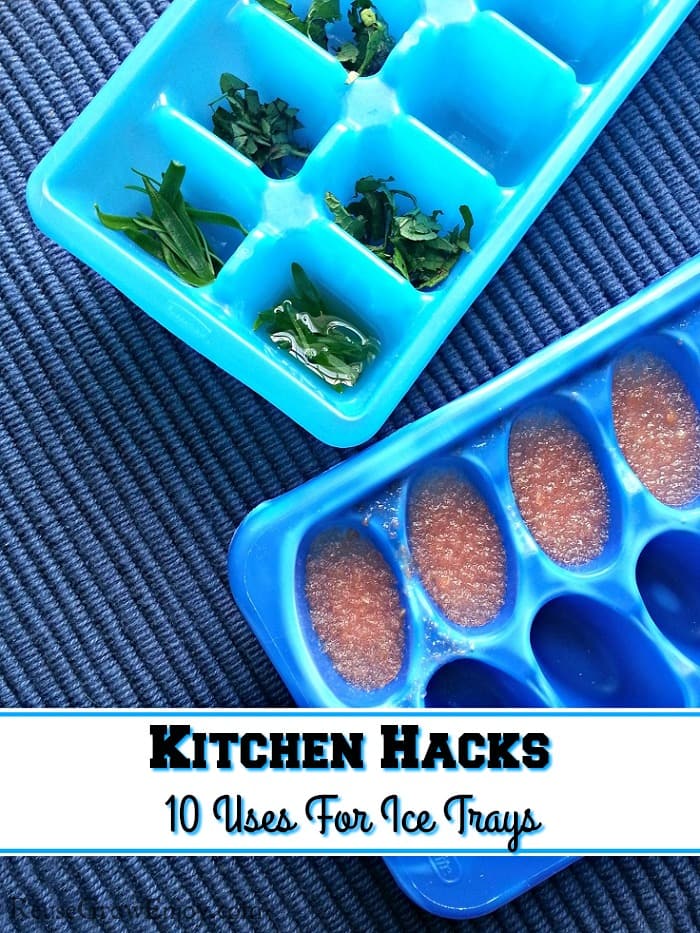 Kitchen Hacks: 10 Uses For Ice Trays
The ability to cut down on prep time in the kitchen means more time with the family or your guests. So when it comes to kitchen hacks, they can be such time savers! I am going to share 10 uses for ice trays that you may not know about.
A lot of ingredients that we use for everyday cooking and drinking can be frozen and stored ahead of time. That way you can quickly add these ingredients to a pan or glass without any additional work. Many of these ice tray uses help reduce food waste too. Storing what might otherwise go into the trash because there is so little left for the next meal.
Try these kitchen hacks for 10 uses for ice trays and you'll find that you can quickly cut meal prep times down.
Frozen Coffee Cubes:
If you enjoy a cup of cold coffee, coffee and milk, or cream, can easily be frozen to improve the taste of your drinks. Freeze coffee into cubes to prevent watered down drinks, and cream or milk to add to your drink.
Fresh Juice Cubes:
Fresh squeezed juice is an important part of several recipes for both food and drinks. Storing frozen cubes of fresh squeezed citrus fruits is smart. Instead of tossing things, squeeze the juice from those leftover limes, lemons and oranges and pour into ice cube trays to be used in the next recipe.
You can even get the long ice cube trays so that you can add blocks to bottles as well.
Dipping Sauce Cubes:
A lot of our favorite dipping sauces don't come in to go sizes, so try making your own sauce cubes. BBQ sauce, hummus, peanut butter and other cream based sauces are all great options to freeze in trays for on the go snacking.
Herb Cubes:
Herbs are one of those time sensitive ingredients that you want to have fresh, but don't always have on hand. Anytime you have fresh herbs, freeze the rest in ice cubes filled with olive oil or avcodo oil.
Chicken Stock Cubes:
Chicken stock is produced every time you cook chicken, but we toss it out instead of saving it for later. Freeze any leftover chicken broth to add to pasta, soup and other dishes the next time a recipe calls for it.
Beef Stock Cubes:
Like chicken stock, beef stock is often purchased, when it is something that can be frozen at the end of a meal. Add as much beef stock as you have on hand to trays for use later and save yourself the time of making some, or purchasing from the store.
Wine Cubes:
Wine cubes are a great way to use up whatever is left in the bottle. It makes it easy to just drop a cube or two into any recipe when you already have a lot of other prep to take care of. It also is a great way to chill a glass of wine fast without watering it down
Egg White Cubes:
Egg whites get tossed when recipes call for the egg yolks. Instead of going through the hassle of separating eggs all over again, store the whites that you've already separated in cube trays.
You can also freeze whole eggs or scrambled egg mix in trays as well.
Fruit Puree Cubes:
Fruit puree can be added to everything from smoothies to brownies. But it takes time to process purees. The next time you are processing fruit, store some in ice cube trays to make it easier to add what you need as you go.
Cookie Dough Cubes:
Remember the last time you got a cookie craving but had no dough on hand? If you find yourself making cookie dough, but know you can't, or shouldn't, finish an entire batch on your own, freeze it. You can freeze half the batch into ice cubes that can be popped onto a cookie tray later.
If you found these kitchen hacks helpful, here are some other tips to check out.