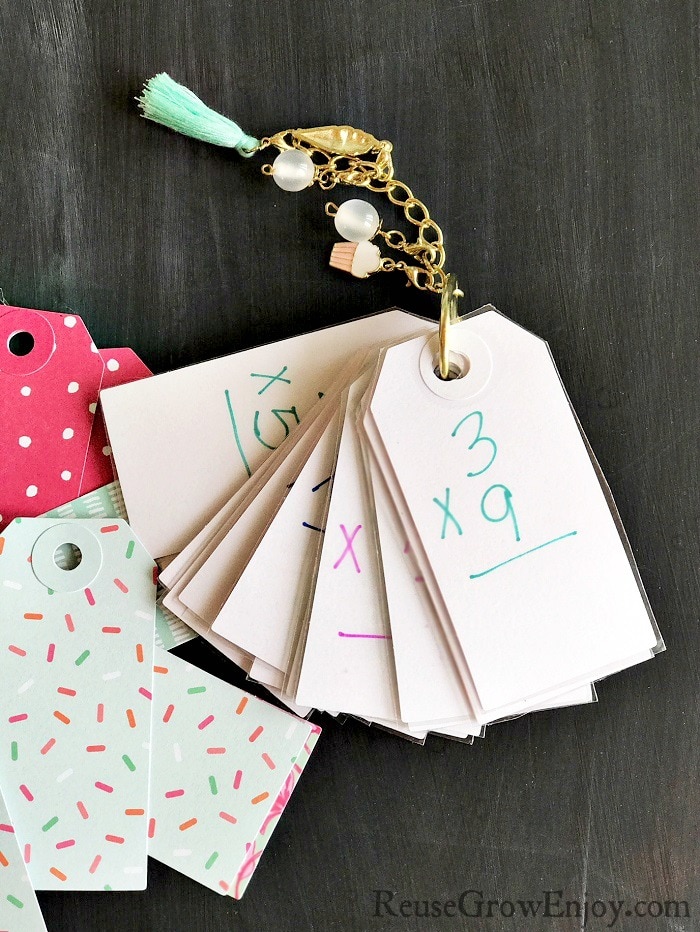 Math DIY Flash Cards Made From Hang Tags
Do you ever see things in the thrift store or clearance section and wonder what it could be used for? When you think outside the box, there really are tons of ways you can use any given item other then what it was made for. One of those things is hanging tags. Did you know you can use them to make DIY flash cards?
They work really well for that! You can use them just as they are and simply write on them with what your kiddo needs to study. However, if you want them to last longer, you can laminate them. It is also handy to put them on a key ring or clip.
DIY Flash Cards Supplies:
The first thing you need to do is fill out the tags with what you want on them. You can use it for anything such as addition, subtraction, multiplication and so on. These could also be made as DIY flash cards for spelling or even reading cards.
Be sure not to put the answer on the front. You can put the answer if you want on the other side, on the bottom corner in small writing.
Next, lay them out on a laminate sheet and send them through the laminator. After they are laminated, cut them out making sure to leave a small edge on the tags. You don't want to cut too close to the edge of the tag because it will open up the lamination and you want the laminate sheet to stay protected over the tag.
Now, use the hole punch to punch the holes to remove the laminate. If you don't have a hole punch, you can use anything sharp to punch a hole in the laminate over the hole area.
The last thing to do is add them to the key ring. Simply just slide or clip the ring through the holes on the DIY flash cards.
If you liked this project, here are some other kid ideas to check out.