Colorado has a wide range of options for campsites, including some that are easily accessible and others that are not. Below you will find the best places guide with the best camping sites in Colorado.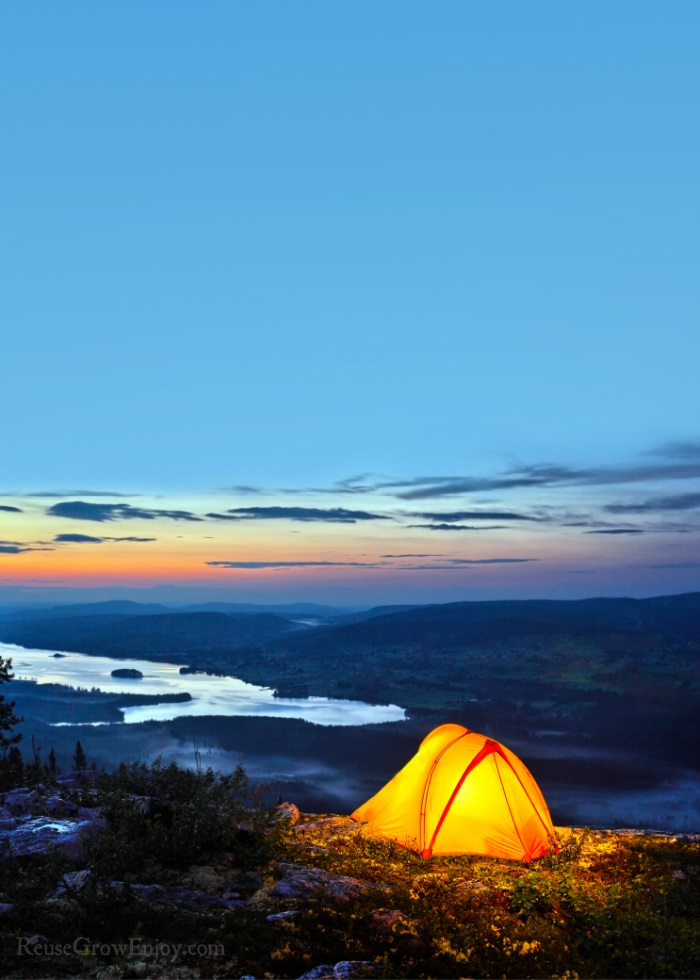 Colorado offers a wide variety of camping choices, with remote sites as well as many with easy road access. Most places offer a number of outdoor activities in addition to camping. Some can even check off a few items from your Colorado Bucket List!
After you check out the best camping sites in Colorado, here are some other camping info and tips you may find helpful.
Wolford Reservoir:
Just a little over two hours from Denver is the Wolford Reservoir, with 1,550 acres of water. Here you can camp beside the water and enjoy excellent fishing for trout, boating (rentals are available), hiking, and mountain biking. Facilities are also available for the physically challenged.
Golden Gate Canyon State Park:
Golden Gate Canyon State Park has 155 campsites, with many hiking trails and stocked fishing ponds. Discover deserted cabins on established trails, some of which offer magnificent views of the surrounding mountains and valleys. Located at 92 Crawford Gulch Road in Golden.
Sylvan Lake State Park:
Sylvan Lake State Park is a quiet getaway where you can fish, picnic, boat (non-motorized crafts only), or hike. Located near Eagle, at 10200 Brush Creek Road.
San Juan National Forest:
In the San Juan National Forest, there are 39 developed campgrounds. Most of the sites are on a first-come, first-served basis. Expect to rough it a little because, with one exception, there are no showers or electric hookups. At McPhee Campground, showers are available and sixteen sites have hookups. Located at 15 Burnett Court in Durango.
State Forest State Park:
State Forest State Park, with 71,000 acres of forest boasts many magnificent mountain peaks and lakes with excellent trout fishing. This is the place for serious backcountry hiking, hunting, and camping. Located at 56750 Hwy 14 outside of Walden.
Taylor Park Reservoir:
Taylor Park Reservoir, located about 35 miles northeast of Gunnison, is under the jurisdiction of the U.S. Forest Service. Shore and boat fishing is excellent, and boat rentals are available.
Stream and lake fishing give you the opportunity to catch good-sized rainbow trout, mackinaw, brown and cutthroat trout, northern pike, and kokanee.
When you're done fishing, have a picnic beside the lake or relax in the campground with a wonderful view of the surrounding mountains.
Mesa Verde National Park:
Mesa Verde National Park contains 52,121.93 acres and has been designated a World Cultural Heritage Site. The 435 campsites of Morefield Campground sell on a first come first serve basis.
There are hiking trails that will take you through the ruins of an ancient people formerly known as the Anasazi who are now called Ancestral Puebloans. Deer and wild turkeys can often be seen near the campground.
Eleven Mile State Park:
Eleven Mile State Park is located at 4229 Co Rd 92 in Lake George. Fish for rainbow, brown and cutthroat trout, kokanee salmon, northern pike, small-mouth bass, and carp within the 3,400-acre reservoir. This is also a great place for boating.
Rocky Mountain National Park:
Rocky Mountain National Park has cougars, elk, mule deer, moose, bighorn sheep, black bears, coyotes, eagles, and hawks. There are 359 miles of trails and 60 peaks that rise above 12,000 feet. In the fall during the elk rut when the animals mate, their calls can be heard across the valley.
Colorado National Monument:
Colorado National Monument has Saddlehorn Campground, with eighty sites, a restroom with flush toilets, drinking water, and picnic tables. The monument area is enclosed by towering stone peaks, and mesas and is interspersed with deep canyons. Look for bighorn sheep, mule dear, mountain lions, and bald eagles. The monument is located near Fruita.
Camping Locations Along the Poudre River in Colorado:
The Cache la Poudre River, designated among Wild and Scenic Rivers by the congressional act of the same name, is one of northeast Colorado's favorite getaways, with rugged canyons to hike, bike, and drive.
Churning whitewater provides fishermen opportunities to angle for native trout and lets paddlers pit their skills against technical rapids along its 64-mile course.
Stay at one of Poudre Canyon's camping areas and have rugged beauty and your favorite activities right outside your tent flap or RV door.
Campgrounds Along the River:
Camp close to the river at private and Forest Service campgrounds along its course. Dutch George Flats Campground, just off State Highway 14, has 20 first-come, first-served sites in a meadow at the edge of the river, with fire rings, picnic tables, and large parking areas with easy highway access suitable for RVs up to 33 feet. Tenters can camp in secluded areas among the pines.
The campground has a wheelchair-friendly river trail with benches where you can sit and enjoy the natural surroundings.
Mountain Park, about a mile away, has 55 forested campsites alongside the river, with electric hookups and hot showers as well as recreational amenities including basketball and horseshoes.
Poudre River Resort provides year-round camping, with full hookups for RVs and tent sites near the river.
Wilderness Campsites:
The Little South Fork of the Cache la Poudre flows 9 miles through the northern edge of the Cache La Poudre Wilderness in the Front Range. The Mount McConnel National Recreation Trail is the sole trail slicing through this wilderness, and you can explore further by rock scrambling along game trails and stream beds.
You can camp anywhere in the wilderness you prefer, as long as you take care not to damage fragile vegetation with your equipment and you keep your camp more than a quarter-mile from the Cache la Poudre River and 200 feet from any other water source.
Camping With Animals:
Your dog is free to join you at the Forest Service campgrounds, the Cache la Poudre Wilderness, and the most privately owned facilities in the area.
Keep dogs leashed to stop them from becoming potential prey for mountain lions. Pick up after your pet, and remember to put its food away after eating to avoid attracting bears, skunks, and other wildlife.
Horses are welcome in the wilderness and forest but are limited to dispersed campsites or equine-friendly campgrounds, such as Jacks Gulch. All public lands in Colorado require that you bring certified weed-free hay, pellets, or steam-rolled grains to feed your livestock.
Staying Safe:
The ruggedness of Cache la Poudre's canyons bring many hazards you should be prepared for. Temperatures can drop 30 degrees in a matter of minutes when afternoon thunderstorms roll in during spring and summer.
High winds in early summer can put you at risk of hypothermia. Strong currents in the river make swimming dangerous in many areas.
If paddling on the river, always wear a life vest and consider wearing a wetsuit to help hold in body heat should you be thrown into the cold water.
Rattlesnakes are common in rocky canyons, so be careful where you put your hands and feet, especially when rock scrambling.
Check yourself nightly for ticks, especially in warm, moist areas of your body such as your armpits, nape of your neck, and groin.