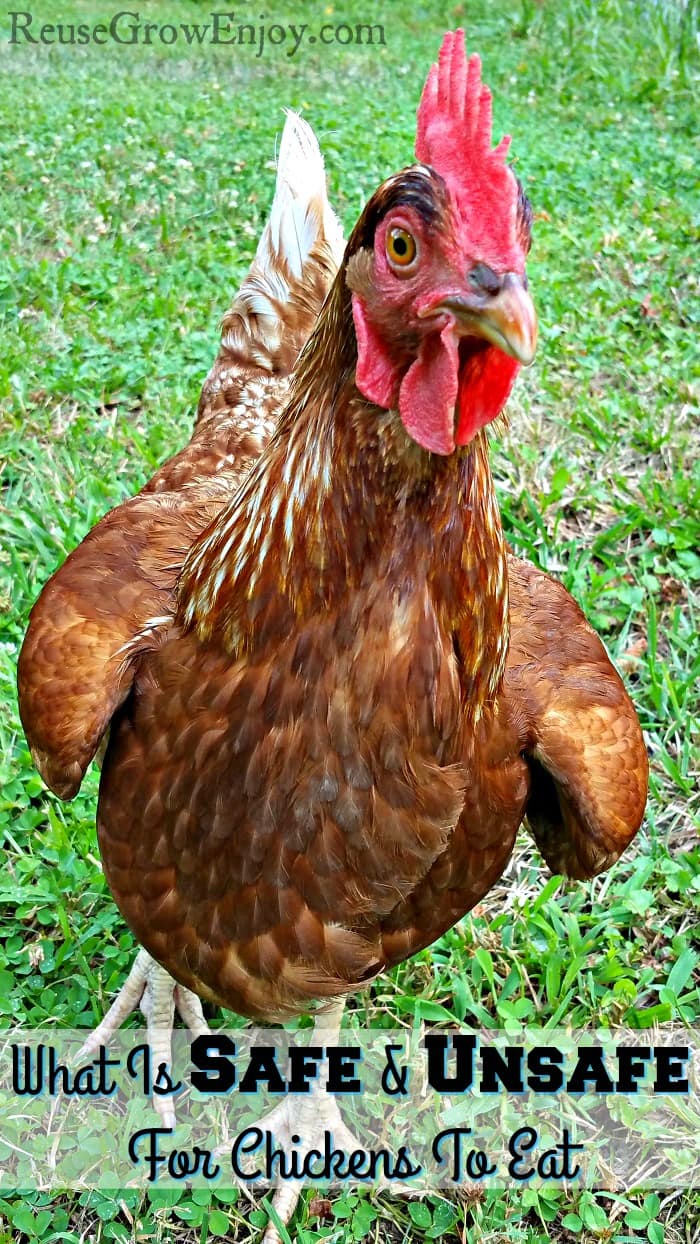 When it comes to eating, chickens will eat anything! The reason they eat it all is because they are omnivores. That means they eat both meat and vegetables, but chickens will also eat other stuff like insects and grass. But not everything is ok for them to eat. So what can chickens eat? In today's modern world, more and more farmers are raising organic chickens in which they accommodate the "natural behaviors" of the creatures they raise. For chickens, this would mean they are living free range (out of the confines of a barn or coop) and live off a diet of food provided by the farmer as well as the bugs they scratch out of the dirt.
However, even the most well-intentioned farmer trying to raise all natural, organic chickens can potentially harm their chickens without knowing it. A popular type of chicken is the vegetarian chicken in which the chickens are fed an all meat-free diet. According to the experts, vegetarian chickens are not healthy chickens and are quite unnatural. Naturally, chickens need protein found from meat and insects in order to survive. If deprived of these nutrients, chickens will fall ill, or worse. Some chickens have been known to peck at each other in search of that protein.
So I am sure you are still wondering, ok so what can chickens eat and cannot eat in order to have the best diet for them?
What Can Chickens Eat
Allowing chickens to be free-range and out of the barn is a great place to start. In their natural behavior, chickens will supplement their diets with the grass, seeds, and insects they find around the farm to get the needed nutrients. Having a broad range of edibles leaves a bit of room for the farmer to formulate a good diet to raise healthy chickens. Here are lists of safe, healthy foods to include in their diet as well as things to avoid.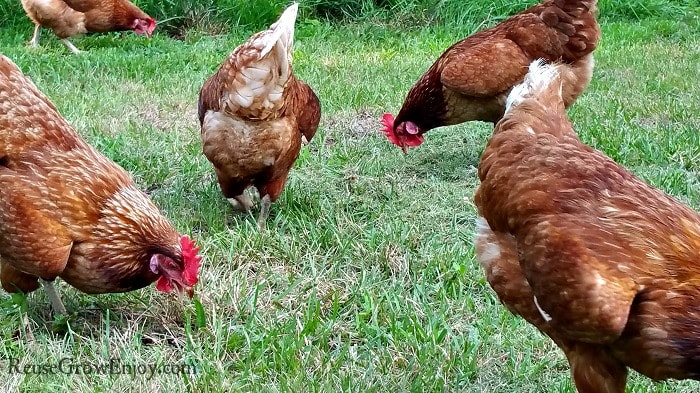 What Can Chickens Eat – Safe, Healthy Food List:
Commercial feed: Commercial feed will contain a balanced diet that will have all the required nutrients chickens need in order to grow healthy and produce a healthy amount of eggs. There are organic feeds available too! Chickens will only eat what they need, and will not overeat if given a choice. Leaving out an ample amount of feed based on the number of chickens will be enough. As previously stated, they will supplement the commercial feed with other edible foods found around the area.
Safe Supplements:
Scratch Grains: Scratch grains are cracked or rolled whole grains (barley, oat, corn or wheat) . They are sprinkled on the ground to encourage a chicken's natural behavior of scratching at the dirt. Scratching the dirt allows them to find insects for them to get the protein they need for a complete and healthy diet. Keep in mind that scratch grains should only be used well after chickens have eaten the commercial feed, and should only be given enough that they can consume within twenty minutes.
Grit: Chickens do not have teeth, so they should be able to have access to grit. Grit allows the chicken to grind and digest their food properly. Most feed stores will have grit in chick or hen size. Most of the time, grit can be found on the ground in the form of small rocks or pebbles. But having access to grit will be helpful, too. Note: while Oyster shell is a great way to added calcium if needed, it does not work well as a grit as it is too soft.
Table Scraps:
Many farmers give their table scraps to their chickens, which is safe to feed them. But, caution should be used when feeding table scraps. They should not be given more than what they can eat in 20 minutes. Excessive fats will affect egg production, and avoid rotten foods or foods with strong tastes (such as onions).
Clippings: Pasture or lawn clippings are safe, but avoid clippings from grass that has been treated with pesticides. Young, tender plants are the best, and old, fibrous plants should be avoided.
Meat: Chickens are omnivores, and are known to eat mice, lizards, or other small animals found in the area in order to get protein. Just remember to not feed anything overly fatty and that it should be given as a treat and not main source food.
Oyster Shells: Should not be used as grit because it is too soft and does not help in grinding or digesting food. If you give to much Oyster shell it can cause to much calcium which could damage a chicken's kidneys. But if you are noticing calcium deficiency, such as soft or thin egg shells, tossing a hand full out every few days or so will help.
Toxic & Unsafe Food List:
Raw Green Potatoes or Green Potato Peels: contains a toxic substance that is called solanine.
Rhubarb & Rhubarb Leaves: contains oxalic acid.
Salty Foods: will damage kidneys.
Citrus Peels: will interfere with calcium absorption.
Dried or Uncooked Beans: contains hemagglutinin which is toxic to chickens. It can cause red blood cells to clump and form large masses.
Avocado: contains persin which is a fungicidal toxin that is fatal to animals in large quantities.
Sugar or Anything With Large Amounts of Sugar: not fatal, but bad for their systems (like humans)
Eggs: not toxic but you do not want them to start liking the taste and then start pecking the eggs to get more.
Conclusion:
Feeding chickens a sufficient amount of commercial feed (organic feed is available) and allowing them to have access to the ground in order to find grit and insects is important factors to raising healthy chickens. Avoid all the toxic foods, and be sure to minimize table scraps. Healthy chickens will produce an adequate supply of eggs, and will live longer with fewer health complications.
Note: this is not a complete list of what can chickens eat. But it hits on some of the most common things to feed and not feed.
If you found this post on What Chickens Eat helpful, here are a few others you may want to check out.