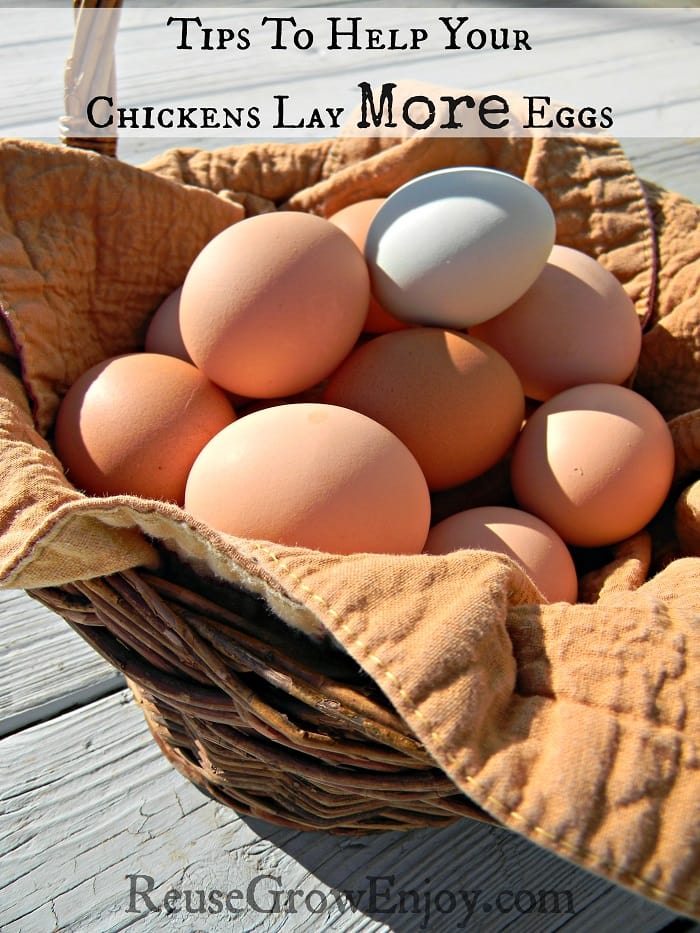 Tips To Help Your Chickens Lay More Eggs
If you are someone that has chickens, did you know there are ways that your chickens lay more eggs? Some raise hens just to have as pets and are not worried about how many eggs they lay. However there are those of us that have hens to get the fresh eggs that they provide. My husband and I choose to eat fresh eggs rather then store bought. Not only are they more healthy for you they are just a better taste too. By collecting your own eggs, you know what the chickens have been eating.
Lighting:
Late spring through early fall is when chickens normally lay the most eggs. This does depend on the health of your chickens and the age of them. There are things you can do to increase your egg production through the winter as well. One factor that can slow down how much your chickens lay is lack of light. Late fall through early spring the days are shorter with less natural daylight. This makes the chickens not lay as much. One way to help your chickens lay more eggs is to hang a light in the coop. You can put it on a timer to have it provide the extra light hours that the chickens need. You can make it come on in the evening when the sun starts to go down and have it stay on for 4 hours or so. Then do the same thing for the mornings, set it to come on in the early morning before the sun comes up. You want them to have a total of 14 hours of light time a day (Including Natural Sun Light). If you don't want to set a timer and don't mind running the light all night, it is ok to leave it on all night. Just be sure that when you add your light to the coop, you do so in a way that will not start a fire.
Water:
Another HUGE factor that impacts how your chickens lay, is water. It takes a lot of water for your hens to produce eggs. I mean think about it, when you crack a egg it is a lot of liquid, right!? If they do not get enough water they lay very few eggs if any at all. If you are somewhere that has a long season of low/freezing temps, you may want to invest in a heated water bowl/pail
. If you don't want to run a heated water pail, then just be sure to give them fresh water a few times a day. This can be a lot to do in the winter, but is needed to have healthy laying chickens.
Feed:
Chickens are much like us when it comes to eating. They need a healthy diet in order to be healthy and for your chickens lay more eggs. One thing that is very important when feeding, is to make sure they have a good source of calcium. This is needed to make the shell of the egg. If your chickens do not get enough calcium, it can make them start eating their own eggs (shells) to provide their body with what they need. Most feeds already have it included, however if you are making your own feed you can add in crushed oyster shells as a good source.
Laying Boxes
Your chickens need a nice and clean place to lay their eggs. Make sure you have a few different laying boxes in the coop. Also be sure to clean them out every so often as they do like to be in a clean area to lay. You can simply add a handful of straw or hay and then just replace every week or so.
Exercise:
Last but not least is to make sure your chickens get exercise. If you keep them in a pen, you may consider letting them out a few hours in the evening. If you free range, then you have nothing to worry about as they already can run and stretch. By getting exercise it helps to keep the chickens lean and in shape. This will help them be fit and make it so your chickens lay more eggs.