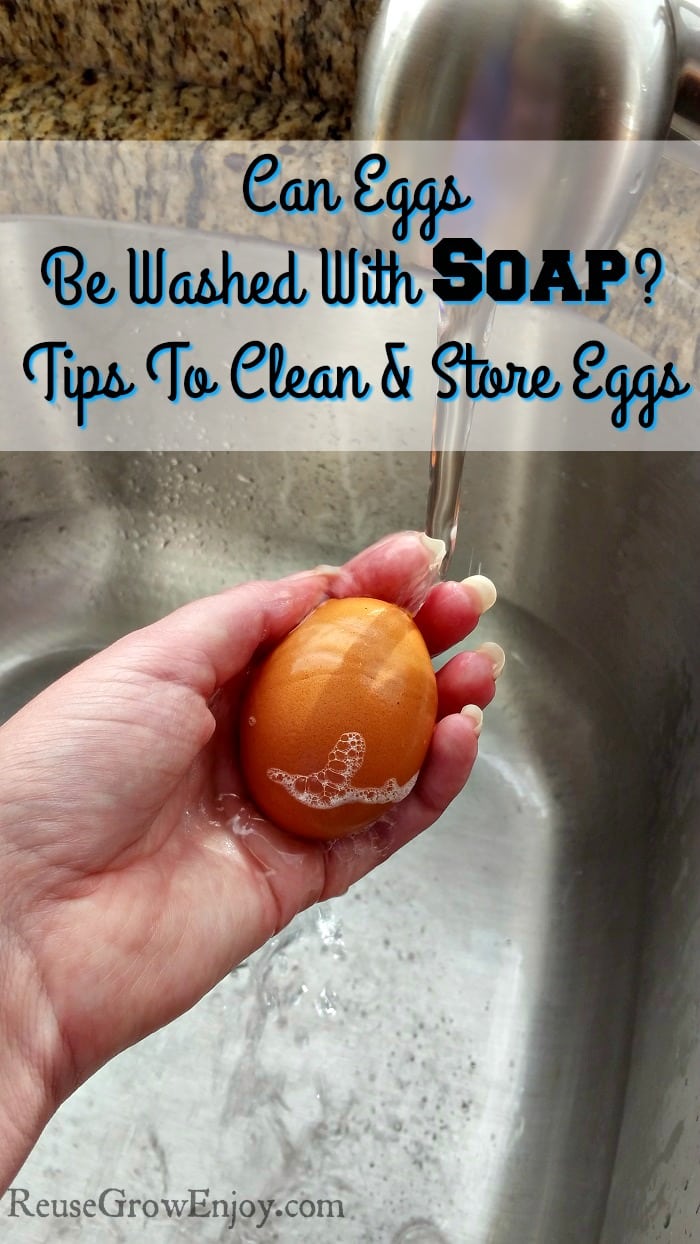 Have you joined in on having your own hens and collecting your own eggs? So many people are starting to become backyard farmers as it really is a healthier choice. I mean you will know what you are feeding your animals and know how they are cared for. Therefore you will know what you are putting in your body. Whether you just started or are thinking about starting, there are a few tips to know about how to clean and store eggs. One question I have been asked before is, can eggs be washed with soap? Well, I am going to answer that question for you. As well as give you a few pointers on some of the best practices on cleaning and storing your eggs.
Can Eggs Be Washed With Soap?
First off, one good tip to know is that it is very important to collect your eggs daily. Depending on how many hens you have, you may need to even check and collect them a few times a day. Why? Well, it is not because the eggs will spoil that fast. It is to keep them away from the hens. The longer the egg is around the hens, the more of a chance they will get curious and want to check them out. That can sometimes lead to pecking.
When pecking happens, so does tasting. That is the last thing you want is for your hens to get the taste of the egg and like it. Sick I know, but it is true. Chickens can and will eat their own eggs. So by collecting them it keeps them from getting curious. After you have had your hens for a while, you will even learn what time a day is bests to collect. For us. mid-morning is best. That is when most if not all of our hens are finished laying for the day.
But Can Eggs Be Washed With Soap?
So now to the question of can eggs be washed with soap? Yes! Yes, they can! Now, I am not saying go fill your sink with soapy water and soak them in it. But when you are washing them, it will not hurt to wash your eggs with soap. I know some say that it is a big no-no, but I do it every day with my eggs and have for a long time with no issues.
Simply have some running water, about tap warm (not hot but not cold) hold the egg under it with one hand. Then with the other hand, use a small cloth or paper towel with a dot of dish soap on it. Wash the egg until clean. Then be sure all the soap is washed off. Allow to air dry for about 10 minutes and then place in the fridge. I would not use a heavy scented soap to wash them use a natural soap or original Dawn.
It is ideal to wash eggs in a utility sink if you have one, as sometimes they can be pretty gross if it as been raining out. But if you do not have one, try to brush off as much as you can before washing in the sink. On really bad days, I make sure to scrub my sink down with some lemon and vinegar after I am done. Also, if you are using a small cloth, be sure not to use your dishcloth. You will want to keep a small bin of cloths just for your eggs and launder them on their own. Or use a paper towel and toss in the trash after.
How To Store Eggs?
Now that I have answered the question can eggs be washed with soap, let's move on to how to store them. When eggs are first collected and UN-washed they can stay at room temperature for a day or two (some in the UK and other places never put eggs in the fridge at all, and store that way for up to two weeks in egg racks) and they are fine to eat. However, after you have washed them, they should be put in the fridge. I like to be sure to put in the fridge within 15 to 20 minutes after being washed. The reason is after they have been washed, it removes the protective coating that is naturally put on the egg when the hen lays it.
You can store them in just about anything, you do not have to have cartons unless you like the look. Or just like to be sure they do not bump into each other. After washing, you can put them in a bowl, egg racks or anything that will go in the fridge.
I hope these tips help you and you now know the answer to the question can eggs be washed with soap. Here are a few other topics you may like.