Do you have a stack of old VHS tapes kicking around that you no longer use? I have had a lot of people ask what to do with old Disney VHS tapes or other old VHS tapes. So I figured it was time to cover that topic.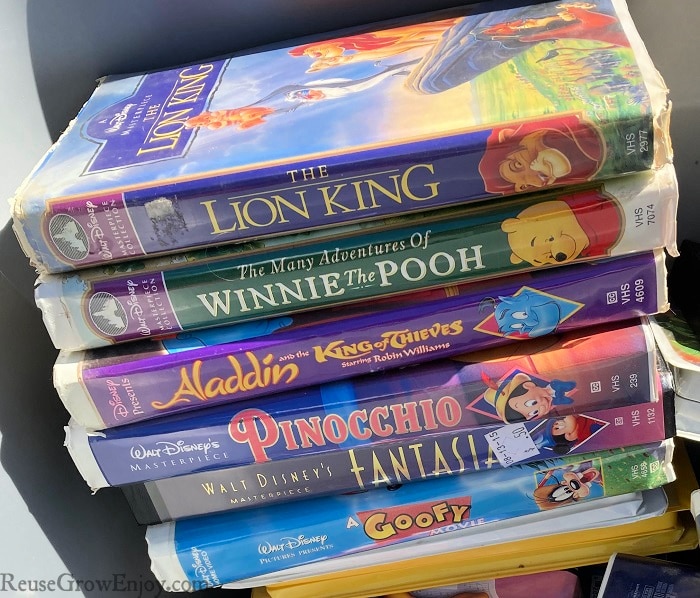 Depending on the Disney movies you have some old tapes could be worth big bucks! That will depend on if it is in good condition or mint condition. It will also depend on if it is a black diamond collection or just one of your old faves.
Chances are if you have a few collections of vintage Disney VHS tapes you may have one or two that may not be worth a small fortune but worth at least a little dough.
How Do You Know If It Is One Of The Black Diamond Tapes?
While there are lots of different versions/generations of classic Disney VHS tapes some of the best-sellers are from the Disney black diamond edition.
But how do you know if yours is one of the Disney black diamond VHS tapes?
That is easy to find out. You simply look at the side of the clamshell case. On the upper spine of the case, you will see a shape of a black diamond if it is one that is included in the black diamond version of the movie.
The black diamond logo includes classic Disney films like robin hood, snow white, fox and the hound, the little mermaid vhs tapes as well as some others.
Where Do You Sell VHS Tapes?
If you do find that one of your Disney classics is worth a pretty penny then you may be trying to find out where to sell it.
One of the first things you want to do is to check eBay listings to get an estimated value. Don't look so much at the asking price as some can have outrageous price tags that are not really selling. What you want to do is look more at the price that some have sold for.
Then use your best judgement from those numbers as to what your listing price will be.
Don't have a valuable tape that is worth the trouble of selling? Good news! I always love to find ways to reuse everyday items, so check out these ideas on how you can upcycle VHS tapes.
Ways To Upcycle Old Disney VHS Tapes
Table:
You can use something like liquid nails to glue the tapes together to make a table. Then glue some together to make the legs of the table as well.
Planter:
Just like with the table, glue the VHS cassette together with a few others to form a box and make it the height you want. Then set a pot inside and you have a one-of-a-kind planter.
Crochet With Tape:
I have shown you before how to make plarn. Well, you can use the tape inside the casing as plarn itself. Then just crochet with it just as you would with yarn.
Shelves:
Glue 4 Disney tapes (or whatever tape you have) together to make a box. Then anchor it to the wall to make what looks like cube shelves.
Ways To Upcycle The VHS Case & Covers:
Bookmarks:
There are lots of different ways you can reuse and upcycle the VHS boxes. If you have the paper box covers one of the best ways to upcycle those is to turn them into VHS Movie Bookmarks! Simply cut off the side or top of the box, and then laminate it.
Hard Case Pencil Box:
If you have the hardstyle case like came from video stores they work really well as a pencil case!
Notebook Covers:
The original cover art or box cases also work well for notebook covers. You can put some paper between them and bind it to make a notebook.
Picture Box:
Another really cool use for the hard box style cases is to use them to display a picture on the wall as well as store a few extras.
You simply attach it to the wall then slide a picture into the plastic covering on the case. You can store other pictures inside the case and swap them out as you want to change the pictures.
Have you found a cool way to upcycle or reuse VHS tapes and cases? We would love to hear them in the comments below!